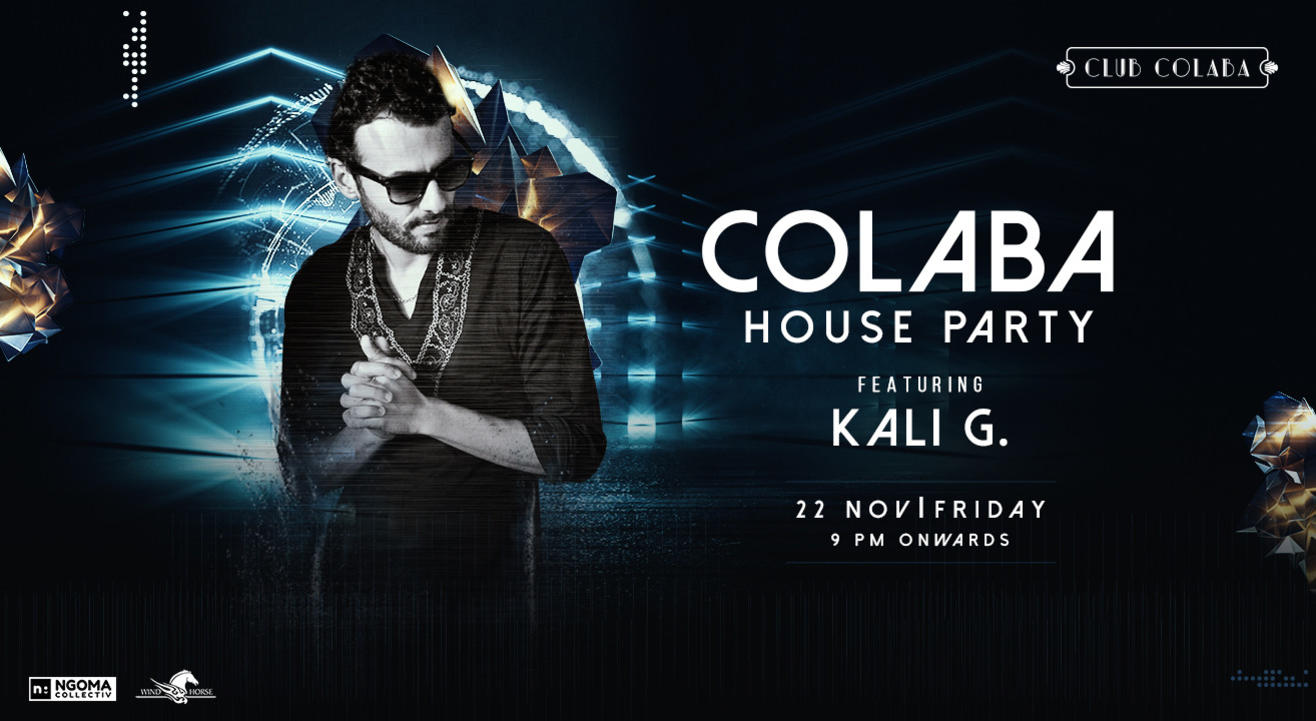 Music
Club Colaba House Party ft. KALI G.
November 22 | 9PM - November 23 | 2PM
About
About:-
--------------
KALI G.
-------------
Khalil Belamallem, widely known as Kali.G, is flourishing as one of Morocco's fastest rising star DJs.
Born in Rabat, Morocco; Kali.G's started his career two decades ago as the Resident DJ in the mythical Cathedral Club Sevilla where he played alongside some of the world's finest DJs.
Their influence helped him build his own style that can't be easily defined: spiritual waves incorporating hypnotizing deep bass lines and grooves to Moroccan folklore samples and ethnic sounds.
After several years in Sevilla, Khalil decided to move to Barcelona where he made his dream come true by studying at one of the most prestigious audio engineering schools (SAE Institute). He then moved to Ibiza where he lived and enjoyed regularly playing on the white island for almost 3 years.
Since beginning his career, Kali.G was given the opportunity to play in legendary music venues in India, Brazil, Spain, Switzerland, Greece, Portugal, EAU, Germany, Romania, France, Morocco etc
Watching Kali.G playing is a pure show. Kali.G refuses to play a prepared playlist, he is a real artist who deeply enjoys taking risks during his always improvised sets by looping on his Cdjs and creating a magical atmosphere that takes the party to a whole other level. This is the reason behind his "The King of the loops" nickname.
In the past few years, The King of the loops shared his sets with some of the most talented artists in the underground scene such as Ion Ludwig, Subb-an , Guido Schneider, Daniel Stefanik, Dana Ruh , Mathew Dekay, Argenis Brito to mention a few.
After his first release in 2013, Kali.G developed an absolute bastion of goodness and positivity when it comes to releasing true electronic underground sound. Much of it is inspired by his upbringing, his roots, his travels and his personal experience.
Recently in 2016, Kali G joined the Wind Horse crew by making his 3 track ep called "Equinox". His World Music influenced sound was a perfect fit for the Indian label and they even signed him to their agency to tour the Indian Sub Continent once a year. In 2018 his debut album was released on Wind Horse Records and it won accolades from top tastemakers and DJs all over the world. Below is a list of support he received for his amazing work!
Support from Agoria c/o, Gab Rhome, ŽAGAR, Robbie Akbal, BOg, Elliot Adamson, Jon / RÜFÜS DU SOL, Wax Wings, Jerome Price, Gavin / Disciples, Rhythm Masters, Luigi Madonna,Animal Trainer, Josh Butler, Applescal, Hifi Sean, Richie Hawtin c/o, Kollektiv Turmstrasse, Paco Osuna, LCAW, Olivier Weiter, Horse Meat Disco, and Carl Craig c/o
Record Label
Wind Horse Records / Acht / Celorec/ Akbar / Rewire