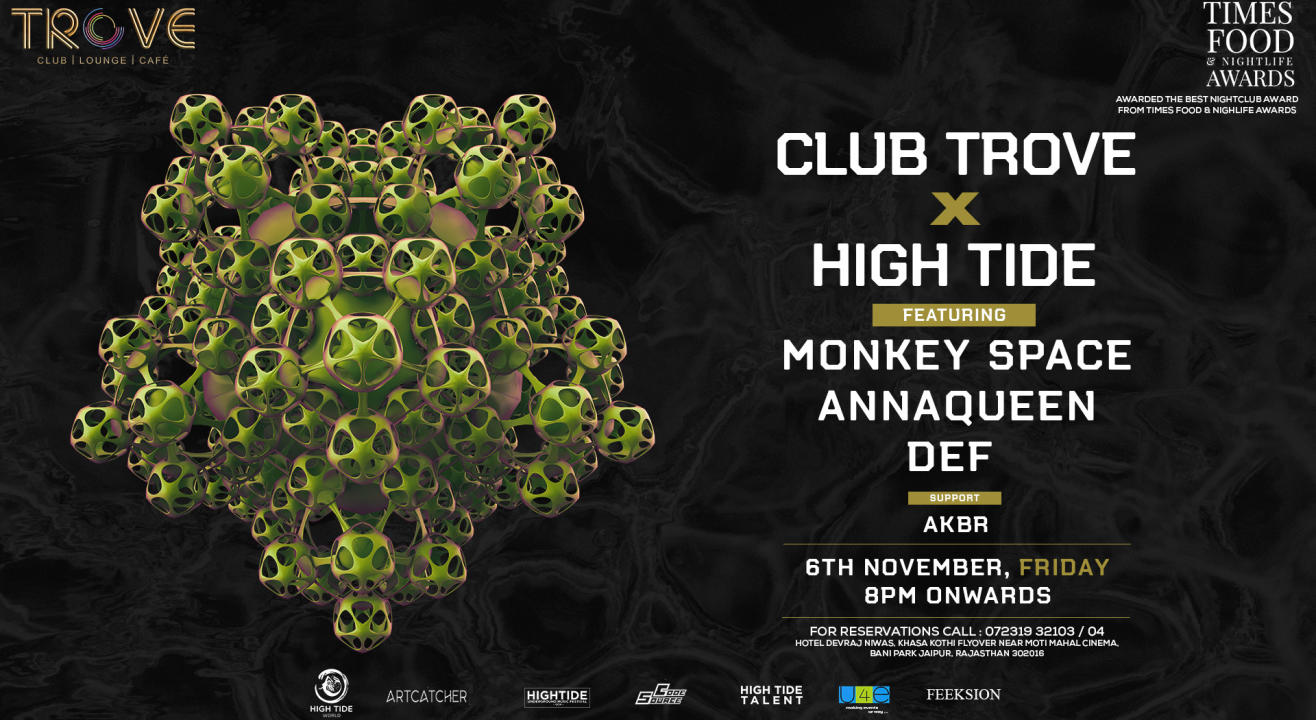 November 6 | 8PM - November 7 | 3AM
TROVE RESTAURANT Bar Club, Jaipur
Step out and enjoy this event
Invite your friends
and enjoy a shared experience
Invite your friends
and enjoy a shared experience
About the Event
Artist Bio Monkey Space
Born in Jaipur Pink City, "Monkey space" a.k.a. Rahul Kayath is acknowledged for his musical talent as well the one who made the djing a gregarious and convivial profession among the youth of the territory and a well known name in showbiz industry. This voyage commenced from 2004 at the tender age of 14 year when he played for the first time. He is someone who never followed the rules but made trends of rules to make people follow them. A person who is completely self made and entirely his own artist who never ever wobbled by trends or fashions. Instead of leaning on the wall for support and backstabbing which is banal in the business , he stood up and accepted all the defiance s, he deduced his own skill sets he made clan comprehend the meaning of tech-progressive-techno house music.
He is a immaculate example of rags to riches, he showed how persistent work and immense desire to achieve goal can change the whole life into a fairy tale. He started with working in a sound system enterprise and reached to a renowned name, its not about statistics and the money, the mesmerizing thing is the honesty he transmitted in his work, despite being outraged by all the associates he kept on moving for his goal, the path was not that easy, he was offended by people, desecrated by fellows. He went through various health issues. Moreover it was all about a dream to outshine from the crowd. It is like oscillation in the blood vessels to reach up to heights though this success was overwhelming yet he chooses to be a down to earth person and not a shallow show-off creature.
DEF
Born in The Pink City - Jaipur (India), Def started clubbing in an early age and got deeply influenced by house music. He started hanging out with the other DJs and organizers and started playing music at an age of 16.
While practicing and playing house music in 2009 for about two years his taste of music got really minimal and he started producing Minimal/Techno
In the mid of 2014 his track by his duo project Monkey&Def "We Are Going To Mars" got released by Ash Roy & Calm Chor's imprint "Soupherb Records" in the first compilation i.e. Sub-Continental Vol.1 which reached on number 5 on Beatport's top Minimal Releases chart.
Later they released a lot of new music on New York based Elastic Beatz and Spanish label TrueLife Recordings.
The idea of expanding the limits and going deeper into underground music production
Def started producing dark experimental low BPM grooves and gloomy sounds with heavy bass lines and soothing atmospheric sounds soon he discovered his own style which can be easily recognized when you listen to his tracks.
TROVE RESTAURANT Bar Club, Jaipur
Hotel devraj niwas, khasa kothi flyover, near session court, MI Road, Jaipur, Rajasthan
GET DIRECTIONS