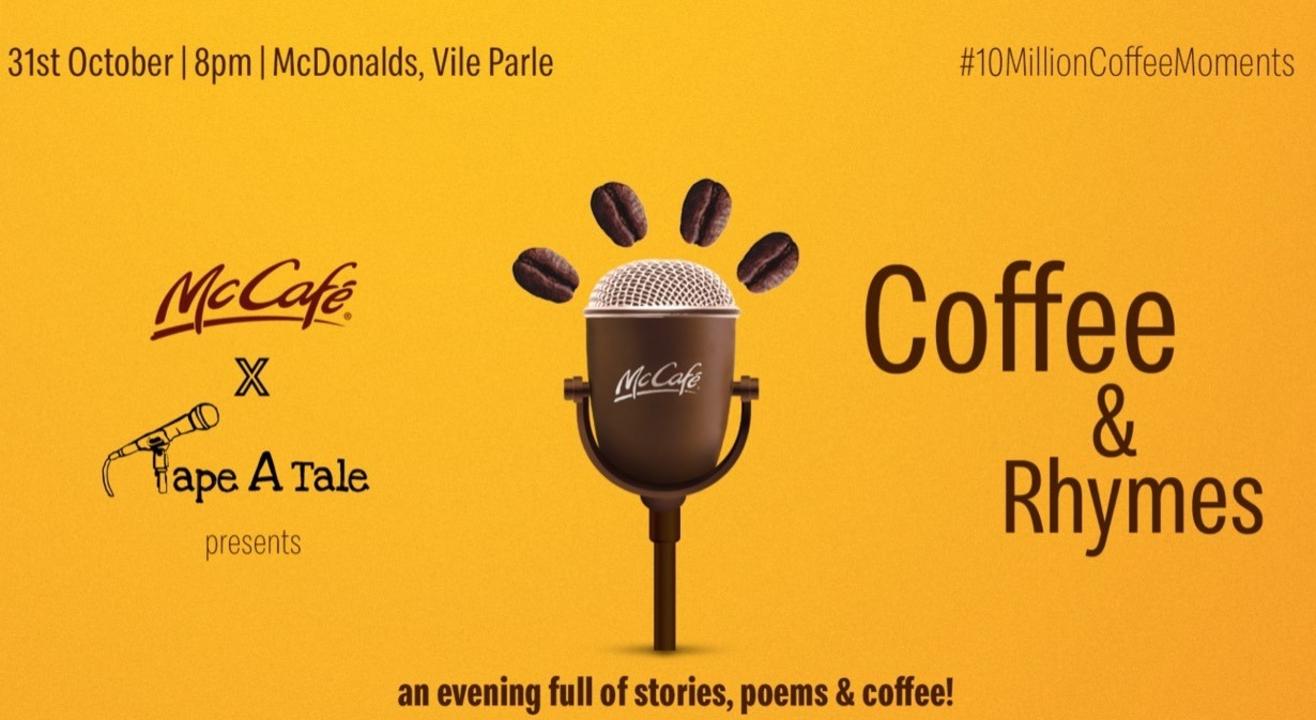 Coffee & Rhymes | Tape A Tale | McCafe
McDonald's, Vile Parle West, Mumbai
Step out and enjoy this event
Invite your friends
and enjoy a shared experience
Coffee & Rhymes | Tape A Tale | McCafe
McDonald's, Vile Parle West, Mumbai
Step out and enjoy this event
Invite your friends
and enjoy a shared experience
Invite your friends
and enjoy a shared experience
To stay up all night to study for that important exam. On your first date with the special someone. When you wake up with a hangover from a drunk night. On a heavy work day. What's the first thing that comes to your mind?
Coffee. Kaapi. Koffie. Kafo. Kopi. Qahwah. Different languages, different names, one feeling.
There are so many different ways to make coffee - espresso, americano, cappuccino, and so many more! But the most special coffee is made by this one secret ingredient that no cafe or coffeemaker in the world can ever use. Memories. The same ones that came after you nailed that exam, after your successful first date that led to many more, reminiscence of that tequila shots you regretted later, and listening to praises from your boss after working hard the whole day! Don't you agree too that coffee is the only bitter thing that leaves behind the sweetest memories!
So come make some sweet memories with us at McDonalds, Vile Parle over a cup of coffee, heartwarming stories and an unforgettable evening!
If you want to share your coffee story/poem, send us an email to contact@tapeatale.com with the the subject line #10MillionCoffeeMoments by 23rd October, Noon!
Catch a performance by the renowned Mehak Mirza Prabhu !
The tickets for this event are fully redeemable against 2 Cappuccinos, 2 Ice coffees or one of each at the store! One ticket is good for two people so get your + 1's and join us for evening full of stories, poems and coffee!
McDonald's, Vile Parle West
Ground Floor, Liberty Lodge, Dashrathlal Joshi Rd, LIC Colony, Suresh Colony, Vile Parle West, Mumbai, Maharashtra 400056
GET DIRECTIONS
Coffee & Rhymes | Tape A Tale | McCafe
McDonald's, Vile Parle West, Mumbai
Step out and enjoy this event
Invite your friends
and enjoy a shared experience