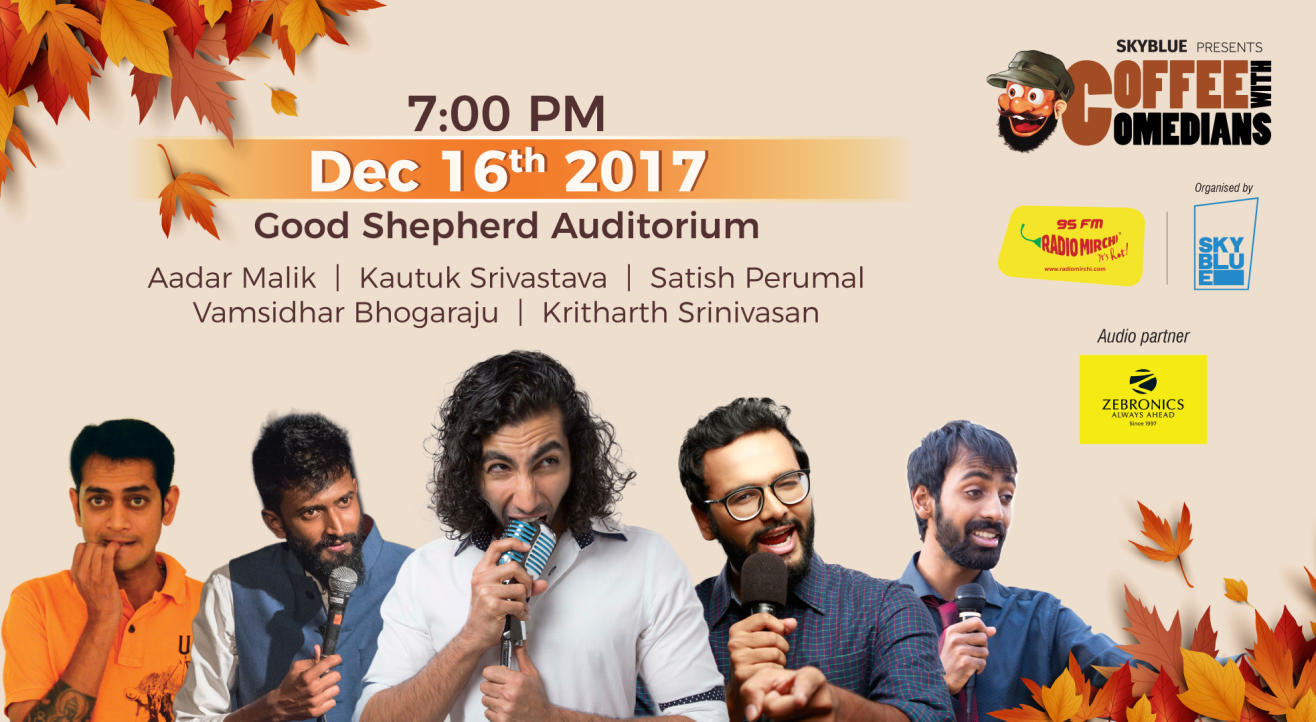 Comedy
Coffee with Comedians
Good Shepherd Auditorium, Bangalore
229 - 1000 (Exclusive of GST)
About
COFFEE WITH COMEDIANS is a grand comedy show from group SKYBLUE known for producing the best of entertainment in the city of Bengaluru. With the successful seasons back to back, the team is coming up on full swing for the next season to double the fun with the pool of stand-up comedians to entertain the capacity with different genres. The key element of the event success is that, the team SKYBLUE has delivered a class material following parameters in all dimensions. The rejoice of event delight and feel of Dejavu at one spot for the festive season of December. This times its hyper excitement.
Aadar Malik:
Aadar malik is a stand-up comedian and also a music enthusiast in way thereby carrying a guitar along with him on stage matching his comic sense with some instrumental touch. He is known for his acting skills which later on led him to be a part of SNG comedy where he mastered his sketches along with immense sense of humour attached with his body language. Overall he is one of the sure shot entertainers in the arena he performs.

Kautuk Srivastava
Kautuk srivastava is a stand-up comedian who rocks in his own style. He is known for his genre and theme which gained him recognition as "personal, observing and very funny at times" character on stage. He terms himself a mixture of 100% natural ingredients with no artificial flavours. His parents term his passion as one unemployed.

Satish perumal:
Satish permal is a big beard comedian known to crack funny moments on the spot as well as on the backstage. His spontaneity of humour is a gift where he does it with perfection on any day with a high demand and note with a caption respect the beard, after all the audience in the arena should have a keen vision on his topic who knows? His bait on humour comic can be anyone in and around the arena. Keep guessing whose next?

Kritarth Srinivasan:
Kritarth Srinivasan is a big time comedian from our metro circle who is also a travel enthusiast known for cracking the stage at a grandeur genre. His mystic timing of comedy is a bigger plus to the route of stand –up stages that guides him a confident player to mock Timely plays. He is a believer of 'When in roam, do as the roams", so are the audience who can't wait to watch him perform effortlessly grand.

Vamsidhar Bhogaraju:
Vamsidhar Bhogaraju the winner of raw comedy festival in Bengaluru is a big fame comedian gearing up to make an identity as a raw comic maker, his foot marks already landed up as a winner in RED FM and bajao contest. He is a sales enthusiast figuring out innovative ways of comics that's a sure shot sellout. His detailed focus on genres narrates his idea on repetition and reputation.
Venue
Good Shepherd Auditorium, Bangalore
Museum Rd, Opp Patricks Church, Richmond Town, Bengaluru, Karnataka 560025