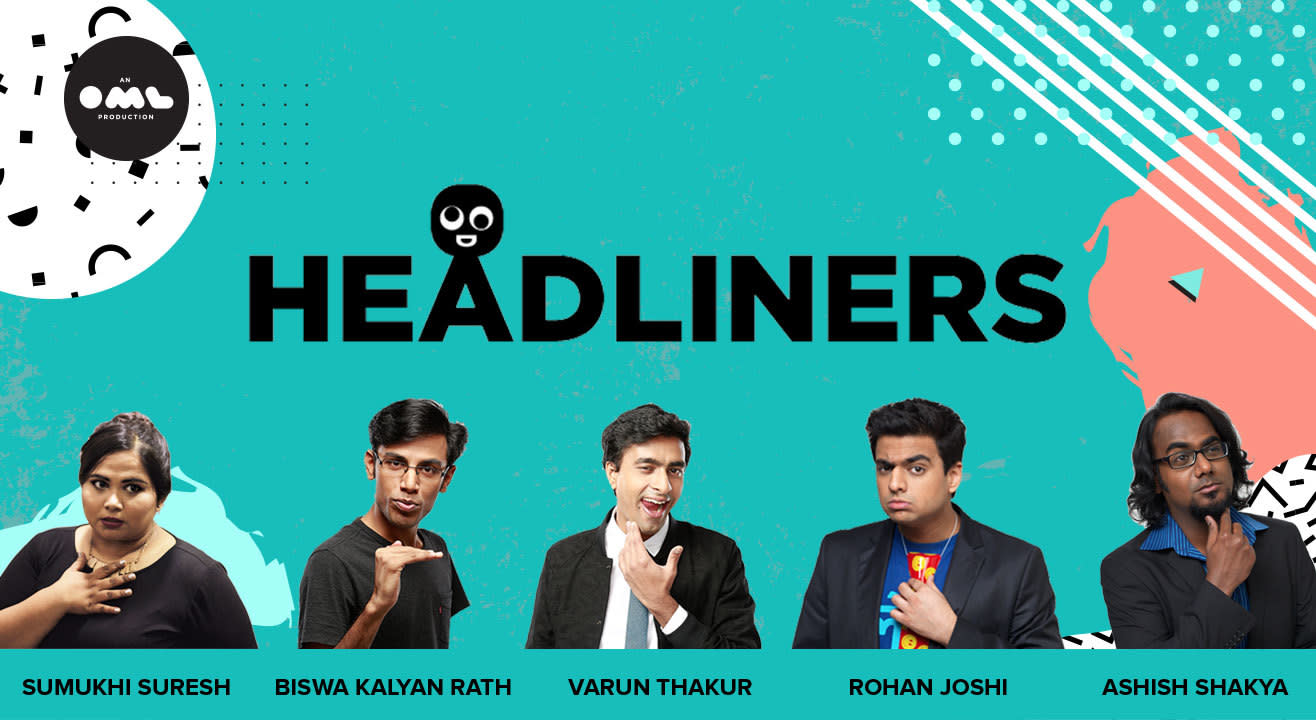 Comedy
Headliners ft Sumukhi, Biswa, Varun Thakur, Rohan Joshi & Ashish Shakya
Sri Shanmukhananda Chandrasekarendra Saraswathi Auditorium, Sion
About
Get ready for one of the year's biggest comedy nights! Five of the country's best comedians - Sumukhi Suresh (who will be playing host), Biswa Kalyan Rath, Varun Thakur, Rohan Joshi and Ashish Shakya take to stage.
It promises to be a hilarious evening, so get ready for a generous dose of the best medicine!
Sumukhi Suresh (Hosting + Stand Up) : 30min
Biswa Kalyan Rath: 30min
Varun Thakur: 30min
Rohan Joshi: 20min
Ashish Shakya: 20min

Sumukhi Suresh is a stand-up comedian, improv and a sketch artist from Bangalore. A motor mouth, hindi speaking tamilayali. She has written two sketch shows 'Sketch in the city' with Richa Kapoor and 'Go straight, take left'with Naveen Richard. She has also performed at the Sweden Improv Festival 2016, wrote and featured in Comedy Central's The living Room.

Biswa's style of comedy can be best described as angry rants bordering on what's socially acceptable. Biswa is a philosopher, a self-proclaimed stand-up comedian, writer, actor, size-zero enthusiast, blogger and an ex-IT professional. His recent Amazon Prime comedy special has been getting rave reviews.

Varun Thakur is regular headliner at comedy events across the country, and has just released an Amazon Prime comedy special. Being a struggling actor from Bombay, he's rejected on a daily basis by casting directors and rickshawaalas. His latest film was Jab Tak Hai Jaan and despite what's being said, he'd like to clarify that Katrina and him are just "good friends". With a good mix of observational humour, high energy and impersonations, he's an act you shouldn't miss.

Rohan Joshi is a member of popular comedy collective AIB - you've probably seen him in their sketches and events such as 'AIB Knockout', 'AIB Diwas' and 'On Air with AIB'. A top stand-up comedian even before AIB was an idea, he's done hundreds of shows across the world, including at the Edinburgh Fringe Festival. As a writer, he has a long-running column in Mid-Day.

Ashish Shakya is a member of AIB and has been a part of the collective's 'AIB Knockout', 'AIB Diwas' and 'On Air with AIB', and sketches. As a standup comedian, he's performed hundreds of shows around the world. He used to author a Hindustan Times column that had a cult following and has co-written 'The Week That Wasn't with Cyrus Broacha' on CNN-IBN for about 250 episodes (!).


Venue
Sri Shanmukhananda Chandrasekarendra Saraswathi Auditorium, Sion
Plot No 292, Comrade Harbanslal Marg, Sion East, Mumbai, Maharashtra 400037