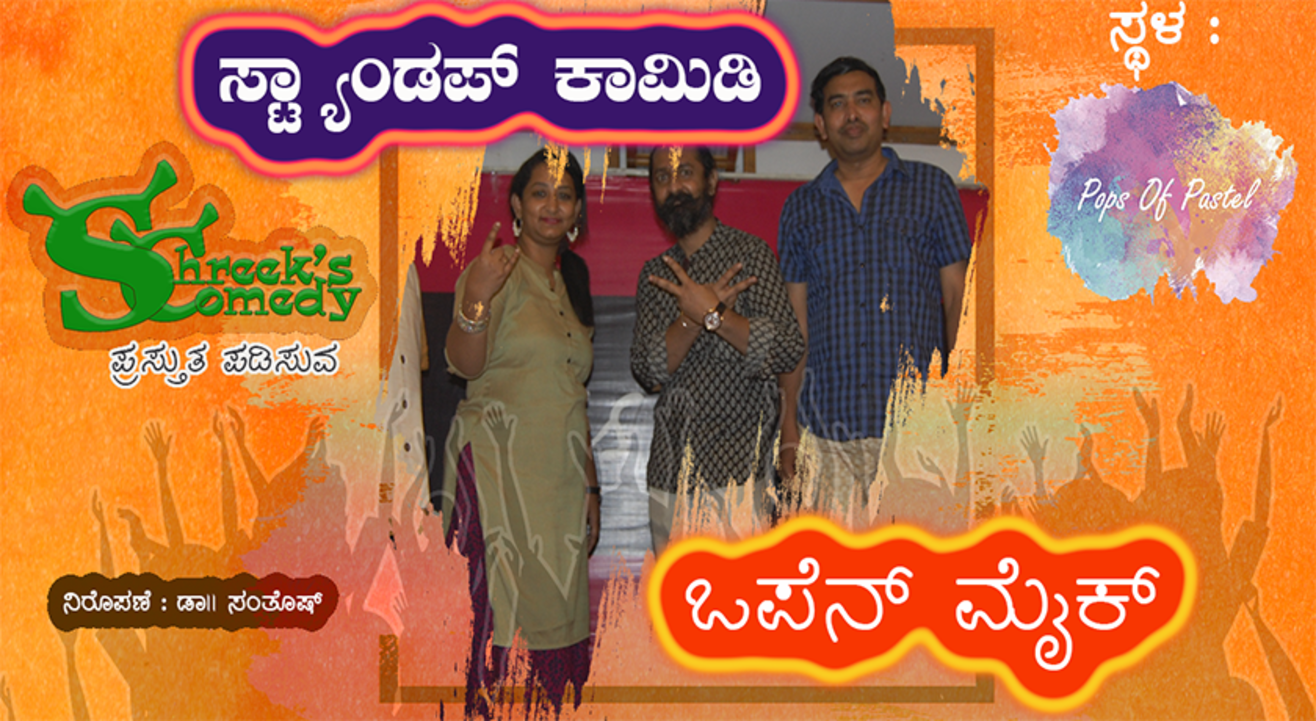 Kannada Standup Comedy at Pops of Pastel
Pops of Pastel, Bengaluru
Invite your friends
and enjoy a shared experience
Kannada Standup Comedy at Pops of Pastel
Pops of Pastel, Bengaluru
Invite your friends
and enjoy a shared experience
Covid 19 Safety Measures
This event adheres to the following

Health & safety measures
Social Distancing
Face Masks Required
Hand Hygiene Stations
Limited Capacity
Sanitisation before the show
Organisers wear masks
Invite your friends
and enjoy a shared experience
Covid 19 Safety Measures
This event adheres to the following

Health & safety measures
Social Distancing
Face Masks Required
Hand Hygiene Stations
Limited Capacity
Sanitisation before the show
Organisers wear masks
A Kannada stand-up comedy openmic by Shreeks Comedy at Pops of Pastel on 21st Jan Saturday at 7:00pm.
Pops of Pastel now a synonymous with the standup comedy events and now is a default venue for all the standup comedy events in this part of Bengaluru Taking advantage of this beautiful venue we are now organising our standup comedy openmic here.
Come witness the unique blend of beautiful venuesome fabulous acts doing some new jokes and some of their already tried and tested one's to make sure you enjoy it to the fullest. A dose of comedy served to you by 6 odd Comedians (Experienced veterans to new comics) offering a wide variety of jokes for you to enjoy! Some hilarious and some offensive Some one-liners & some hard hitting!
Kannada Stand-up comedy openmic is primarily a stage where from established to new comers try their new jokes along with their tried and tested jokes Be the first ones to see the actual journey of the joke and witness comics perform who become famous later along with those who already are famous via their performances on different TV shows !! This is also aimed at those who prefer to unwind themselves with rib tickling Jokes humor and laughter with friends and colleagues etc To enjoy & have a good time. Come & have a laugh riot Sunday evening memorable.
PS: Please note that Comedy is a subject which is personal to each individual and the views of comics on any subject/matter does not represent the society or the country`s view in any way whatsoeverIt is their individual perspective that try put forth in a funny way filled with humour to make you laugh and should taken accordingly without any prejudice !
Further by attending the event you`re fully aware & are agreeing to be a part of this voluntarily knowing full well that the contents might of adult and absurd ( sometimes) kind. The jokes are usually 18+ and hence are restricted to those who are min of 18 years or older.
Shreeks and pops of pastel reserves all the rights of admission And any rude behavior/ill-mannered behavior towards the comics or in general will not be tolerated & those caught doing so will be removed from the venue without any lenience !!
Please carry a valid ID proof along with the valid ticket.
ShreeksComedy is not responsible for any injury or damage occurring due to the event.
People in an inebriated state will not be given entry.
Being only a ticketing portal, Insider.in does not take any responsibility for the activities going on inside or outside the event, as the entire responsibility of it is of the organizer/venue.
Please go through the details on the Event Details Tab and the Checkout page thoroughly before booking the tickets, as the tickets which are NOT booked in compliance with it will not come in the ambit of discussion.
Internet handling fee per ticket applied. Please check your total amount before payment.
Tickets once booked cannot be exchanged or refunded.
Unlawful resale (or attempted unlawful resale) of a ticket would lead to seizure or cancellation of that ticket without refund or other compensation.
Alcohol (if available) will be served only to guests above the legal drinking age (LDA) and on display of valid age proof.
In case a booking confirmation e-mail and SMS gets delayed or fails because of technical reasons or as a result of incorrect e-mail ID / phone number provided by the user etc, a ticket will be considered 'booked' if the payment has been processed by High Ape and you will have to contact our representatives for issue of tickets.
Arms and ammunition, eatables, bottled water, beverages, alcohol is not allowed from outside to the event. Food and beverages will be available inside the event.
Persons suspected of carrying items that may be used in an offensive or dangerous manner, or carrying out illegal activities within the site may be searched.
Venues/Organizers are solely responsible for the service; availability and quality of the events.
Venue/Organisers rules apply.
Pops of Pastel
No. 53, 1st Floor, Shree Chambers, Subbarama Chetty Rd, Basavanagudi, Bengaluru, Karnataka 560004, India
GET DIRECTIONS
Kannada Standup Comedy at Pops of Pastel
Pops of Pastel, Bengaluru
Invite your friends
and enjoy a shared experience