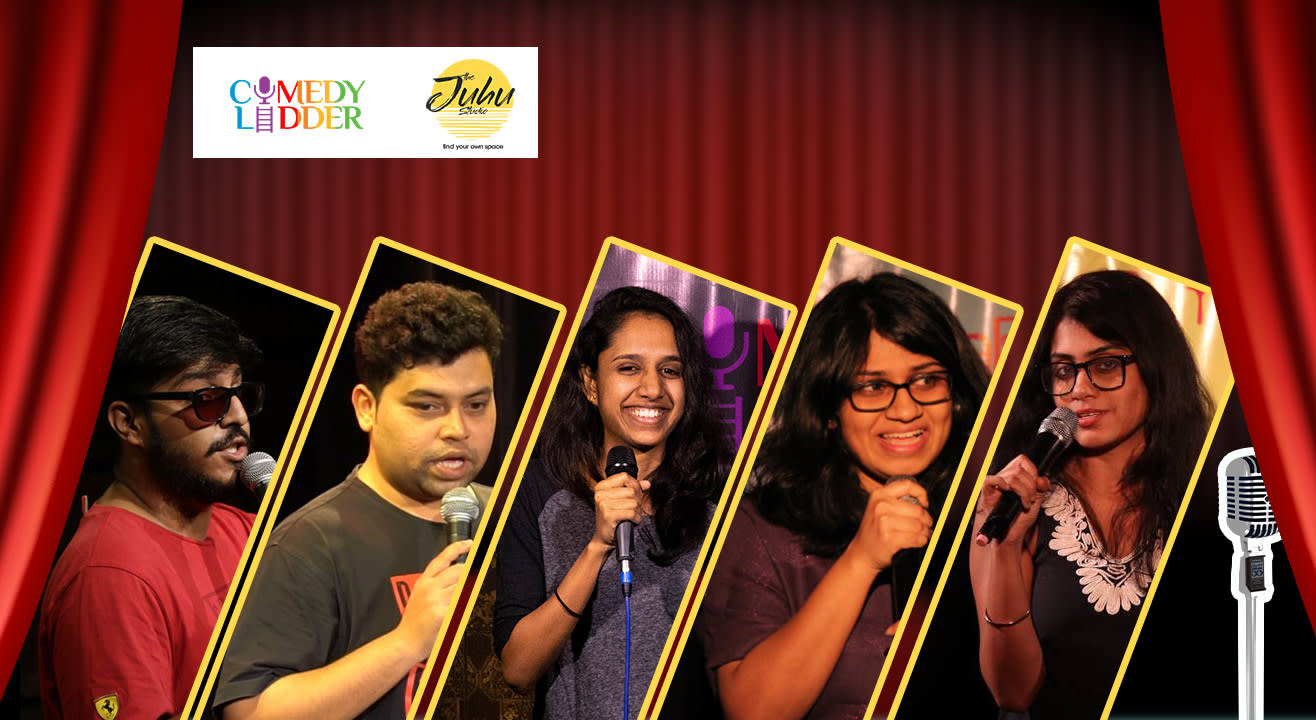 Comedy
Comedy in Juhu ft. Prashasti Singh
About
Show Name: Comedy in Juhu
Show Description- Juhu has always been an exciting place but now it just got funnier too. Every wednesday comedy ladder brings to you comedy in juhu, an hour long comedyshow with variety of comedians. great way to get rid of the mid week blues. limited seats so book yours today.
Host Navin Noronha
Shashie
Prashasti Singh
Mikhail Almeida
Pavitra Shetty
christopher Barreto
Niveditha Prakasam
Artist Info
Navin Noronha
Navin Noronha is an amply likable guy who tries very hard to be a badass. To live by his motto of 'Live Fast, Die Poor', Navin has taken up writing as a profession. He also does stand-up because it fits so well into the underpaid artist routine. He is pretty good at it though, so if you find yourself cracking up, it may not be entirely incidental. Being a Bombay boy, Navin's material covers wide ground from liberalism and pigeons to evil bosses and Jesus. And did we mention that he is an engineer by qualification? Well, who isn't?
Shashie
Shashie is an upcoming standup comedian and has featured in several shows.
Prashasti Singh
Prashasti Singh is yet another IIM graduate searching for meaning outside academic excellence and material achievement. She is one-tenth of the choir group 'The Etceteras' and has already won several stand-up competitions on the Mumbai circuit. Between stand-up and Improv she has found space for expressing her small-town sensibilities amidst big town hustle. In the end, it may just turn out to be another Amethi to Andheri story but at least we had some good laughs along the way.
Mikhail Almeida
Mikhal Almeida is a writer, stand-up comedian, improviser and a 21 year-old student who has taken four years to get to the third year of his degree. When he's not making bad decisions regarding life he's busy being a mass consumer of Chicken Tikka. He now seeks validation by making strangers laugh.
Pavitra Shetty
Pavitra Shetty is an undiscovered singer, upcoming stand-up artist and reportedly also a girl. To prove this, she has recently started a tag-team called The Sidechicks providing a disturbing look at what girls with unlimited WiFi connections can do. The biggest inspirations for her stand-up are her Mom, random aunts who keep visiting her place and her very own weighing scale. Already featured multiple times on television and radio, Pavvy is also part of hit Chalta Hai shows Dame Funny and Undateable. And she has an unnaturally high number of best friends who insisted that a new bio was written for her.
Christopher Barreto
Christopher Barreto is an upcoming standup comedian and has featured in several shows.
Niveditha Prakasam
Niveditha Prakasam is an upcoming standup comedian and has featured in several shows.