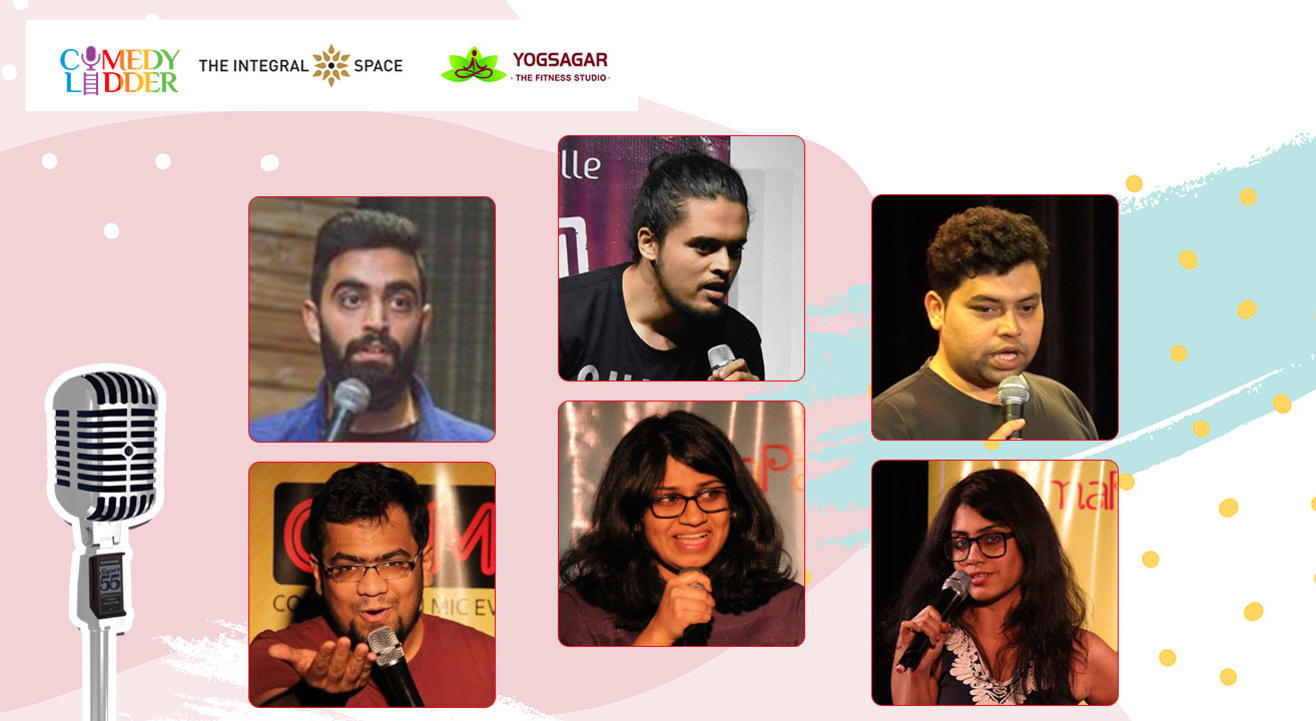 Comedy
Comedy in Juhu ft. Rahul Dua & Prashasti Singh
YOGSAGAR THE FITNESS STUDIO
About
Host Navin Noronha
Comics
Pavitra Shetty
Prashasti Singh
Rahul Dua
Neil Balthazar
Aayush Rathi
Rueben Kaduskar
Artist Info
Navin Noronha
Navin Noronha is an amply likable guy who tries very hard to be a badass. To live by his motto of 'Live Fast, Die Poor', Navin has taken up writing as a profession. He also does stand-up because it fits so well into the underpaid artist routine. He is pretty good at it though, so if you find yourself cracking up, it may not be entirely incidental. Being a Bombay boy, Navin's material covers wide ground from liberalism and pigeons to evil bosses and Jesus. And did we mention that he is an engineer by qualification? Well, who isn't?
Pavitra Shetty
Pavitra Shetty is an undiscovered singer, upcoming stand-up artist and reportedly also a girl. To prove this, she has recently started a tag-team called The Sidechicks providing a disturbing look at what girls with unlimited WiFi connections can do. The biggest inspirations for her stand-up are her Mom, random aunts who keep visiting her place and her very own weighing scale. Already featured multiple times on television and radio, Pavvy is also part of hit Chalta Hai shows Dame Funny and Undateable. And she has an unnaturally high number of best friends who insisted that a new bio was written for her.
Prashasti Singh
Prashasti Singh is yet another IIM graduate searching for meaning outside academic excellence and material achievement. She is one-tenth of the choir group 'The Etceteras' and has already won several stand-up competitions on the Mumbai circuit. Between stand-up and Improv she has found space for expressing her small-town sensibilities amidst big town hustle. In the end, it may just turn out to be another Amethi to Andheri story but at least we had some good laughs along the way.
Rahul Dua
Rahul comes from Punjab, but claims to have left it well before it started to 'fly'. Till the time he was under parental guidance, all was going fine with an Engineering and an MBA degree. But then, due to the absence of drugs and presence of loser friends, Stand-Up Comedy happened. A typical Indian middle class, his jokes are as pathetic as his financial state of affairs. 'Rahul, Naam to suna hoga' or 'Dua mein yaad rakhna'. He has performed in three cities Mumbai, Delhi/Gurgaon and Pune, has won a few Open Mics and is NDTV's Rising Star of Comedy 2016. He likes Mango Shake and Harlem Shake
Neil Balthazar
Neil Balthazar is an upcoming standup comedian and has featured in several shows.
Aayush Rathi
Aayush Rathi is an upcoming standup comedian and has featured in several shows.
Rueben Kaduskar
Reuben Kaduskar is a finalist on Amazon Prime Video's comedy hunt, Comicstaan. He actively performs on the comedy circut in Mumbai and will be hitting other cities as well!