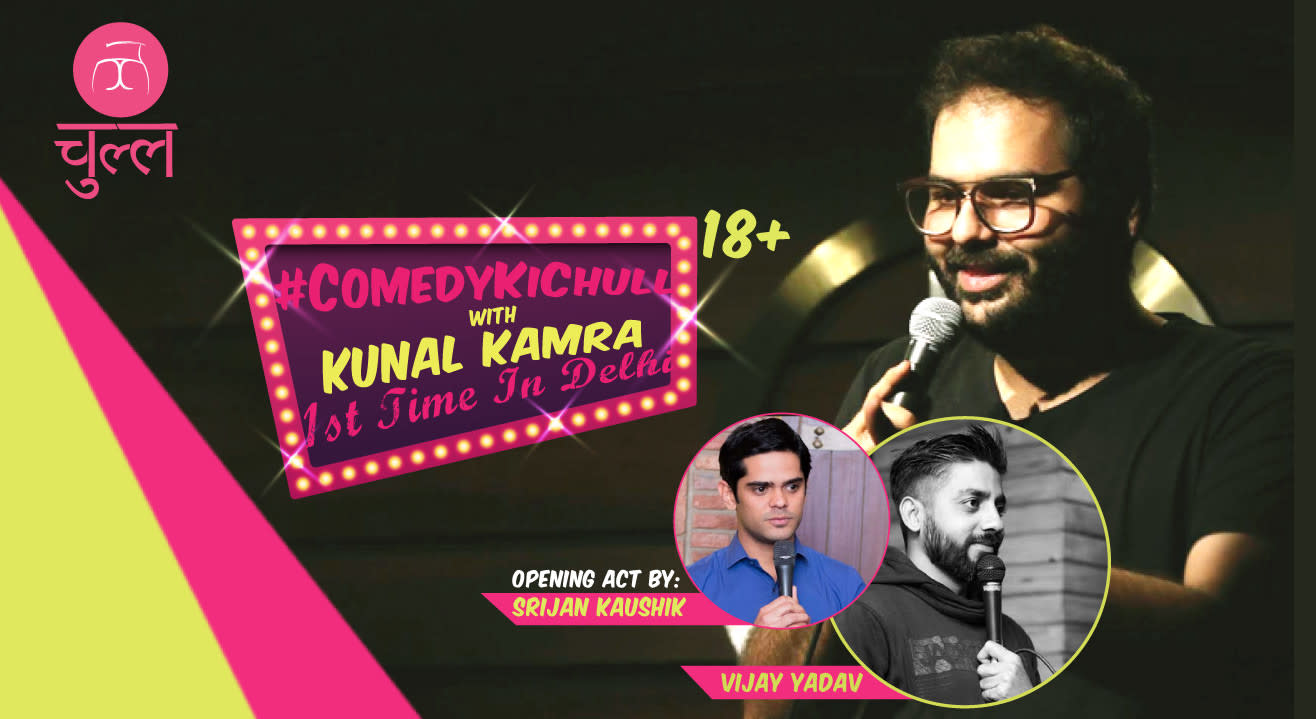 Comedy Ki Chull with Kunal Kamra
Step out and enjoy this event
Invite your friends
and enjoy a shared experience
Comedy Ki Chull with Kunal Kamra
Step out and enjoy this event
Invite your friends
and enjoy a shared experience
Invite your friends
and enjoy a shared experience
A comedy like no other! Treat yourself to a hilarious evening of top class entertainment at #Chull. We have got Kunal Kamra performing first tme in Delhi. With some other hillarious comedians Vijay Yadav and Srijan Kaushik
Kunal Kamra -
Kunal Kamra has a career in advertising which has made him so jaded and frustrated that he does stand up in order to satisfy his need to ridicule and mock what he sees in his daily life. He's an observational comedian, and is known for his weird and twisted take on things. He's brutally honest and incisive and his material is fresh, edgy and hilarious.
VIjay Yadav-
The Guy From Haryana. That's Enough Introduction.
Srijan Kaushik-
Srijan's identity crisis is rooted in his upbringing. He was born in Delhi, grew up in Rajasthan, studied in Gujarat and worked in Bangalore. A single child, raised in a dysfunctional joint family, he had an ideal environment to derive his humour from. Despite life offering a lot of different scenarios, Srijan still found time to be mundane, as he pursued the dreams of his parents and did his engineering and MBA. An optimist by nature, he tries to see the silver lining in any situation. After he bombs (lingo for stand up routine not going well), you can often find him saying - 'I can only go up from here', before he mumbles his way through another monologue.
Chull, Gurgaon
Leisure Valley Rd, Sector 29, Gurugram, Haryana 122007
GET DIRECTIONS