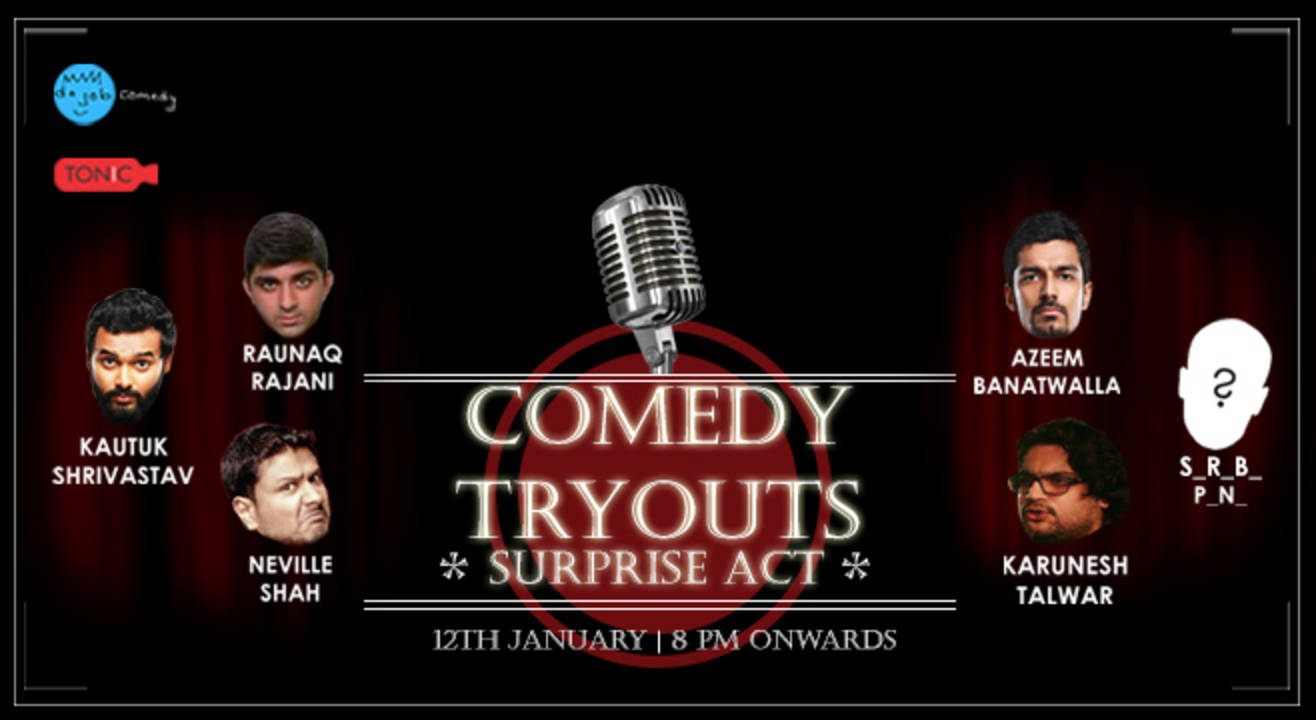 Comedy Tryouts
January 12 | 8PM
Tonic, Famous Studio Lane, Mahalakshmi, Mumbai.
About
Who doesn't like a good belly laugh?And nobody can deny that a meal is made so much better if it's accompanied by healthy doses of laughter. While our friends are the best sources for uncontrollable laughter, there are some times when they've had horrible days at work and are having a hard time finding their funny bone. As are you. On days like that, grab your friends and head to Tonic, Mahalaxmi for some great food and comedy that'll have you in splits.
This Thursday, laugh and cheer at the same time with Tonic. Watch the comedians try till they succeed, while they make you cry while doing so.
This week at your service they have:
Azeem Banatwala
Neville Shah
Karunesh Talwar
Raunaq Rajani
Kautuk Shrivastav
Surprise Act: S_R_B_ P_N_
Venue
Tonic, Famous Studio Lane, Mahalakshmi, Mumbai.
Ground Floor, Dr E Moses Road, Famous Studio Lane, Mahalakshmi West, Mumbai, Maharashtra 400011
Terms & Conditions
Entry for individuals above 18 years of age only
Seats available on a first come first serve basis
Individuals of ages 18 and under must be accompanied by a parent or a guardian. The show may contain mild adult language.
A government issued, valid photo ID may be requested at entry.
No refunds on purchased ticket are possible, even in case of any rescheduling.
This is a single entry show. Once you exit the show area, you will not be permitted to enter again.
Please keep your ticket with you at all times.
Rights of admission reserved, even to valid ticket holders.
Beware of counterfeit tickets.
AUDIO OR VIDEO RECORDING OF THE SHOW IS NOT PERMITTED. You must not make, create, store, record or transmit any kind of sound recording, visual footage (recording), or store, record or transmit any information or other data with relation to the event. The organizers
reserve the right to eject you from the venue for doing so.
No professional, SLR or DSLR cameras or recording (sound or video) equipment will be permitted in the venue. Do not bring them to the venue as we will NOT be able to take responsibility and hold the same in safekeeping.
Security procedures, including frisking remain the right of the management.
No dangerous or potentially hazardous objects including but not limited to weapons, knives, guns, fireworks, helmets, laser devices, bottles, musical instruments will be allowed in the venue and may be ejected with or without the owner from the venue.
The sponsors/performers/organizers are not responsible for any injury or damage occurring due to the event. Any claims regarding the same would be settled in courts in Mumbai.
No drug use allowed - consumption of narcotics is illegal and those found in possession of or consuming narcotics at the event will be handed over to police authorities.
Ticket holders in an inebriated state may not be allowed entry.
Carrying of liquids, alcohol, cigarettes and banned substances including
outside food will not be permitted in the venue.
No liability claims of food, pollution and other consumption poisoning will be entertained.
No tickets for the event shall be used by any person for advertising, promotional or commercial purposes, including but not limited to prizes, competition, contests or sweepstakes without obtaining written consent of the promoter OML Entertainment Pvt Ltd.