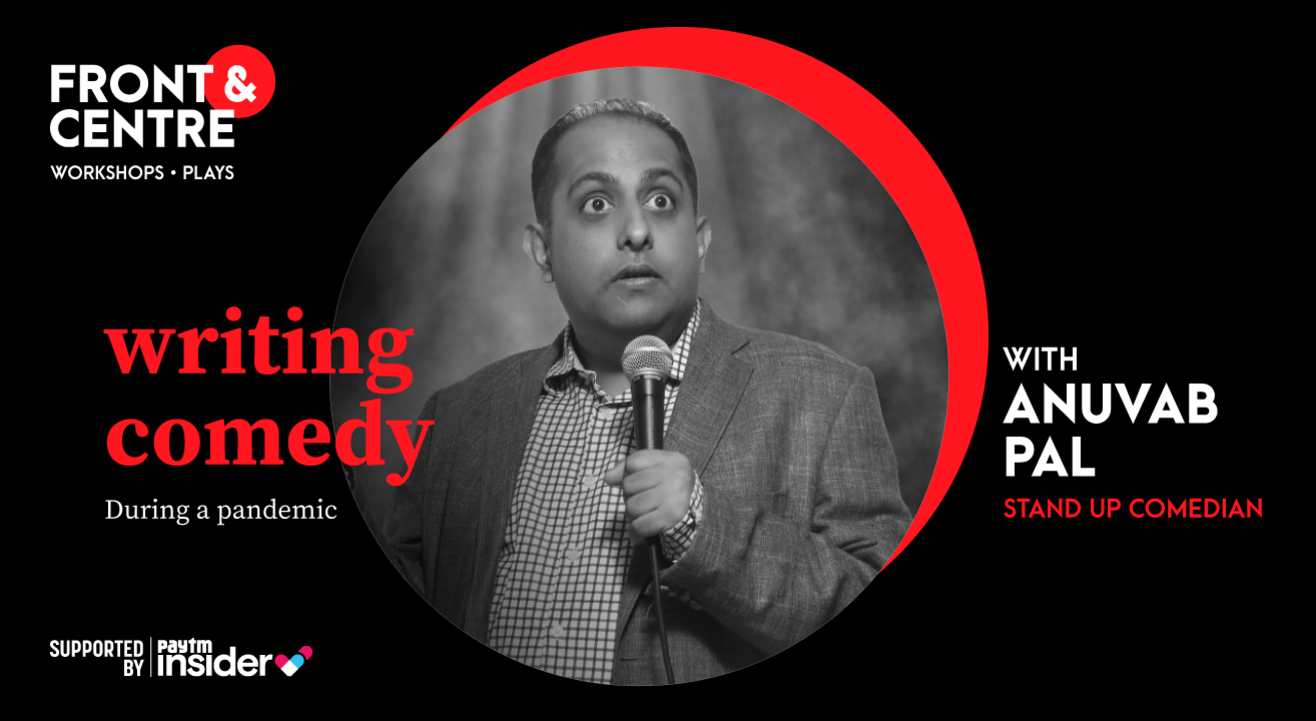 Comedy Writing in a Pandemic by Anuvab Pal
July 2 - July 5 | 6PM - 6:45PM
Invite your friends
and enjoy a shared experience
Invite your friends
and enjoy a shared experience
About the Event
Covid-19 has changed our lives forever, learn about its effect on writing comedy
A chance to learn comedy writing from the best! Whether you are a first time writer looking to start from scratch or an experienced one wanting to develop your existing idea, these sessions are for you.
The good, the bad and funny laid bare by an industry expert.
Session Details:
These unique sessions offer insight for those dedicated to producing new work in the field of comedy writing in the current market.
These sessions will be interactive in nature
You will be given the chance to discuss your work
There will be short expert training and improv assignments
There will be a Q&A session with Anuvab Pal at the end of every session
2nd July | Module 1 | Essential tools for writing comedy
​This session starts with the basic tools of comedy writing, but more importantly, it looks at how these tools can be applied to our current times
A chance to gain insight into the new avenues expected to emerge like live digital show, live feeds and many more
3rd July | Module 2 | Why comedy writing is different from writing drama?
A chance to understand different styles of writing
No matter what genre you write for, with these comedy writing tools in your toolbox you can write stronger characters and more engaging stories
4th July | Module 3 | How we write comedy in a pandemic and why?
Learn tips on writing in this market and gain insight into the business.
Most importantly, learn about the market & who will want to watch
5th July | Module 4 | The future of comedy stories
​This session will look to the future of this field: How will storytelling change?
What Indian comedy might look like in a year
About Anuvab Pal
The New York Times calls him India's Most Intelligent Comedian. The Times of India call's him one of India's top 10 comedians. His stand up comedy special The Nation Wants To Know, has had over 500 shows starting in Mumbai and playing from Sydney to San Francisco to Singapore to sold-out houses across 30 cities. His show is the only Indian stand up comedy show after Russel Peters' to sell out The Comedy Store in London and Gotham Comedy Club in New York in record time. He's also the only Indian comedian invited to perform at Harvard University and for the Prime Minister and President Of India.
In 2017, he was one of 10 Indian comedians picked by Amazon Prime Video to have his comedy special Alive At 40 broadcast to 30 countries worldwide. His work has been featured on The BBC, Time Magazine, CNN, NDTV, and other global media.
He's the screenwriter of comedy cult films Loins of Punjab Presents, The President Is Coming and Going Viral (Amazon Prime Video). His stand up performance of Empire, for BBC, has been seen by 6 million people worldwide and is part of the permanent collection at Victoria and Albert Museum.