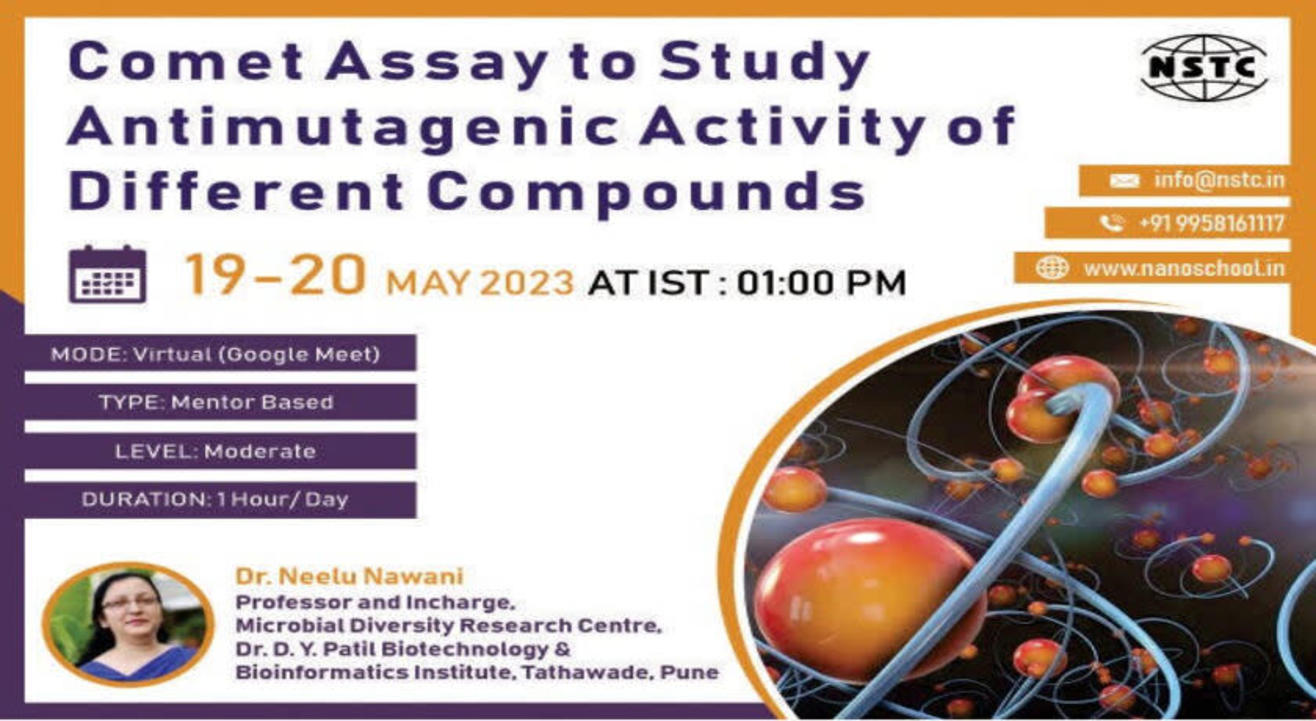 Comet Assay to Study Antimutagenic Activity of Different Compounds
May 19 | 2PM - June 19 | 4PM
Enjoy this event from your home
Invite your friends
and enjoy a shared experience
Comet Assay to Study Antimutagenic Activity of Different Compounds
May 19 | 2PM - June 19 | 4PM
Enjoy this event from your home
Invite your friends
and enjoy a shared experience
Invite your friends
and enjoy a shared experience
This workshop is designed to provide participants with a comprehensive understanding of the Comet Assay technique and its applications in studying DNA damage and repair. Over the course of two days, attendees will be introduced to the principles behind Comet Assay, learn the protocol for performing the assay. The workshop will also cover advanced topics, including modifications and improvisations of the technique, and its applications in various research fields. By the end of the workshop, participants will have the knowledge and skills to apply Comet Assay to their own research and take it to the next level.
Introduce participants to the concept of antimutagenicity and the role of comet assay in evaluating antimutagenic activity of different compounds.
Explain the principles of comet assay and the various types of comet assays used to study DNA damage and repair.
Describe the different types of mutagens and their potential health effects, and explain how comet assay can be used to evaluate the potential of different compounds to prevent or mitigate DNA damage caused by mutagens.
Provide an overview of the different compounds with potential antimutagenic activity, including natural and synthetic compounds, and explain the mechanisms by which they may prevent or mitigate DNA damage.
Demonstrate the techniques and protocols for performing comet assay, including sample preparation, gel electrophoresis, and imaging and analysis of comet tail lengths.
Provide opportunities for participants to practice performing comet assay and analyzing results, and to troubleshoot common issues that may arise during the assay process.
Discuss the strengths and limitations of comet assay as a tool for evaluating antimutagenic activity, and how it can be used in conjunction with other methods to provide a more comprehensive evaluation of compound activity.
Facilitate discussions on how to design and conduct studies to evaluate the antimutagenic activity of different compounds, and how to interpret and communicate results.
Foster a collaborative learning environment that encourages participants to share their experiences and insights, and learn from each other.
Equip participants with the knowledge and skills they need to apply comet assay to their own research projects and evaluate the potential antimutagenic activity of different compounds.
Please adhere to the following rules -
Ensure a stable internet connection
Make sure that the microphone is working
Maintain harmony during the workshop
The prices of the workshop vary based on your profession please visit our website www.nanoschool.in
Comet Assay to Study Antimutagenic Activity of Different Compounds
May 19 | 2PM - June 19 | 4PM
Enjoy this event from your home
Invite your friends
and enjoy a shared experience