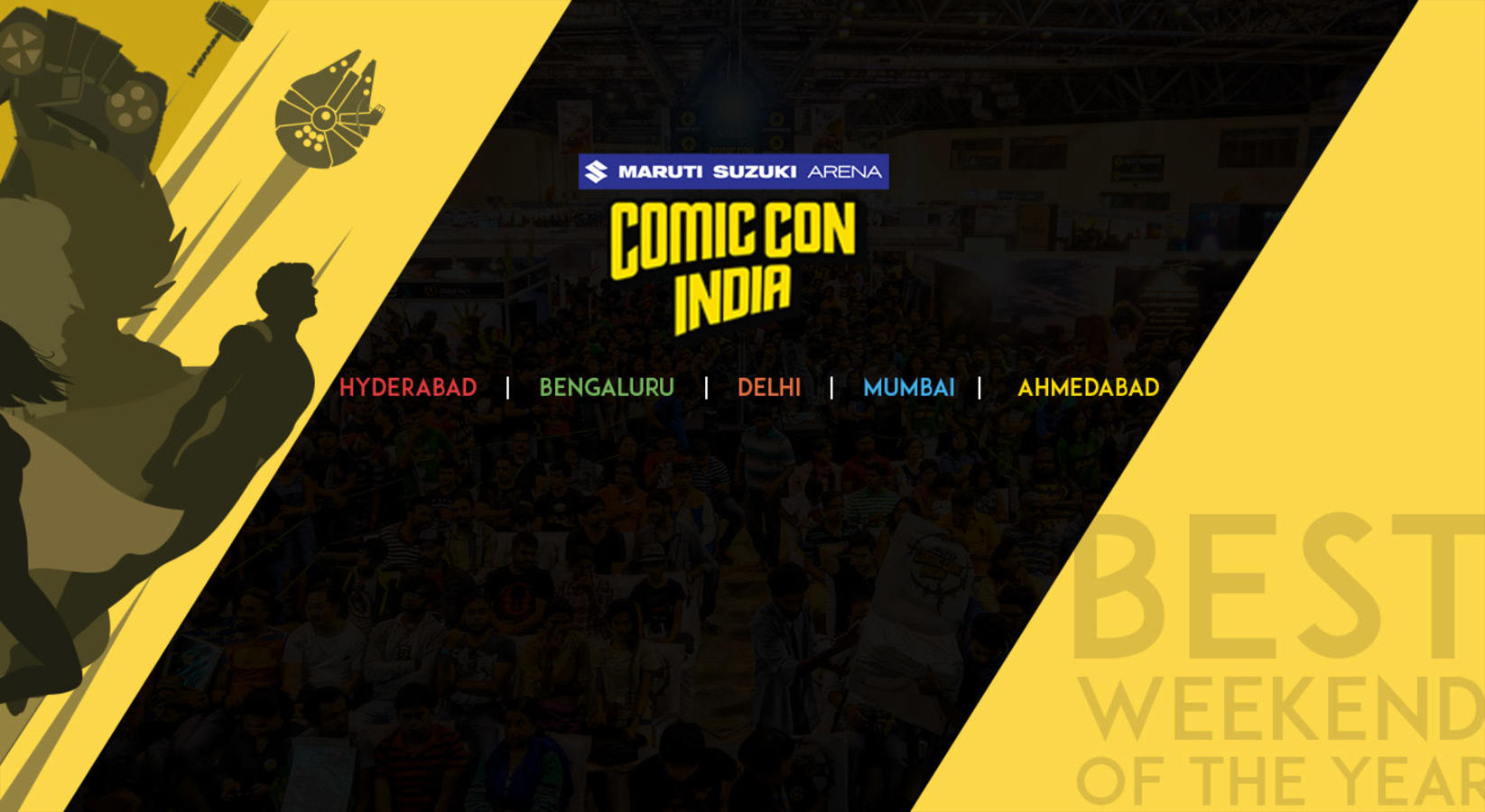 Comic Con
Comic Con India 2019: Hyderabad, Bengaluru, Mumbai, Delhi, Ahmedabad!
India's biggest pop culture festival is back! Experience the best weekend of the year and celebrate your undying love and passion for comics & pop culture.
If you're into comics, movies & TV, animation, graphic novels, gaming and everything of that nature, this is the place for you! Welcome to Comic Con - the biggest pop culture convention in the country that has brought joy, wonder and happiness to over 1.6 million fans for almost a decade.

Get your passes for Delhi and Ahmedabad right here:
Guests at Comic Con India 2018
Comic Con India has featured several artists and creators over the last few years. This includes comic book artists, illustrators, executives from various TV shows and is often attended by many influencers. Just some of these names are below.
Guests at Comic Con Hyderabad
Funnyman Sahil Shah graced the convention this year again, who is not a stranger to the comedic tides of Hyderabad. For the first time, animator and comic book artist Rahil Mohsin was ushered in from Bangalore along with Matthew Rosenberg, Tyler Boss, Arthur Suydam and Ty Templeton. Also joining them was another comic guy, Rahul Subramanian and the dark knights of the south Indian comedy circuit, The Viva, who rocked the stage on both days. The highlight of the event was the arrival of the supervillain from Sacred Games, Luke Kenny.
Guests at Comic Con Bengaluru
2018 saw some of the biggest names in the comic book world. The husband-wife, comic artist-cosplayer duo, Glenn Rane and Jojo "Apotheosis" Rane came to KTPO Trade centre and wowed the audience with their talk. Fan favourite Alicia Souza also made her way here and melted everyone's hearts with her cuteness and hugs. Comedy stars and the iconic boys from East India Comedy, Sapan Verma and Sahil Shah were in attendance. Comic book creators and writers like Rahil Mohsin, Ryan O'Sullivan, Dan Watters, Ram V, Vivek Goel, Shamik Dasgupta also made their presence known by interactive sessions and many releasing their new webcomics.
Guests at Comic Con Delhi
This year's Comic Con was one of the most happening events with The Night King aka Vladimir Furdik crossed the Wall from the Game of Thrones and entered the NSIC Grounds. This convention also saw a lot of Indian comic artists and writers coming in like Abhijeet Kini, Alicia Souza, Akshay Dhar, Rahil Mohsin, Aniruddho Chakraborty, Saumin Patel, Vivek Goel and many more. Few international creators also graced the event like Peter Nguyen, John Layman and Declan Shalvey. For the laughter doze, Comic Con follower, fan and a regular this year, Sahil Shah was on stage. Another favourite was Varun Thakur who got everyone ROFLing. Luke Kenny, the supervillain of the Netflix series, Sacred Games, also came in to discuss the new season.
Vladimir Furdik aka The Night King from GoT seems to be giving out spoilers of the final season to his fans

Akshay Dhar having a fun session with the audience

Yami Gautam found her inner geek at NSIC Grounds

Say cheese! Abhijeet Kini poses with his fans

Sahil Shah doing what he does best - comedy

The signup sheet for White Walkers would surely increase after listening to him
Guests at Comic Con Mumbai
Mumbai saw some new faces in the comic book world with budding artists coming on stage and seeing new releases of comic books. The guests that headlined this year's Comic Con were pro cosplayer Yaya Han along comic artists Will Conrad and Sana Takeda. The convention also brought in a huge number of Indian comic book creators and a number of YouTube as well as stand-up people. Fan favourite YouTube team The Screenpatti, stand-up comedian Sahil Shah and TVF's Jizzy aka Jasmeet had the audience in splits both days.
The fan will surely frame this photo with Yaya Han

The team of Lawtoons with Abhijeet Kini

Atul Sethi and Vikas Upadhyay releasing their book

The fans loving the works of Mark Kistler

Sahil Shah on his antics again

Some intense talk with comic creators

Everyone, including this volunteer, is a fan of Rahil Mohsin
Cosplay at Comic Con India
Cosplay or costume play is an integral and probably the most fun part about the convention! Not only does Comic Con India feature cosplay artists and a fashion show for the same, but you can also dress up as your favourite character and attend the event. Check out some of the best cosplays over the years, below.
He crossed The Wall and now he's coming to gather all the White Walkers - here's The Night King at Delhi Comic Con in 2018

The God of Mischief has finally got hold of the Tesseract! Presenting Loki at Mumbai Comic Con in 2018.

The Aliens took over the Hyderabad Comic Con 2017!

Diana, princess of the Amazons is here to save the world! DC Universe's Wonder Woman seen at Mumbai Comic Con in 2018.

Heads up! Here's Darth Vader at the Mumbai Comic Con in 2014!

Don't worry, the Mother of Dragons is always up to take pictures! Here's Khaleesi at the Bengaluru Comic Con in 2015!
Merchandise

Comic Con India features several stalls that sell t-shirts, posters, mugs and comics books based on your favourite fandoms! Keep an eye out for the free posters and kits that are also available at the venue.

Stalls

Other than the merchandise stands, Comic Con India also includes spots to take pictures, stalls to try out new technology and places to eat!
Step into the TARDIS!

Take a trip through time and check out who came to Comic Con over the past few years - artists, actors, YouTubers and everyone who's been fangirled/fanboyed about!

"Hodor Hodor Hodor Hodor!" - Hodor a.k.a. Kristian Nairn is glad he's not holding the door anymore as he poses with his fans at Delhi Comic Con 2015

The only man who could stop Baahubali, Bhallaladeva a.k.a. Rana Daggubati had lots to talk about at Bengaluru Comic Con 2015

Padma Patil a.k.a. Afshan Azad came to Hyderabad Comic Con 2016, all the way from Hogwarts to click selfie with the fans of Harry Potter

"Idjits!" That's what Bobby Singer aka Jim Beaver from Supernatural called all his fans at Mumbai Comic Con 2016

It was a delightful session as the co-creator of Sherlock and writer for Dr. Who, Mark Gatiss came to Mumbai Comic Con 2014

Caricaturist Tom Richmond (L), author of Kabul Disco, Nicolas Wild (C) and author X-Files comics, Joe Harris (R) pose for the camera at Delhi Comic Con 2016

The cast of Shivaay discussed all behind-the-scenes at Mumbai Comic Con 2016
Subscribe to receive our newsletter!
Find the best experiences happening out there in your city or enjoy handpicked content while sitting comfortably at home. Paytm Insider is your go-to place to figure out what to do today!