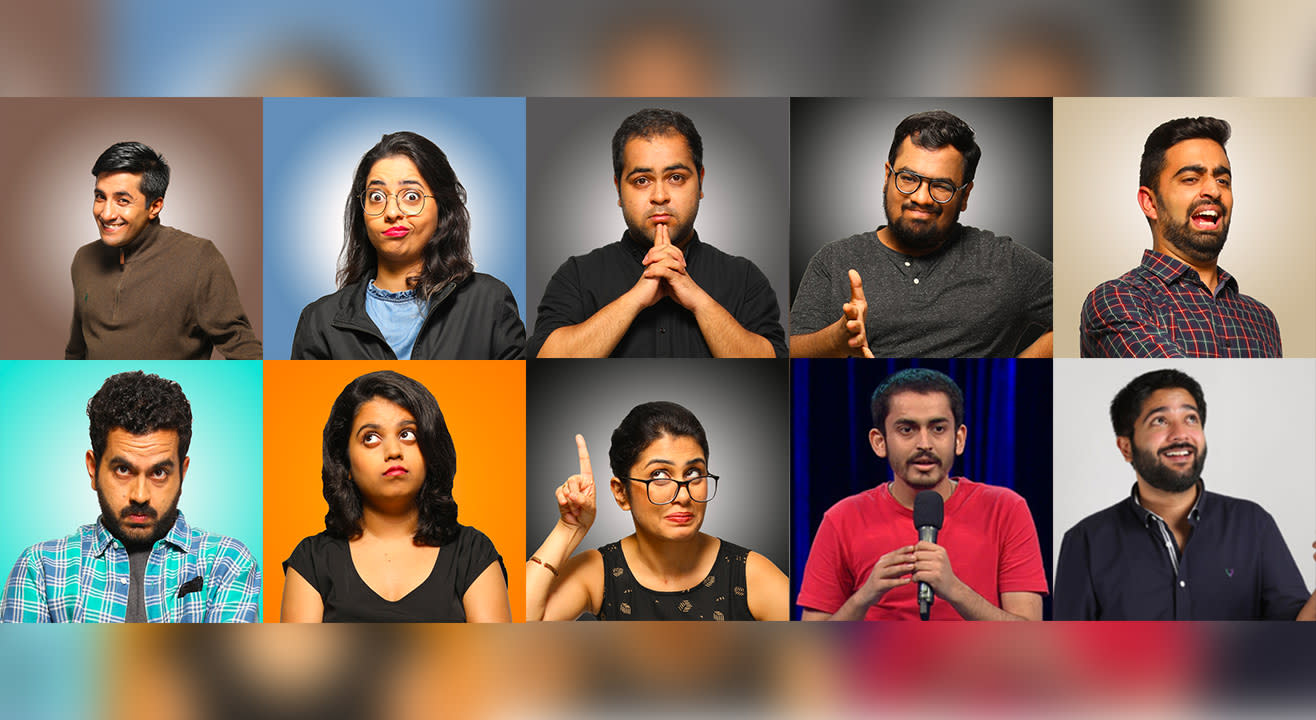 Comedy
The Comicstaan Finalists Are Doing Several Live Shows. Here's Where You Can Catch Them in Your City.
The 10 comics who're going to be tomorrow's superstars are all taking to stage with new material, and you should catch them!
Comicstaan Season 1 has taken the country by storm. The pan-India talent hunt which describes itself as "a show that convinces parents that comedy is a legit career.", has become the most-watched show on Amazon Prime Video within a week of its launch.

It featured seven of the top comics in the country as mentors & judges (Tanmay Bhat, Biswa Kalyan Rath, Kanan Gill, Kenny Sebastian, Kaneez Surka, Naveen Richard, Sapan Verma) and hosted by two others (Abish Mathew, Sumukhi Suresh). The first season saw ten fantastic finalists from across India: Nishant Suri, Rahul Dua, Shankar Chugani, Prashasti Singh, Aishwarya Mohanraj, Saurav Mehta, Sejal Bhat, Rueben Kaduskar, Shashwat Maheshwari, Arnav Rao. All of them have become stars, and have bright careers ahead in the field of stand-up, sketch and improv comedy.

While Nishant Suri won Season 1, all ten comics will be taking to stage regularly: With new material, one-hour shows, open mic hosting, and more.
Catch Comicstaan Finalists in Mumbai
Catch Comicstaan Finalists in Delhi NCR
Catch Comicstaan Finalists in Bangalore
Catch Comicstaan Finalists in Other Cities
The comics keep touring - especially to support superstars such as Abish Mathew, Kanan Gill and Biswa Kalyan Rath! Check if they're performing in your city! Currently, the comics are performing in Mumbai, Delhi, Bangalore, Agra, Kolkata, Pune, Jaipur, Surat, Ahmedabad, Indore, Guwahati, Jodhpur, Kanpur,

Nishant Suri | Rahul Dua | Shankar Chugani | Prashasti Singh | Aishwarya Mohanraj | Saurav Mehta | Sejal Bhat | Rueben Kaduskar | Shashwat Maheshwari | Arnav Rao
Haven't seen Comicstaan yet?
Then you should! Watch as 10 of the country's brightest young comedians go head-to-head in multiple rounds, with multiple themes, mentored by the who's who of Indian comedy! Watch it on Amazon Prime Video.
Subscribe to receive our newsletter!
Find the best experiences happening out there in your city or enjoy handpicked content while sitting comfortably at home. Paytm Insider is your go-to place to figure out what to do today!