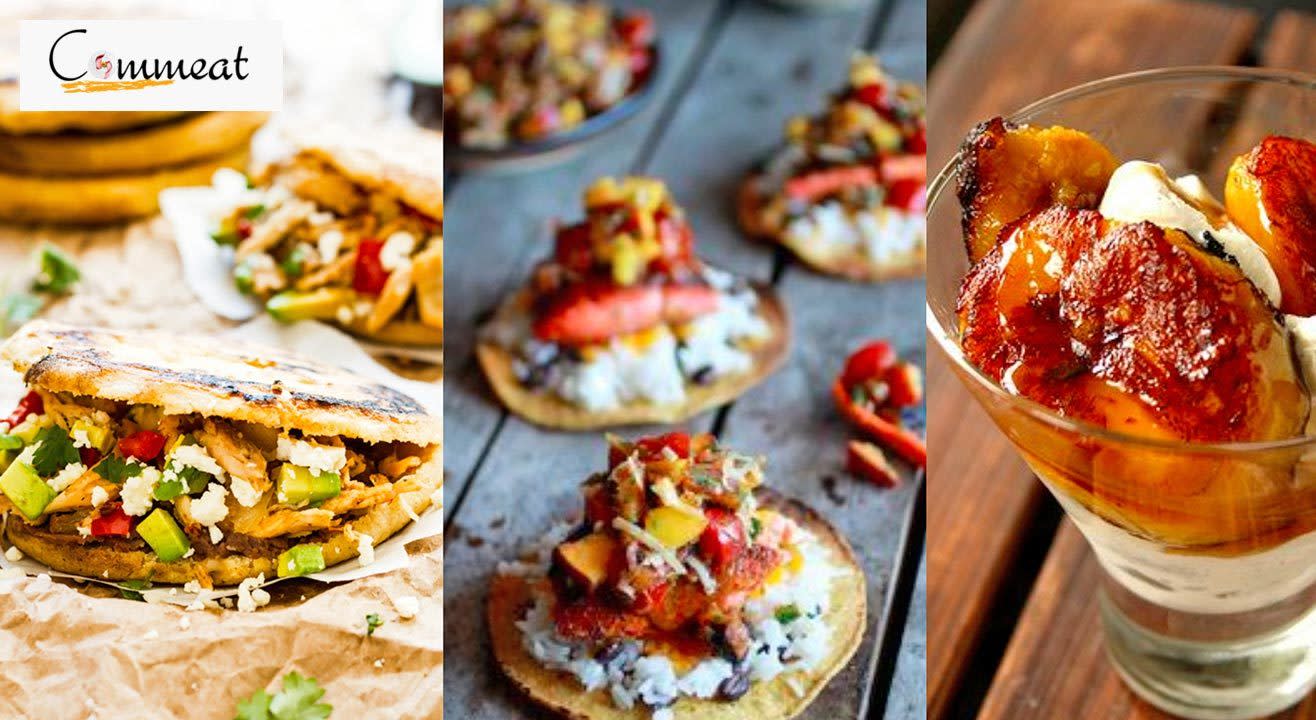 Commeat's Latin American Eat Street
Jyoti Mahal, Grant Road, Mumbai
Step out and enjoy this event
Invite your friends
and enjoy a shared experience
Commeat's Latin American Eat Street
Jyoti Mahal, Grant Road, Mumbai
Step out and enjoy this event
Invite your friends
and enjoy a shared experience
Invite your friends
and enjoy a shared experience
Latin America is a place where the Native American civilizations created a cuisine vastly different from the other lands. Rachana Shah Sony from Tan Bueno present India's first all veg Latin American Street Food Commeat's Table. Bringing you food from food carts of Venezuela, street sides of Brazil, cafes of Caribbean, kiosks of Argentina and so much more. It is almost like eating on the streets of Latin America.
Get transported to the land of magic, mysteries and the coastline.
From tamales to tacos, food on a stick to ceviches, and empanadas to desserts, get ready for a culinary treat.
Beber (drink)

Pina Menta Agua Fresca
(Pineapple drink with refreshing mint)

Comida de Calle(Street Food Meal)

Empanadas
(Crisp envelopes filled with minced vegetables & sweet corn cooked in ancho chilli paste, seasoned with herbs and mint, served with guava sauce, these are found ample on the streets of Brazil and Mexico)

Arepas
(Corn griddle sandwiches, widely popular street food of Venezuela & Colombia, served with fried & spiced plantain chips and mayo-cream dip)

Soft Taco with Salsa De Mani (Ecuadorian Peanut Sauce)
(Homemade tortilla filled with bean-zucchini cakes, greens, grated cheese and salsa de mani)

Tostadas
(Very popular all across Mexico and other parts of Latin America. Homemade flat and crisp taco shells topped with our signature re-fried beans, salad, guacamole, tomato salsa and grated cheese)

Molettes
(These are delicious toasted dinner rolls, stuffed with re-fried beans, fresh cheese, green salad and salsa. They are sold by street vendors in Mexico)

Tamales
(Corn meal dumplings steamed in corn husks are to be found throughout South America)

Corn on the cobs with garlic butter crust
(Delicious and buttery, this version of corn on the cob has unique flavour of epazote, a South American herb)

Five layer dip with tortilla chips
(Delicious layers of re-fried beans, guacamole, salsa and more to be scooped with our crunchy homemade tortilla chips)

Postres (Desserts)
Mexican Hot Chocolate Shot
(Nutty Mexican hot chocolate spiked with red chilli powder)

Drunken Plantains (A version without rum will also be served)
(Before French and Spanish influenced their cuisine, the natives made simple but delicious desserts with fresh fruit. This is a divine melange of baked plantains, orange juice, rum and toasted almonds)
Jyoti Mahal, Grant Road
Shamrao Vithal Rao Bank - Sleater Road, Mumbai, Maharashtra, India
GET DIRECTIONS
Commeat's Latin American Eat Street
Jyoti Mahal, Grant Road, Mumbai
Step out and enjoy this event
Invite your friends
and enjoy a shared experience