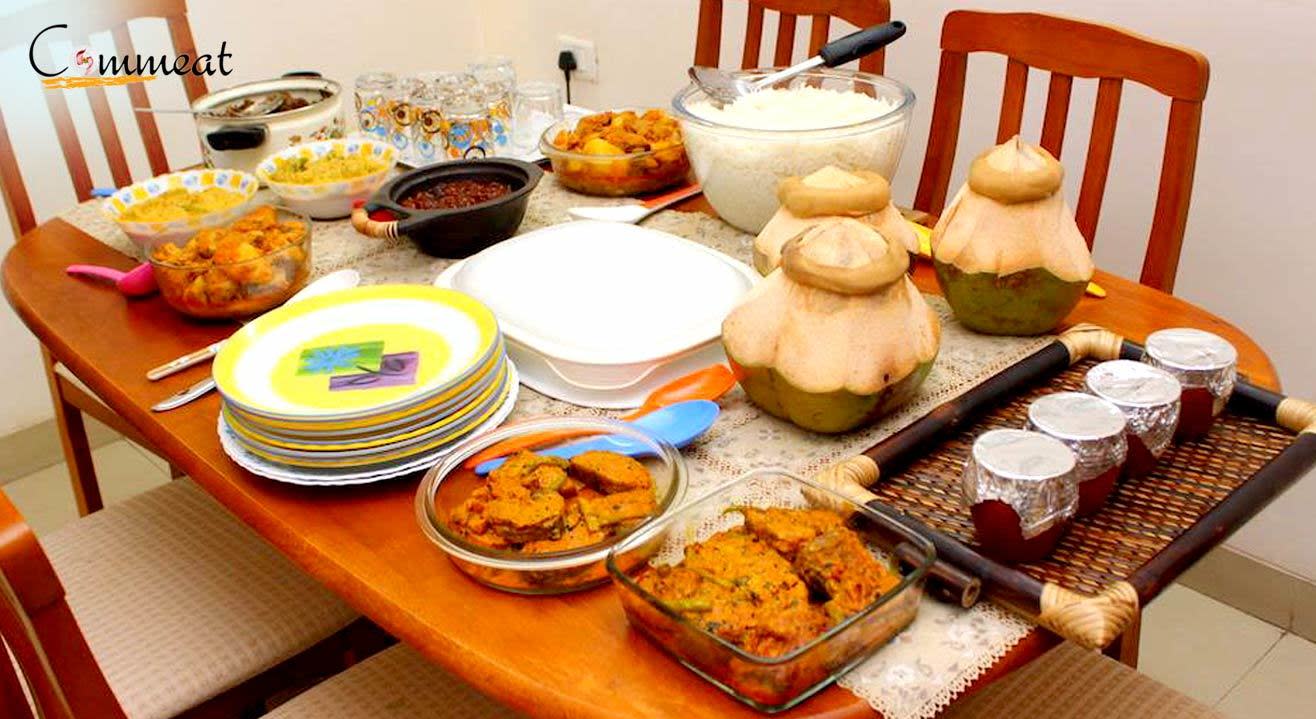 COMMEAT's The Bong Non-Veg Trail
Step out and enjoy this event
Invite your friends
and enjoy a shared experience
COMMEAT's The Bong Non-Veg Trail
Step out and enjoy this event
Invite your friends
and enjoy a shared experience
Invite your friends
and enjoy a shared experience
For Bengalis, food is one of the most essential aspects of their day to day lives. Bengali cuisine is appreciated for its fabulous use of panchphoron, a term used to refer to the five essential spices, namely mustard, fenugreek, cumin, aniseed, and black cumin. The speciality lies in the perfect blend of sweet and spicy flavors.
This is a chance for you to taste traditional Bengali delicacies in Mumbai, cooked with love and longing, by home chef, Anirban Nandy. Anirban is an investment banker by profession and food researcher by passion. Read more about him here
Dimer devil - If there was ever an award for bong Street food appetizers this one will surely make the cut for nomination. They say that the devil lies in the details and this boiled egg wrapped in a spicy minced meat mixture and deep fried with a generous coating of breadcrumbs and served with the quintessential kasundi is exactly that....Can't be a better start to ur meal

Kancha lonka murgi- although it translates into green chilly chicken this one is completely different in taste, texture and aroma from. It's more popular Chinese/Andhra counterparts. A distinct blend of whole green chillies, white wine vinegar and white pepper is surely going to bring your taste buds alive. As a food trivia it also used to be one of the favorites of yesteryear Bengali megastar Uttam Kumar

Kankrar roast - seafood lovers would love this dry spicy crab preparation with the blend of a healthy dose of whole red chilly, garlic, tamarind, coriander and a whole lot of spices whipping up an aroma worth drooling for. Let's get the fingers dirty with this one

Kosha mangsho- The legendary dry spicy mutton curry in its signature black avatar is back on popular demand. Try this with the evergreen luchi and this is one combination that your palate will crave for more

Prawn mohini - A combination of shrimps cooked with poppy seeds, coconut milk, cashews and green chilly paste with a dash of mustard is surely going to unleash a mohona of flavours in your mouth. Shrimp lovers, dig into this one only wanting for more

Ros pithe - sankranti and the end of winters brings back the forgotten and nostalgic pithe back into Bengali households. This variant of the pithe with a stuffing of coconut, mawa and the much loved nolen gur drenched in sugar syrup is a must have and something that you will hardly get in a sweet shop. Forget the calorie intake as you will definitely not stop at one.