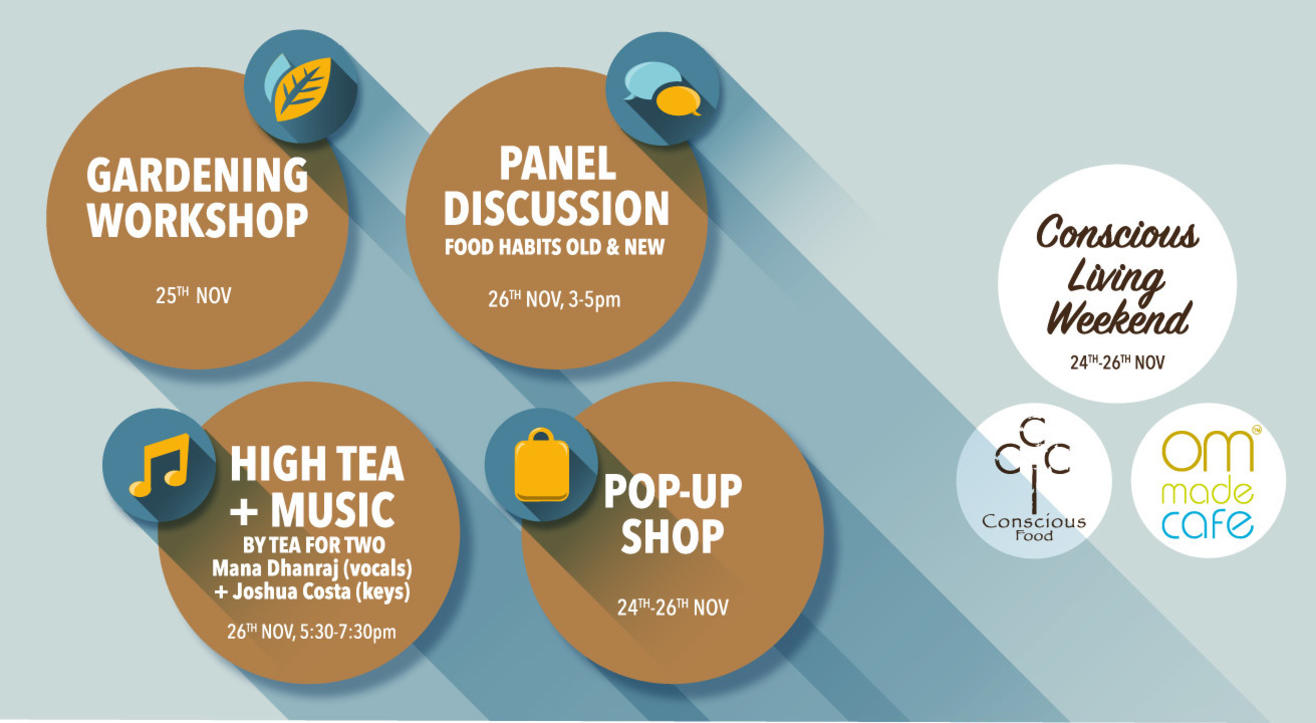 Experiences
Conscious Living Weekend | Conscious Food x Om Made Cafe
About
Conscious Food and Om Made Cafe partner to bring you an exciting weekend of organic goodness. As our (Conscious Food's) first event ever in Bangalore, this weekend will have something to nourish your mind, body and soul - so don't miss out!
Drop by the cafe to chat with us and buy your stock
Learn how about herb gardening and upcycling
Listen and engage with the experts
Groove to the music
Nibble and sip on the snacks and tea
There's something for everyone!
Register now!
POP-UP SHOP
November 24th - 26th at Om Made Cafe,
A showcase of the entire range of Conscious Food products from oils to flours to spices.

GARDENING WORKSHOP
Create an Upcycled Herb Garden for your Kitchen with Daily Dump
2:00 - 4:00 pm | Saturday, 25th November
Inclusions: Seeds, an upcycled item for planting, a packet of our signature Citizen Compost
Savitha is lifelong gardening enthusiast. She has 15 years experience gardening all types of plants - herbs, vegetables, and flowers - in her own garden and for Daily Dump. She's Daily Dump's resident horticulturalist. http://dailydump.org

PANEL DISCUSSION: Food Habits: Old and New
3:00 - 5:00 pm | Sunday, 26th November
Current Indian food habits are shaped at the intersection of agricultural food traditions, family recipes, and modern urban cultural influences. We bring together experts from across the country, to shed some light on the past, present and future of our habits and their influences.

The panelists
1. Mumbai's Saee Koranne-Khandekar, founder of the food Content Studio, Scrollific, and author of Crumbs! Bread Stories and Recipes for the Indian Kitchen
2. Delhi's Vibha Varshney, Botanist and Science Editor at Down to Earth, a publication by the Centre of Science and Environment, author of First Food: Culture of Taste as a part of the First Food book series.
3. Nidhi Nahata, founder of JustBe Cafe and leader of the Bangalore initiatives of the NGO, SHARAN, which works towards disease reversal through the proper diet.
4. Amit Manjrekar, founder of Green Fundas, Bangalore.
5. The panel will be moderated by Archana Kotian, owner of Om Made Cafe, Koramangala.

HIGH - TEA + MUSIC PERFORMANCE BY 'TEA FOR TWO'
5:30 - 7:30pm | Sunday, 26th November
Come for the discussion, stay for the tunes and snacks. We'll wind down the weekend with a vibrant live music set by tho duo 'Tea for Two' with Mana Dhanraj on vocals and Joshua Costa on Keys along with a special High Tea menu by Om Made cafe.


Om Made Café is a lifestyle café born from the passion to create a tranquil oasis for our customers and provide an engaging balance of food, atmosphere and service.Om Made Café awakens the senses with our great food, fabulous service, and soothing setting rich with art and music.We want to share our passion and love for wholesome food with as many people as possible.

Om Made Cafe is one of those places that strike a chord the very first time you visit it! Serving organic food to Bangalore's hip and the happening, it is the quaint character of this rooftop cafe that makes them fall in love with it. The earthy vibe and soothing views of the surrounding tree canopies and vintage decor are things that give the place a very comfortable look and feel. It's the perfect place to catch a beautiful Bangalore sunset with friends and family over a coffee/wine or have an intimate candle lit dinner with dear ones.
Conscious Food has been the pioneer of the Indian organic and natural food world since 1990. On offer is a curated range of organic and natural grains and cereals, stone-ground flours, natural sugars, iron-pounded spices, power-packed snacks, seeds, nuts and cold-pressed oils to complement the wellness lifestyle. In maintaining an ethical stance, we source responsibly - grown produce, promote indigenous varieties, follow sustainable practices wherever possible and advocate for women's participation in the workforce. In essence, we believe in doing well by doing good.
Venue
Om Made Cafe
No. 136, Evergreen PARC, Rooftop, 1st Cross Road, 5th Block, Koramangala, Bengaluru, Karnataka 560095