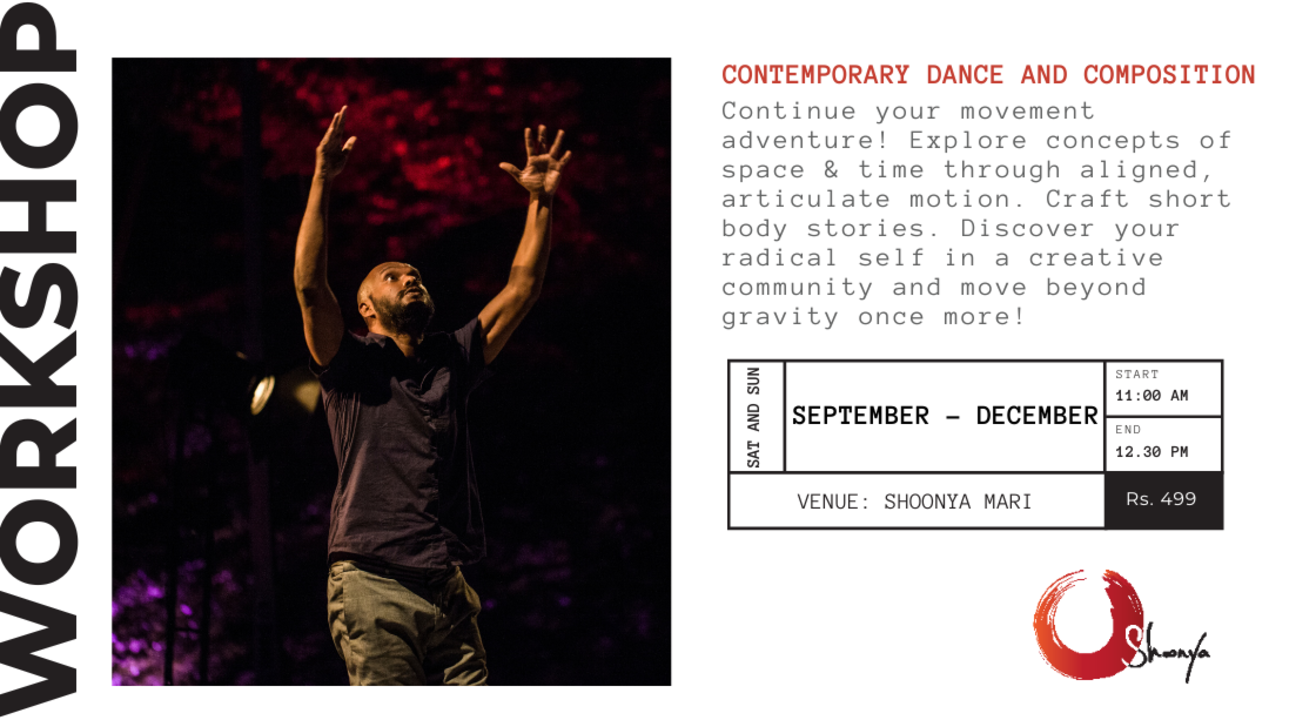 Contemporary Dance and Composition
July 1 | 11AM - December 31 | 12PM
Event Guide
For Age(s)
Family Friendly
Masterclass
Learn from an expert
Invite your friends
and enjoy a shared experience
Contemporary Dance and Composition
July 1 | 11AM - December 31 | 12PM
Event Guide
For Age(s)
Family Friendly
Masterclass
Learn from an expert
Invite your friends
and enjoy a shared experience
Event Guide
For Age(s)
Family Friendly
Masterclass
Learn from an expert
Invite your friends
and enjoy a shared experience
This contemporary dance workshop unlocks your creative spirit. Led by acclaimed choreographer Deepak, dive into concepts of space, time and radical expression. Learn aligned and articulate movement, craft short body stories and discover your true self in community. Whether dancer, enthusiast or just crazy for motion, all are welcome in this holistic adventure.
Dismantle assumptions about age, background and ability. There are no limits except those you bring. Deepak's mentorship has ignited creators across India. As a SEAD-certified choreographer fusing life, art and suitability, his vision for possibility will open you to move beyond imagined constraints. Escape hyper-productivity. Embody beauty. Set your spirit free through the poetry of motion and momentum. Craft short movement sketches where joy overrules judgment. The only requirement is a willingness to venture outside comfort zones into vulnerable and transformational spaces holding radical growth.
Will you seize the invitation to rediscover yourself and fly? If yes, join us for a workshop series redefining ability and unveiling the power of aligned, articulate movement to make meaning where words fail. All classes welcome dancers, musicians, philosophers and anyone longing to move. Dare greatly and be astonished by the creative organism you call your body. There are no limits except those you bring. The time for radical motion and meaning-making is now!
Will we see you there?
DAYS: Saturdays and Sundays
TIME: 11.00 AM - 12.30 PM
PRICE:
Drop in: Rs. 499/-
Monthly Package: Rs. 3500/-
Shoonya Mari
110, 5, Lal Bagh Main Rd, Krishnappa Layout, Doddamavalli, Sudhama Nagar, Bengaluru, Karnataka 560027, India
GET DIRECTIONS
Contemporary Dance and Composition
July 1 | 11AM - December 31 | 12PM
Event Guide
For Age(s)
Family Friendly
Masterclass
Learn from an expert
Invite your friends
and enjoy a shared experience