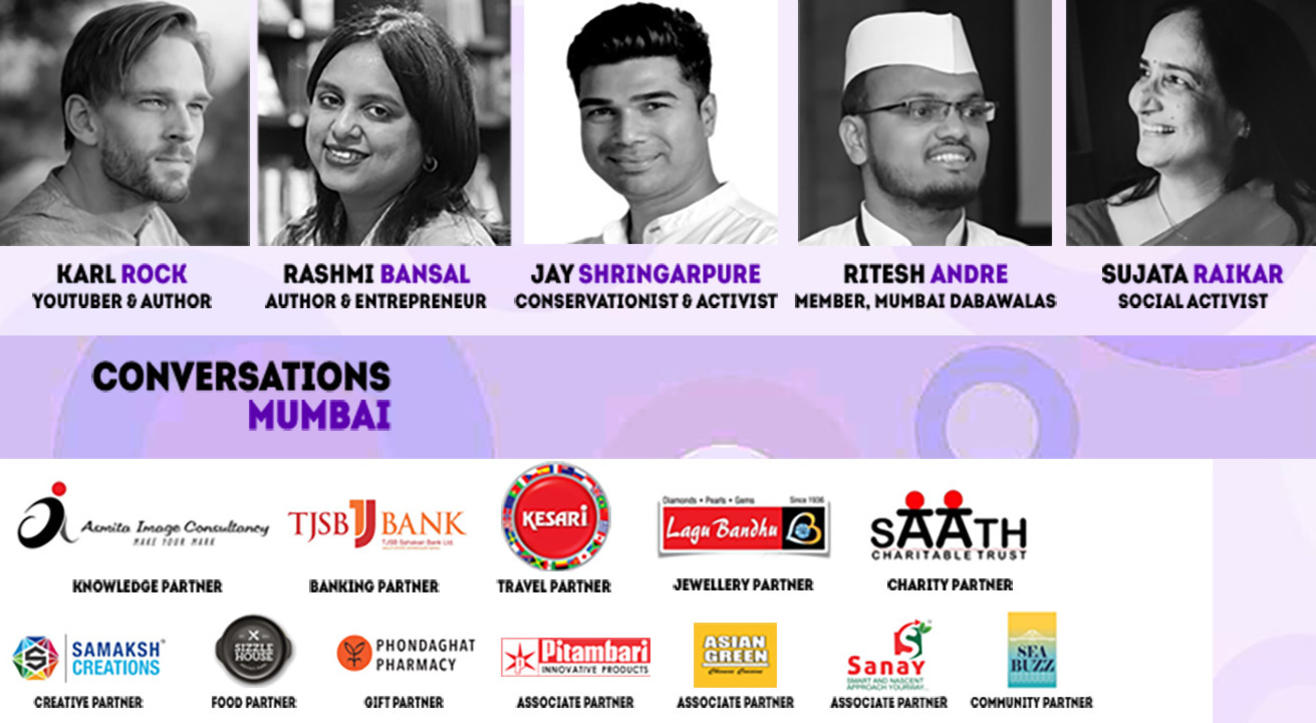 Discussion
Conversations Mumbai
P. L. Deshpande Maharashtra Kala Academy
About
Conversations Mumbai is not just an event. It's a movement to bring like-minded people together, share ideas and help each other grow in their lives.
Our minds are cluttered with a bombardment of information at the speed of light. What we need are ideas! Because ideas spark conversations and these conversations trigger positive actions!
A bunch of like-minded individuals came together and founded Conversations Mumbai, a platform for Mumbaikars to share their ideas & spread positivity. The first instalment kicks off on Sunday, February 17, 2019
Karl Rock: Author & YouTuber

"India Survival Guide" – Listen to Karl's story of how he made India as his home and is spreading awareness in making India a tourist-friendly destination.

Rashmi Bansal: Author, Entrepreneur & Motivational Speaker

"Best-Selling Author on Business & Entrepreneurship" – Listen to Rashmi's story of how she became author of 8 best-selling and a mentor to thousands of youngsters on Entrepreneurship

Jay Shringarpure: Conservationist & Social Activist

"The Saviour of Dadar's Beaches" – Local boy Jay will talk about the amazing clean-up programme which is reclaiming Dadar's lost beaches

Ritesh Andre: Spokesperson of Mumbai Dabbawala

"Epitome of Perfection & Professionalism"are what the Mumbai Dabbawlas are known for. Mr.Ritesh Andre, Spokesperson of Mumbai Dabbawalas will share their secret of perfection, professionalism, leadership, and synergy.

Sujata Raikar: Social Activist

"Mother of 90 kids" – Listen to Sujata's story of how she took lifelong responsibility of underprivileged thalassemia kids and is bringing a positive change to their lives.
Why Attend Conversations Mumbai?
Conversations Mumbai aims at inspiring the community to step forward and take action. Through the ideas and experiences that will be shared on stage, we will facilitate a conversation between thinkers, doers and change makers and open up avenues and expose the community to future possibilities of growth in the fields of society (social work) ,art, science, technology, business, entertainment etc.

Conversations Mumbai has been established as an initiative with an aim of multi-disciplinary growth for individuals from around the globe.

Proceeds from tickets will be donated to SAATH Charitable Trust which works for underprivileged Thalassemia kids.


Venue
P. L. Deshpande Maharashtra Kala Academy
Ravindra Natya Mandir, Sayani Road, Prabhadevi, Near Siddhi Vinayak Temple, Mumbai, Maharashtra 400025