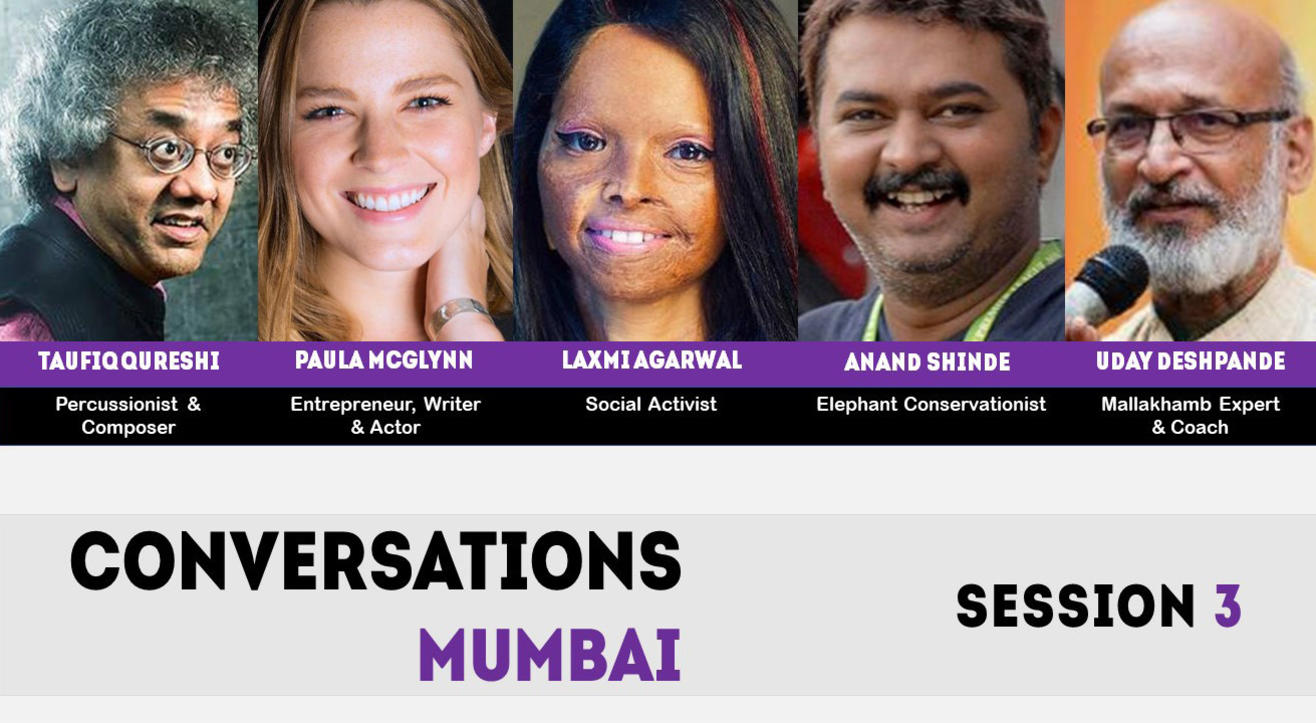 Talks
Conversations Mumbai
P. L. Deshpande Maharashtra Kala Academy
About
Conversations Mumbai is not just an event. It's a movement to bring like-minded people together, share ideas and help each other grow in their lives.
Our minds are cluttered with a bombardment of information at the speed of light. What we need are ideas! Because ideas spark conversations and these conversations trigger positive actions!
A bunch of like-minded individuals came together and founded Conversations Mumbai, a platform for Mumbaikars to share their ideas & spread positivity. The third instalment kicks off on Sunday, June 23, 2019
Taufiq Qureshi: Percussionist & Composer
Recognized for his path-breaking and trend-setting work in the field of world music, Taufiq Qureshi has been ably successful at taking the nuances of traditional rhythms of India to an alternate form of World Music and offering it to a larger audience, comprising of all age groups across the world

Paula Mcglynn: Entrepreneur, Writer & Actor
After pursuing her degree in Fine Arts from Canada, Paula McGlynn fell in love with India and co-founded Bharatiya Digital Party (BhaDiPa) – the pioneer of Marathi Digital Content & Marathi Stand-up Comedy.

Laxmi Agarwal: Social Activist
A horrific acid attack did not stop her. Today, Laxmi Agarwal is championing the cause of acid attack victims, an international motivational speaker and a recipient of multiple awards such as International Women of Courage 2014, NDTV Indian of the Year 2013, Mother Teresa Award 2018. Chhapaak, a biopic based on her life, will be released in 2020 starring Deepika Padukone

Anand Shinde: Elephant Conservationist
A Photographer known as "The Elephant Whisperer," Anand Shinde is known for his unique ability to communicate with and calm traumatized elephants. He has dedicated his life to the welfare and conservation of elephants.

Uday Deshpande: Mallakhamb Expert & Coach
Uday Deshpande has been promoting and coaching Mallakhamb, a traditional Indian sport dating back to the 12th century at the 'Samarth Vyayam Mandir' at Shivaji Park in Central Mumbai. Over the years, he has trained multiple athletes and taken the sport on the global map.

HOSTED BY: Glevina Mathias
Glevina Mathias is a seasoned compere and has hosted the first two sessions of Conversations Mumbai. Her energy is infectious and she plays an integral role during the course of the event
Conversations Mumbai | Session 3 | 23rd June 2019
Why Attend Conversations Mumbai?
Conversations Mumbai aims at inspiring the community to step forward and take action. Through the ideas and experiences that will be shared on stage, we will facilitate a conversation between thinkers, doers and change makers and open up avenues and expose the community to future possibilities of growth in the fields of society (social work) ,art, science, technology, business, entertainment etc.

Conversations Mumbai has been established as an initiative with an aim of multi-disciplinary growth for individuals from around the globe.
Venue
P. L. Deshpande Maharashtra Kala Academy
Ravindra Natya Mandir, Sayani Road, Prabhadevi, Near Siddhi Vinayak Temple, Mumbai, Maharashtra 400025