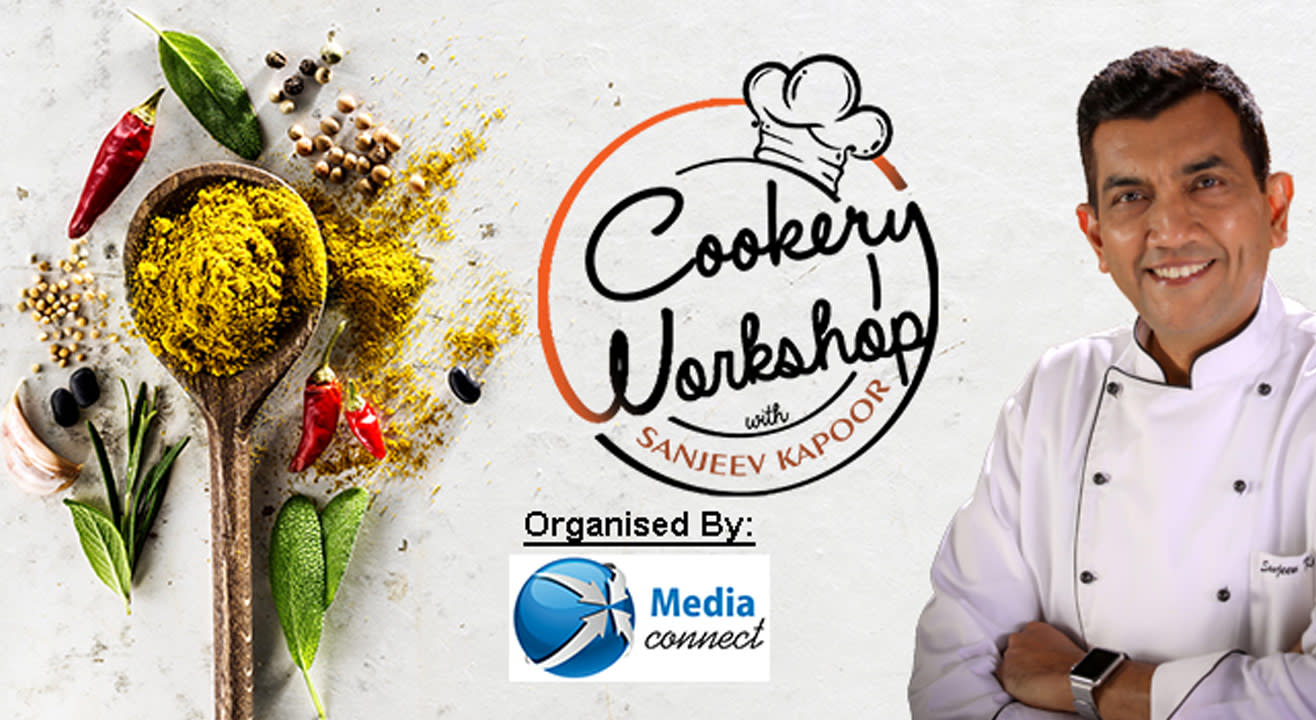 Cook
Cookery Workshop w/ Sanjeev Kapoor, The Ace Master Chef
Sapphire Banquets, Kolkata
About
Sanjeev Kapoor is the most celebrated face of Indian cuisine today. He is Chef extraordinaire, runs a successful TV Channel 'FoodFood', author of best selling cookbooks, restaurateur and winner of several culinary awards! He is living his dream of making Indian cuisine the number one in the world and empowering Indian women through power of cooking to become self sufficient.
Grab the best opportunity to develop your culinary skills with a variety of mouth watering and delicious dishes from around the world in this Cookery Workshop by King of Cooking and the Ace Master Chef, SANJEEV KAPOOR. Learn Multi-Cuisine Recipes in this 100% PURE VEG Workshop by Master Chef, Sanjeev Kapoor.
The brightest star of gastronomy – Sanjeev Kapoor
Unarguably the Ace Master Chef Sanjeev Kapoor is one of the most recognized faces of Indian television. He was in people's living rooms for almost two decades introducing them to the delights of Indian and international cuisine in his inimitable easy going and cheery manner. The show Khana Khazana was one of those trailblazing cookery shows on Zee. Little wonder then that he has a massive fan following across all age groups, genders and countries! He has the proud distinction of being the only chef in the world to have his own channel – FoodFood. He has been conferred the 'Best Chef of India' award by the Government of India. He represented India in the World Association of Chefs' Societies (WACS) in South Korea and here he introduced them to the wonders of the ancient Indian way of Ayurvedic cooking. He was the Indian ambassador for UN's Clean Cook Stoves campaign for the underprivileged of developing countries. He represented India as a Food ambassador in Spain under the Spanish Government's Indian Future Leaders Programme (IFLP). He has done cookery shows all over the globe with famous culinary personalities like Rachel Ray, Richard Quest and Rene Redzepi. In fact he is also known as the Rachel Ray of India. He has also cooked for many dignitaries, including the Honourable Prime Minister Shri Narendra Modi. His website www.sanjeevkapoor.com which has more than 15,000 recipes attracts more than ten million page views per month and over 4 million fans follow him on Facebook. His won the 'Most Popular Website' award in 2013 and 'Best Website' award in the Food and Beverages category in 2014. He is on the board of Singapore Airlines International Culinary panel. His YouTube channel sanjeevkapoorkhazana is very popular with nearly 7.5 lac subscribers.

Sanjeev Kapoor's recipe books are bestsellers, with more than 200 titles in 7 languages and bagged Indian and international awards. His restaurants Sanjeev Kapoor's Khazana, The Yellow Chilli, Signature, Hong Kong and Options are considered the best in their categories not only in India but abroad as well. His Khazana brand of blended spices, ready to cook mixes, pickles and gourmet chutneys are super popular in US, Europe and Middle East, in addition to India. His business of world class kitchen gadgets, Wonderchef has enabled and continues to empower women, a cause close to his heart.
Venue
Sapphire Banquets, Kolkata
Raikva, On EM Bypass, Beside Brand Factory, 3A, RM Mullick Garden Lane, Beliaghata, Kolkata, West Bengal 700010