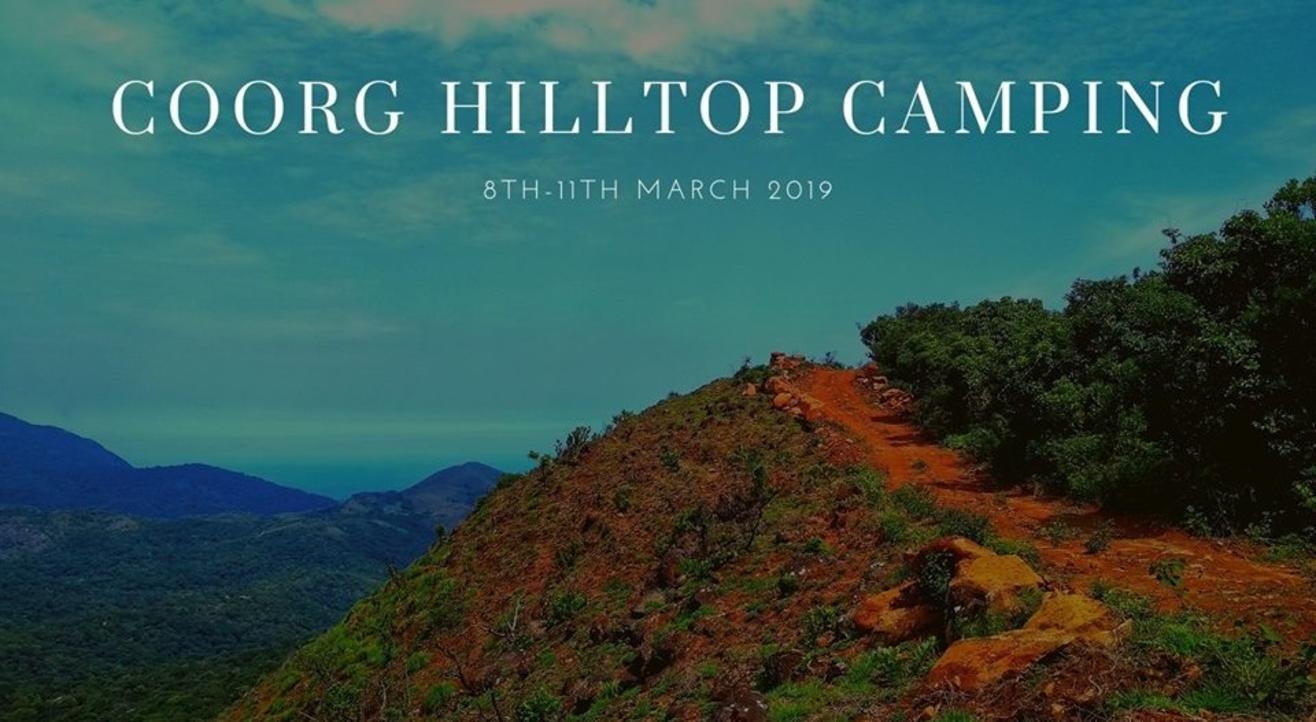 Adventure
Coorg Hilltop Camping | Plan The Unplanned
3,885 (*inclusive of taxes)
About
Coorg was named as the 'Scotland of India' during the British era. The beauty of this region is well-preserved albeit the surge of urbanisation. You can feel Coorg in the air as the plains of Mysore district rise into verdant cloud-covered hills. A small and picturesque place, Coorg district is a land associated with pristine wilderness, cool climes, and vibrant culture. Pandi curry, open gun ownership, and large hockey tournaments are some of the more common associations.
Coorg is one of the naturally most scenic and rich regions in the country and falls in one of the major biodiversity hotspots of the planet – the Western Ghats.
Day 0 - Journey from Bangalore to Coorg

Day 1
Reach Homestay
Freshen up and Breakfast
Water Activities/Coconut Harvest/Rifle Shooting
Lunch
Rest
Tent Pitching Demo
Evening Snacks
Night Trek and Camping


Day 2
Freshen up and Breakfast
Journey till Temple
Small Hike
Visit Mallalli Falls
Leave Homestay
Lunch on the way
Reach Bangalore by night
Safety is our main concern when we camp outdoors. Our local support is putting a lot of effort in such remote areas to make sure that we get food, water and basic facilities and arrangement of our security to make sure we're safe. Hence, the costing will be little high as we believe to give more amount to locals for their hard work which they actually deserve.
Age Limit - Above 10 years

Inclusions
Transportation (AC) to and from Bangalore
Sharing basis accommodation (2/3) in tents
Blankets/sleeping bags
(Veg Only) 2 Breakfasts, 1 lunch
Permits
An experience that you gain


Exclusions
Second Day Lunch and Dinner
Any kind of insurance
Personal Expense:( snacks, mineral water etc)
Anything not included in the inclusions above
1. Consumption of alcohol, intoxicants, and smoking will not be tolerated during the entire course of the journey. Kindly co-operate with us to make the experience fun for all.
2. Put litter in its place, do not trash mother Earth.
3. Plan The Unplanned shall not be responsible for any of your belongings, valuables, jewellery etc. Kindly do take care.
4. In the case of traffic delays or breakdowns, expect delay in reaching the destination.