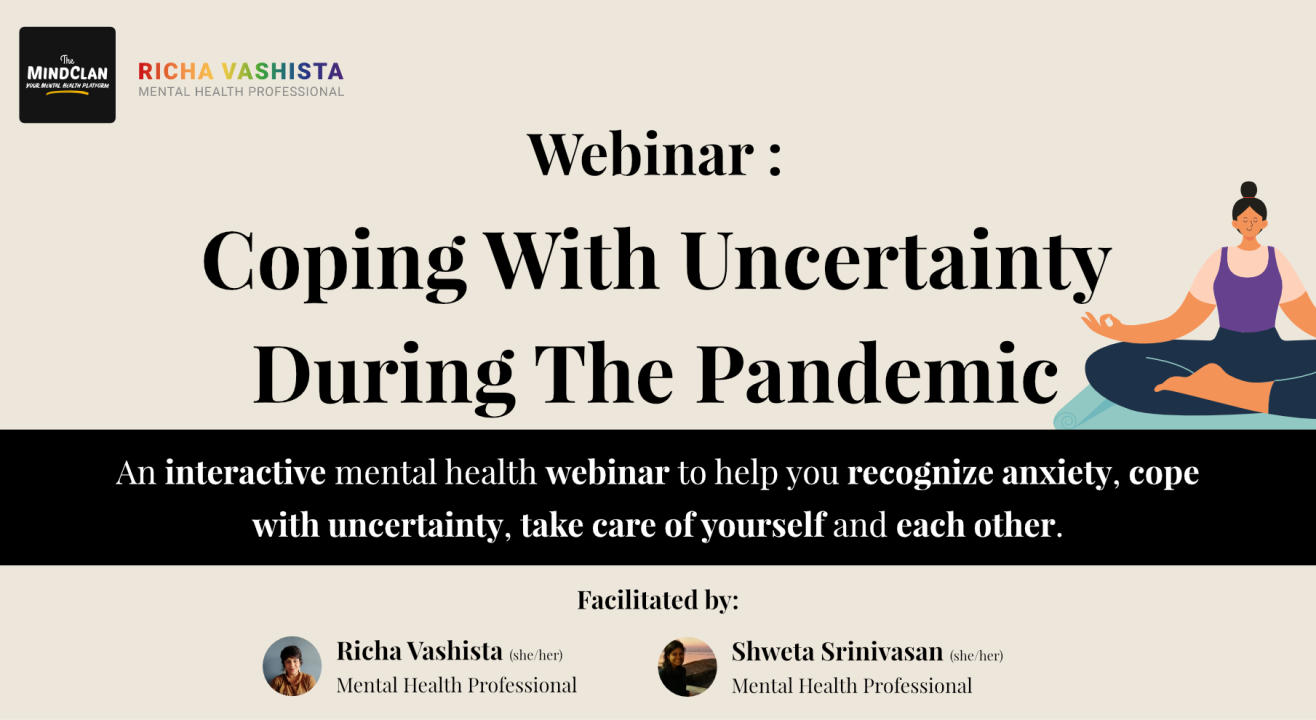 Workshop on Coping With Uncertainty During the Pandemic
Enjoy this event from your home
Invite your friends
and enjoy a shared experience
Invite your friends
and enjoy a shared experience
About the Event
The world is grappling with the uncertainty of the pandemic, the lockdown, and the various challenges that come with it. A common and natural response to this uncertainty is feeling anxious. Anxiety is often experienced like a fire alarm that goes off in our bodies and minds, indicating to us that something feels wrong in the world, something feels out of control, something feels scary.
What we hope to cover:
How do we recognize this anxiety in our body and mind? How do we cope with this uncertainty and lack of control? How do we take care of ourselves and each other better? Richa Vashista (she/her) and Shweta Srinivasan (she/her) are two mental health practitioners bringing to you an interactive workshop, where they hope to guide you through these questions and support you with skills to respond back to your fire alarm!
About your facilitators:
Richa Vashista:
Richa is an independent mental health professional working at the intersections of gender and sexuality since 2014, with a Postgraduate degree in Clinical Psychology from SNDT University, Mumbai. Her counseling practice and worldview is queer-affirmative and now practicing to be trauma-informed. She sees a wide range of clients from diverse backgrounds and works as a consultant with some companies.
Shweta Srinivasan:
Shweta is a practicing therapist and co-founder of TheMindClan.com, an online community platform that curates effective tools for mental health care. She holds a Masters degree in Clinical Psychology from Mumbai University, an Advanced Diploma in Counselling Psychology, specialized in Narrative Therapy and Queer Affirmative Counselling Practice. Shweta has been working with young adults in her private practice and as an employee counsellor for two corporate organizations. She loves naps, chai, beaches, and building conversations about people's resistances and hopes.
Side Note:
Please make sure to join on time so that you get an entry into the workshop and don't miss anything. Once we begin, our virtual magical gates will shut (with a 15 minute window)
Welcome to the world of technology. You may face interruptions during the course of the workshop due to internet connectivity issues. Webinar details and the structure are subject to change as per the facilitator's discretion
This webinar is committed to be a safe space that is an environment free from harassment, violence, discrimination, bullying, abuse and solicitation. All participants, facilitators, partners are to be treated with respect and dignity
Participation in activities or behaviours that discriminate on the grounds of race, colour, place of origin, gender, age, marital status, religious beliefs, citizenship, mental and physical abilities, sexual orientation, or any other prohibited grounds within applicable law will not be tolerated
With love,
The Mind Clan & Richa Vashista