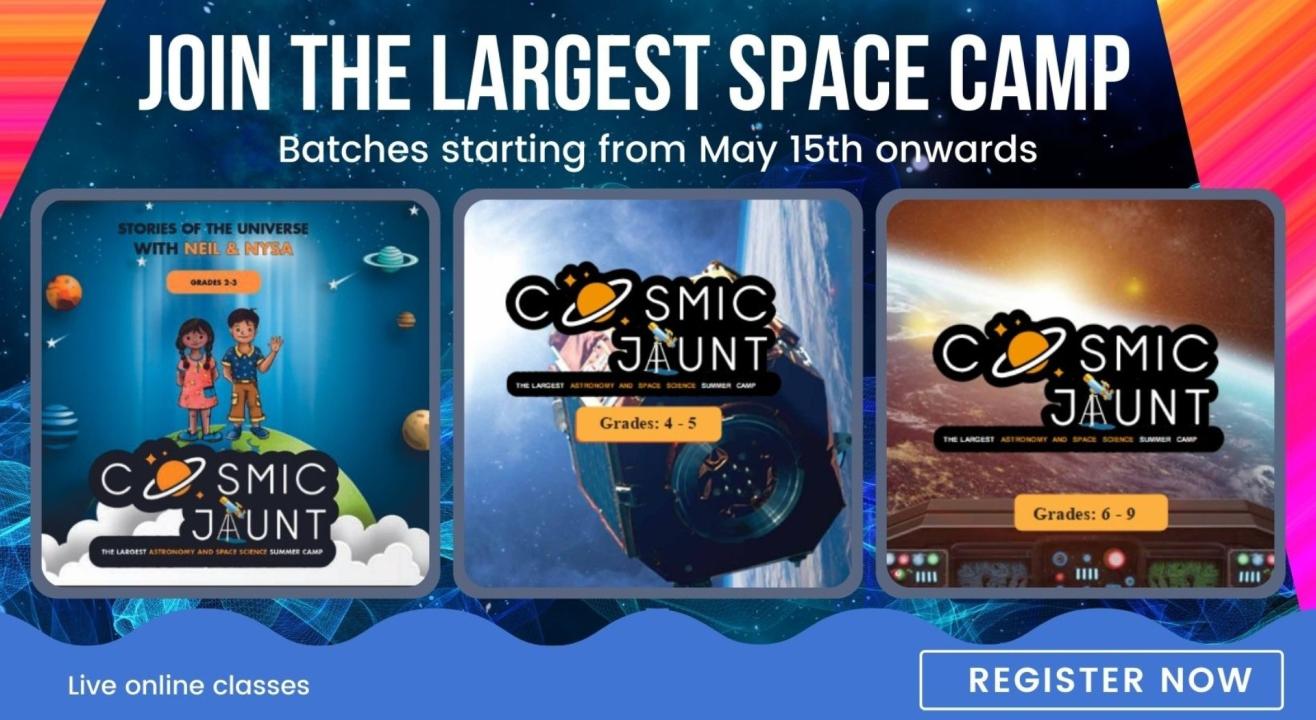 COSMIC JAUNT 2022- The Largest Astronomy & Space Exploration Camp
May 24 | 10AM - June 25 | 5PM
Enjoy this event from your home
Event Guide
Masterclass
Learn from an expert
Invite your friends
and enjoy a shared experience
COSMIC JAUNT 2022- The Largest Astronomy & Space Exploration Camp
May 24 | 10AM - June 25 | 5PM
Enjoy this event from your home
Event Guide
Masterclass
Learn from an expert
Invite your friends
and enjoy a shared experience
Event Guide
Masterclass
Learn from an expert
Invite your friends
and enjoy a shared experience
COSMIC JAUNT 2022- The Largest Astronomy & Space Exploration Camp
For details please visit: www.cosmicjaunt.camp
We welcome you to join hands with us this summer, in our quest to foster an interest in STEM in all the children. Explore the universe with us this summer for 5 days by hanging out with Astrophysicists and passionate Astronomers.
Experts will guide students through unique and innovative hands-on space science activities with a conceptual understanding of the same. Each day, a new topic will be introduced with online multimedia presentations and expert-guided activities.
You can opt for the any of the following weeks:
24th-28th May
31st May to 4th June
7th-11th June
14th-18th June
21st-25th June
It must be noted that the shipment of the Cosmic Jaunt Activity box will reach you in 7 days. Please choose your camp date accordingly.
Juniors (Grade 2 & 3):
Time 4:00 PM-5:30 PM (IST)
Meet the Sun's Family
Wiggle & Ripple of the Mischievous Earth
Zoom!! Goes the Space Shuttle
Digging all the way to center of earth
Bend The Light to See Delight
Middle (Grade 4 & 5):
Time : 12:00 PM to 1:30 PM (IST)
Hubble Space Telescope-Celebrating 30 years
Know your sky-App based astronomy
Coding Unplugged- Moving on Mars
Galaxy-City of stars
Landscape Mapping- Measuring Height & Depth
Seniors (Grades 6-9):
Time : 10:00 AM to 11:30 AM (IST)
International Space Station-A home for Astronauts
Planning night sky observation
Tracking time through Sundial
Truss-Smart structures in Space
Space Topography- Mapping the surface of celestial bodies
Participation Fee: INR 2999/- (exclusive of taxes)
Highlights:
Live & interactive educator-led sessions
Hands-on activity-based sessions
Activity Box consisting of material required for all five days will be couriered to each participant.
REFUND POLICY
No refund to be carried out or adjusted in future programs in event of the participant is not being able to participate.
Once the participant is registered, the dates cannot be changed, given that we have limited seats in each batch.

If you have any queries please write to us, at hello@cosmicjaunt.camp or call 91-8506955554.
COSMIC JAUNT 2022- The Largest Astronomy & Space Exploration Camp
May 24 | 10AM - June 25 | 5PM
Enjoy this event from your home
Event Guide
Masterclass
Learn from an expert
Invite your friends
and enjoy a shared experience