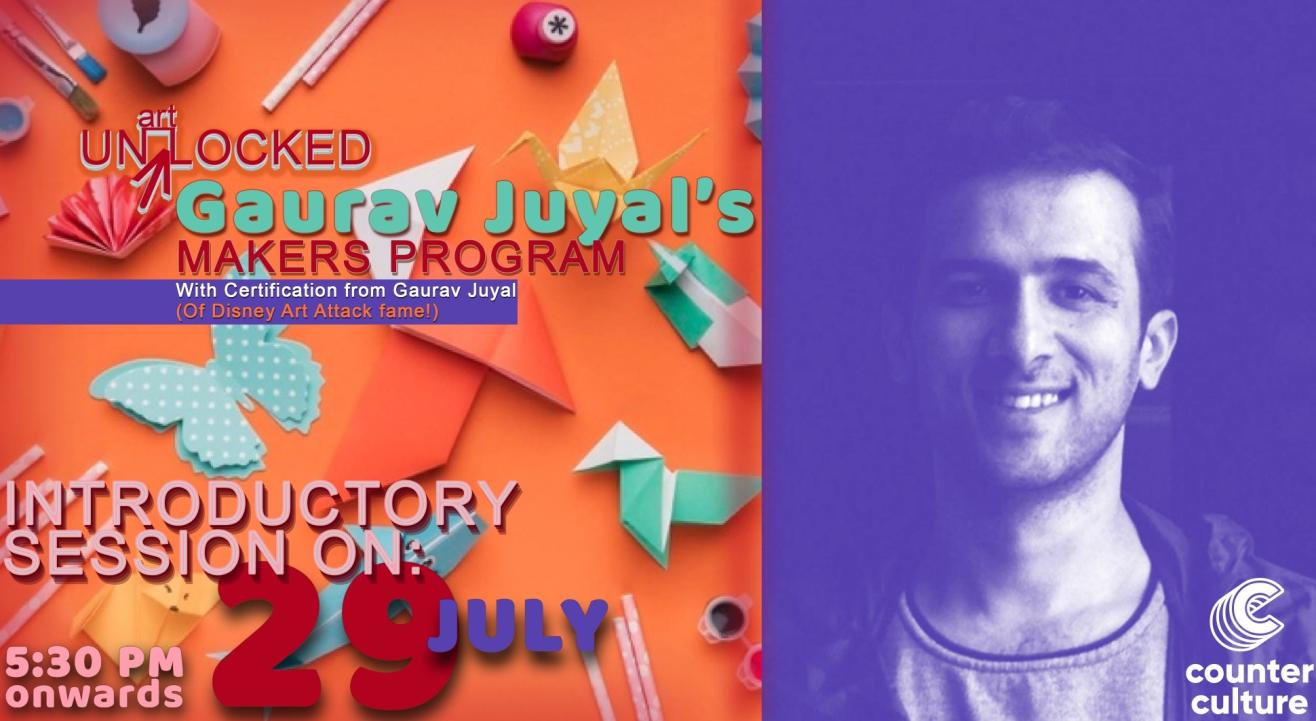 CounterCulture Art Unlocked presents: Gaurav Juyal's Makers Program (with Certification)
Invite your friends
and enjoy a shared experience
Invite your friends
and enjoy a shared experience
About the Event
The lockdown has been a great time for brainstorms and great ideas. We're bringing you a week of sessions to bring those great ideas into reality! Join Master Maker Gaurav Juyal in a beginner-level Maker's course over 5 exciting lessons!
In this comprehensive training, we help turn your imagination into real objects, focussing on essential skills that are required to become an ideal maker. This program offers a hands-on material-oriented learning environment for thinking, planning, and organizing oneself while trying to bring ideas to life. The learner's attitude in this program is meant for every kind of making, whether it is art, craft, science projects, or even random moments of tinkering.
Every participant to complete the 5-day course will receive official Certification from Gaurav Juyal (host of Disney's Art Attack, and a Design Educator)!
At the Introductory session, we give you an idea of the techniques and learning for the certification program, along with activities you can participate in. At the end of the session, participants can vouch in for a week long Level 1 Makers Program for which they will receive their certification. (prices and schedules will be mailed to all participants)
Materials Required for Introductory Session:
1. 30cms Ruler (Steel ruler is preferred)
2. Scissors - 1 no
3. Paper Cutter - 1 no
4. White Craft Glue (Fevicol)
5. U-Clip or Paper Clips (10 nos)
6. Bamboo/Wooden Barbeque Sticks (3-4 sticks), Alternatively: toothpicks
7. Old Carton - 1 no
8. White Drawing Cartridge Paper - A3 or A4 (5-6 sheets)
9. Newspaper ( 3-4 nos)
10. Sketch pens or any other colours
11. Glue Gun with extra glue sticks
For more information about the Makers Program, feel free to reach out to us at info@counterculture.co.in.