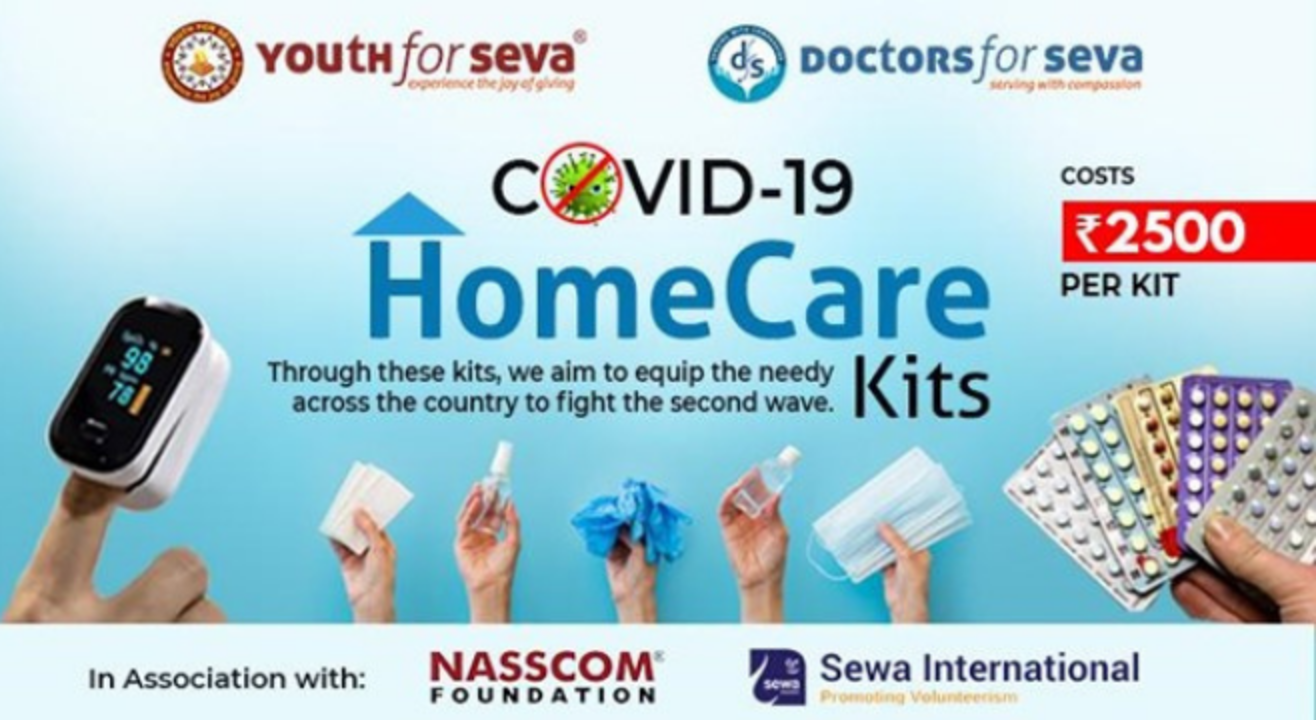 COVID-19 Homecare Kits | Youth for Seva
Multiple Cities Across India
Invite your friends
and enjoy a shared experience
Invite your friends
and enjoy a shared experience
About the Event
With Health care infrastructures bursting at seams & ever exploding number of Covid-19 positive cases, accessing treatment is increasingly becoming difficult for poor communities. With Covid spreading in the hinterlands, there's a surge in case loads being reported across civil hospitals in rural areas.
Help YFS raise & provide the basic Covid-19 appropriate Homecare Kit for asymptomatic patients & patients undergoing home isolation with focus on patients from rural & underserved communities. We need your support to raise funds for kits & distribute them in the shortest possible time-frame.
Cost of 1 HomeCare Kit:
Mini Kit (Initial Kit): ₹300 (for patients showing symptoms in the initial 3-4 days like cold, sore throat etc)
1. Tab Azithromycin 500 (5)/cap Doxy 100 (10)
2. Tab Ivermectin 12mg ( 5)
3. Tab.Paracetamol (10)
4. Tab cetrizine ( 5)
5. Tab Vit C with zinc( 20)
6. Betadine gargle 1 bottle
Full Kit: ₹2500 (for patients tested positive & are symptomatic)
1. Tab Azithromycin 500 (5)/cap Doxy 100 (10)
2. Tab Ivermectin 12mg ( 5)
3. Tab.Paracetamol (10)
4. Tab pantaprozole D (5)
5. Tab cetrizine ( 5)
6. Tab Vit C with zinc( 20)
7. Betadine gargle 1bottle
8. Pulse oximeter (1)
9. Thermometer (1)
10. 3-layered Cloth mask (3)
11. ORS 3 packets
12. Hand sanitizer
Target Locations: Delhi-NCR, Hyderabad, Bengaluru & Tier 1,2 Towns & rural areas in severely affected regions across YFS presence complementing the Government in its community reach out endeavors. The process of identifying such patients is being done in collaboration with our on ground partners & volunteers who are actively working with Govt Hospitals, Care Providers & designated Covid-19 Helplines.
For more information on kit composition & YFS covid relief activities, visit https://www.youthforseva.org/COVID-19-Relief-Activities/
*YFS will provide Pulse Oximeters, Thermometers, Masks, Sanitizers to patients who have been recipients of Government Medical Kits.
Youth for Seva (YFS), founded in April 2007, is a nation-wide volunteering movement that inspires youth to volunteer, and provides them with meaningful opportunities to serve the community. The goal of YFS is to support schools, destitute shelters, government hospitals and other organizations in the social sector through volunteers who can help them mitigate some of their shortcomings and challenges. Volunteering is made easy and customized to the individual's interests, time availability and skill sets.
YFS aims to create positive change agents in the society, through the culture of volunteering.