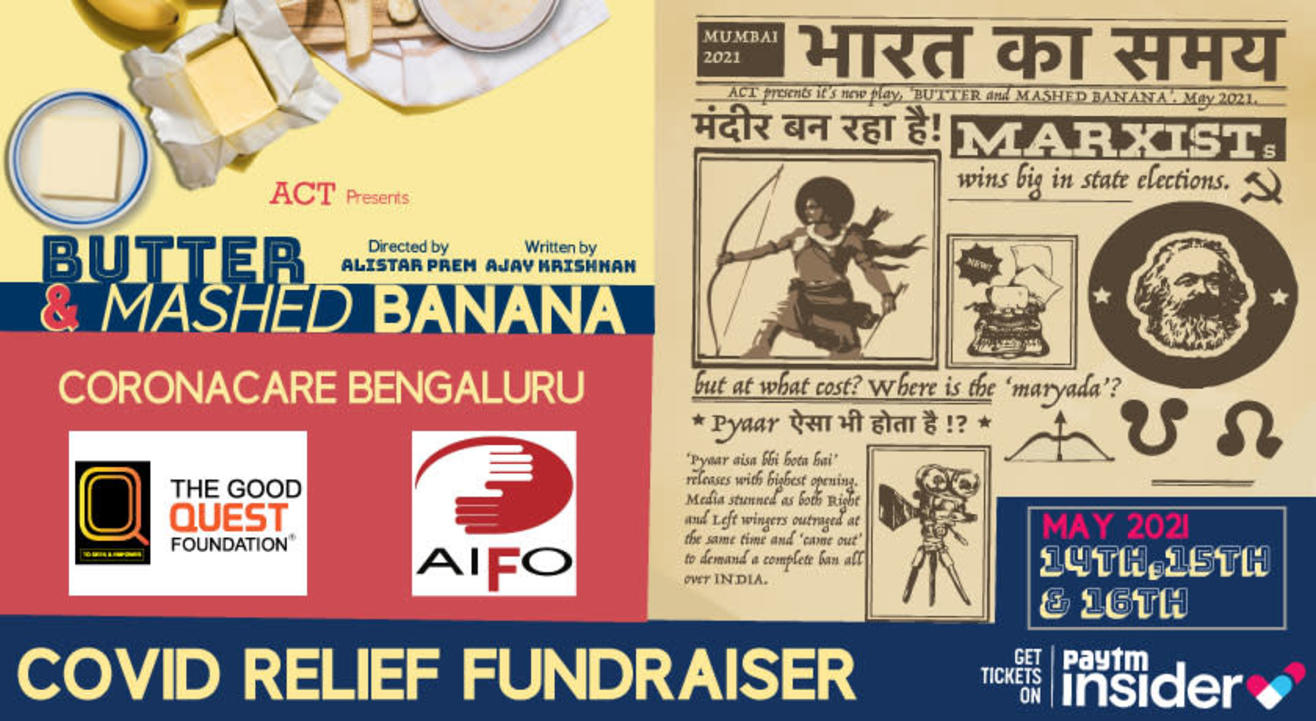 Covid-19 Relief Fundraiser - Butter and Mashed Banana
Video on Demand | Available from May 14 - 16
Enjoy this event from your home
₹200 onwards (Free for Healthcare Workers)
Tickets are sold out for this show
Event Guide
Digital Event
Watch on Insider
For Age(s)
Family Friendly
Live Performance
Enjoy a unique experience
Invite your friends
and enjoy a shared experience
Event Guide
Digital Event
Watch on Insider
For Age(s)
Family Friendly
Live Performance
Enjoy a unique experience
Invite your friends
and enjoy a shared experience
About the Event
Butter and Mashed Banana is an award winning play written by Ajay Krishnan in 2005 that has been traveled all across the country. Although this play has seen many revivals, this is the first time it has been adapted digitally by Alienstar Collective Theatre.
All ticket sales of this show go towards providing hygienic meals to families that have tested positive for COVID-19 and are quarantined at home without basic necessities and also identifying solutions to the Oxygen crisis in Bangalore.
This is coming together with the help of a team consisting of 5 non-profit organisations that do very impactful work around Bangalore, India and the world. The Good Quest Foundation, AIFO India, Project Vision, Breads & Echo have pooled in their collective resources to bring hope and dignity to those who are forgotten when times get tough.
They first united to provide food and ration kits to migrant workers, tribal communities and other marginalised groups during the first wave of the pandemic. They have touched a thousands families, even a few million people in that time and now it's our turn to support their efforts...
--------------------------------------------------------------------------------------------------------------------------------------------------------------------
Don't you dare say that!
Live out your life's censored moments vicariously through a love child unfortunately born to a leftist-feminist mother and a right-wing father!
She navigates through this crazy world, deals with pompous hypocrites, and gets into a butt load of trouble and a bucket load of success in her journey. Maybe even feel hope as she challenges orthodox traditions and inane society mindsets in this a-little-over-an-hour spectacle that'll have you laughing, leave you thinking, and most importantly, make you start talking.
Censorship. What does it mean to us, especially in this era, where freedom of speech has been stifled. How has it affected not only our social but personal life too? There is an old belief which states that lubricating a rope with butter and mashed bananas helps tightening the noose for hanging and ensures a quick death; in this case not just criminals but of democracy and free speech too.
Director
Alistar Prem Bennis
Cast
Aaryan Tandon
Gouri Bhuyan
Sahir Mehta
Sasha Frank
Stage Manager
Nishika Mehta
Assistant Stage Manager
Tishya Jain
Marketing Associate
Hrishabh Kanti
Tech Mentor
Imad Ahmed
Tech Director
Harsh Shah
Audio Director
Yash Gupta
Singer and Composer
Lianne Pais and Saniya Khambaswadkar
₹200 onwards (Free for Healthcare Workers)
Tickets are sold out for this show