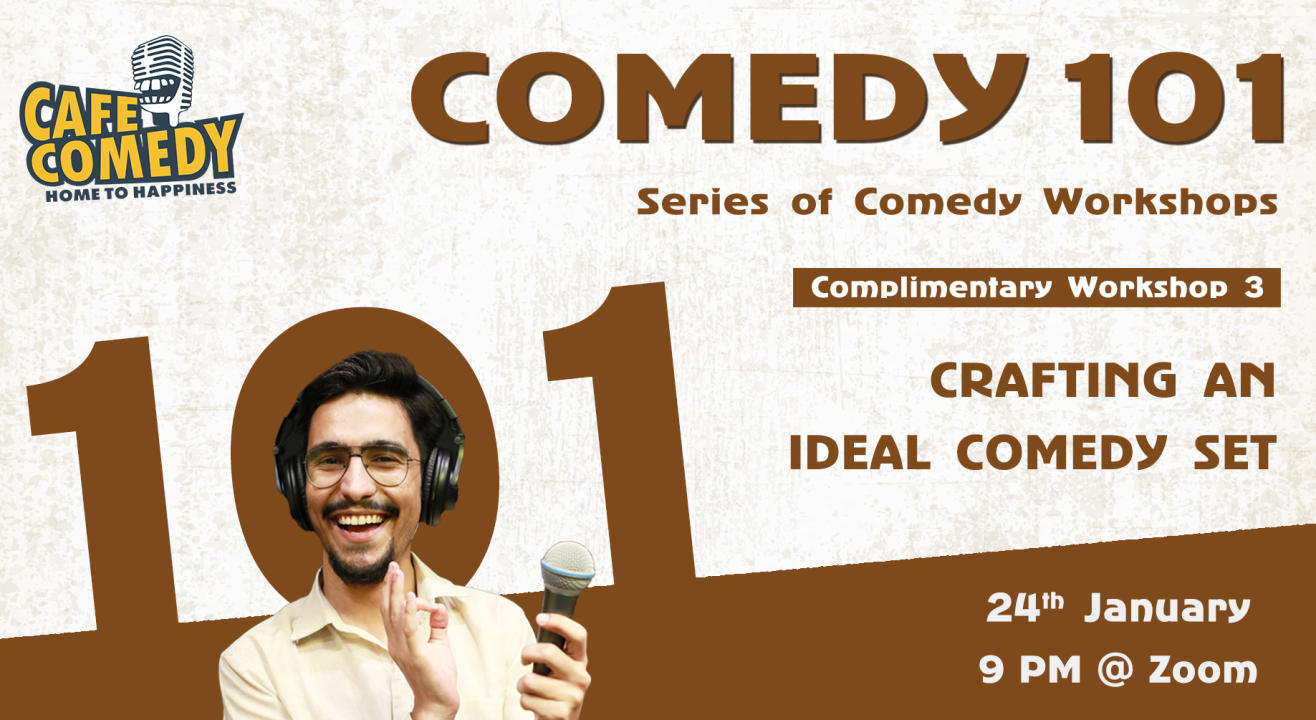 Crafting An Ideal Comedy Set : Workshop
Enjoy this event from your home
Invite your friends
and enjoy a shared experience
Invite your friends
and enjoy a shared experience
About the Event
'Crafting An Ideal Comedy Set' - In this workshop, Our Expert will talk about what can be considered as an Idea Standup Comedy Set. As there are many elements that can be used in comedy to make people laugh. How to mix them almost perfectly is a craft to learn.
How many jokes should a bit consist of? How long a single joke can be or should be?
How many topics can I joke about In a 5 min Set? Is Surprise Element Necessary at the End?
This one hour workshop will give you answers to the above questions. Along with that, you will have a complete idea about what should be and what can be added with your jokes while you prepare for a standup set.
About The Trainer :
Mr. Amit Khuva, Founder of India's Premiere Comedy Training Academy 'Cafe Comedy' is a well-known comedian of Gujarat & India's First - World's Youngest Standup Comedy Trainer as well. He had done more than 2500+ Live Shows along with around 500+ TV Episodes & Having 12+ Years Experience In Comedy Performing & 6+ years In Comedy Training.
-----------------------------------------------------------------------
Along with this, we have something more for you :
'COMEDY 101 Coaching' - A One Year Training And Membership.
Where we are offering you 10 different Topic-Wise 2 Hours Workshops and A Year-Long Structured Training, where you will understand the structure of comedy & will be learning the techniques to develop your comedy writing & performance.
The One Year Coaching Includes :
- 10 Days Comedy Workshops
- 3 Jam Sessions: The trainer will guide you to develop a proper set.
- 2 Career Counseling Calls: Mr. Amit Khuva will guide you to develop a future in Comedy.
- 12 Digital Open Mics: To keep practicing and developing your skills.
- 2 Open Mic Audio/Call Review: The trainer will give you reviews of your performance and will guide you.
- 3 Q/A Zoom Calls: Mr. Amit Khuva will take the question from students and answer them.
- Weekly Twice Comedy tasks: Tasks related to comedy will be assigned every week to be more regular in comedy.
- 12 Humor Sessions: Humor sessions are detailed insights on a specific topic.
- 4 Video Breakdown Zoom Calls: The trainer will guide you to break a comedy video and give the pros and cons of the performance.
- 52 Exclusive Standup Tips: Every week an exclusive standup tip will be provided.
- Monthly Once Newsletter: Information regarding the comedy market will be provided through newsletters.
- 10+ E-books: E-books to develop in comedy will be provided.
- 4 Worksheets: Work related to comedy and activities will be given to you.
- 10% off on Other Workshops: Workshops taking place in Cafe Comedy will be available for you at 10% discount.
Shows along with around 500+ TV Episodes & also having a very good experience in comedy training.
If You Have Ever Wondered How to Make Jokes out of the Daily Chores These Workshops and yearly training are for you.
Comedy 101 Coaching - Details & Registration: https://insider.in/comedy-101-coaching-jan30-2021/event
Limited Seats, Register Now!
For Details Contact On: +91 8200019541