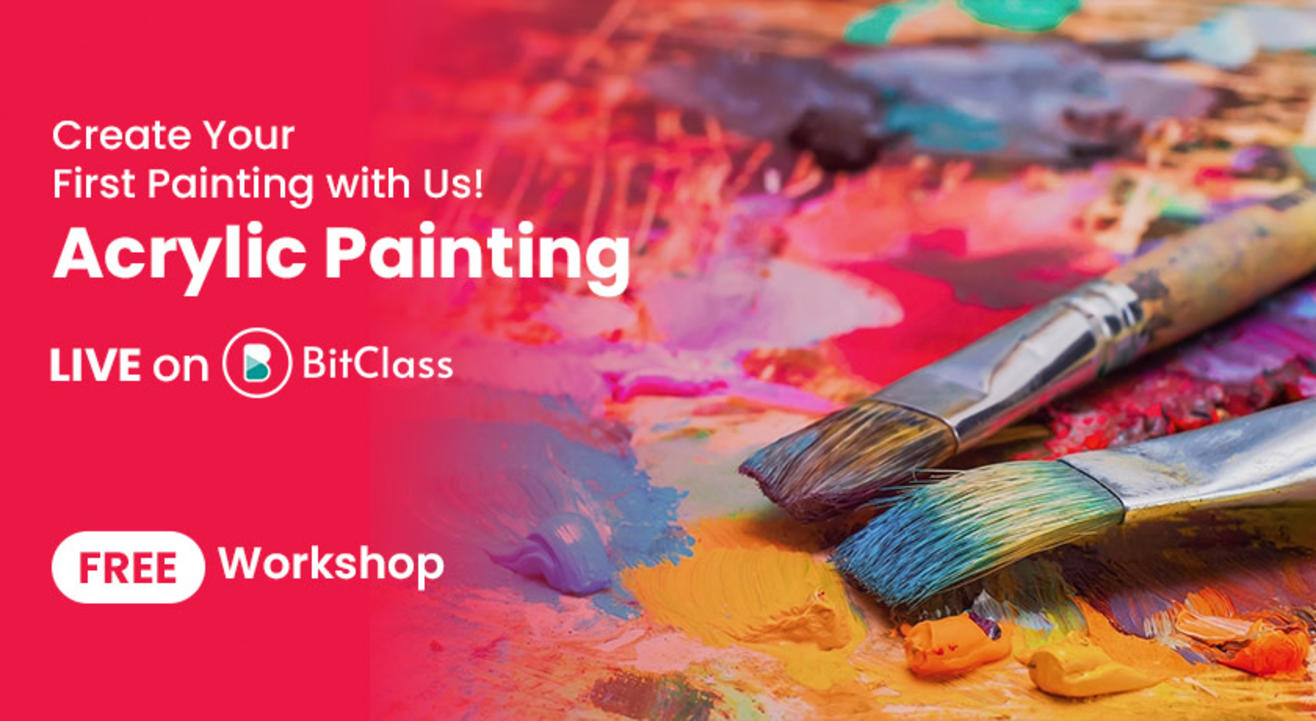 Create Your First Painting with Us! | Acrylic Painting Workshop
May 23 | 8PM - May 25 | 9PM
Enjoy this event from your home
Event Guide
Masterclass
Learn from an expert
Invite your friends
and enjoy a shared experience
Create Your First Painting with Us! | Acrylic Painting Workshop
May 23 | 8PM - May 25 | 9PM
Enjoy this event from your home
Event Guide
Masterclass
Learn from an expert
Invite your friends
and enjoy a shared experience
Event Guide
Masterclass
Learn from an expert
Invite your friends
and enjoy a shared experience
Are you tired of the failed attempts at painting? Do you lack the perspective and basic color techniques to create your own original art piece?
If yes, then this course is perfect for you!
Welcome to Acrylic Painting Workshop!
Accessible, easy to work with, and relatively inexpensive are the markers of Acrylic paints. Basically, Acrylic painting is the painting technique using Acrylic color paints and the techniques to master humans' perception of color and the visual effects of how colors mix, match, or contrast.
This workshop is the ultimate package that will help you understand 'Acrylic Color Theory,' thoroughly and paint many art pieces brilliantly by yourself.
What the workshop will cover?
Blending technique
Color combination
Gradient effect
Dry brush strokes using a toothbrush
What are the materials required?
Acrylic colors
Canvas/Acrylic sheet
Brushes (round brush -0,1,4) (flat brush-6/9)
Toothbrush
NOTE - This course is only for adults, 15 years of age or more.
By the end of this workshop, you will develop a basic understanding of Acrylic painting & create various hand-painted pieces. You will also gain insightful knowledge with Tamasa's wonderful mentorship!
Who knows, you might end up painting a masterpiece someday and become the next Van Gogh!
REGISTER TODAY and start your journey into Acrylic Painting!
Create Your First Painting with Us! | Acrylic Painting Workshop
May 23 | 8PM - May 25 | 9PM
Enjoy this event from your home
Event Guide
Masterclass
Learn from an expert
Invite your friends
and enjoy a shared experience