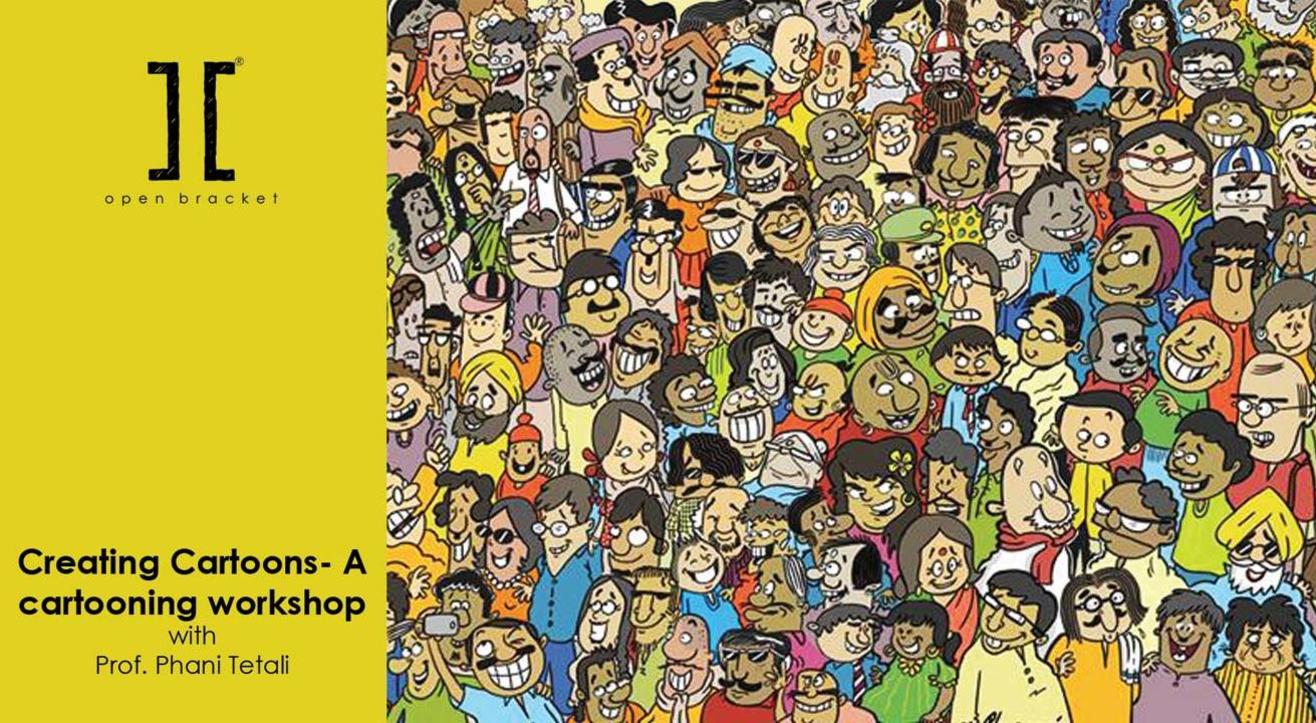 Art
Creating Cartoons- A cartooning workshop
About
Amidst vlogs, podcasts and all sorts of emerging formats of individual expression, cartooning continues to charm to this day owing to its long history and many evolutions. From political pieces in leading periodicals to advertisements of buttery brands, comics and cartoons have entertained, informed and offered serious insight across ages and generations. And though cartooning is a field that can shape opinions and move millions, there is no school that really 'teaches' it, nor a standard textbook that prescribes tips and tricks. So how does an aspiring artist go about the how-to of creating cartoons?


Open Bracket presents: Creating Cartoons: a workshop on everything cartooning; an interactive meet-up where leading cartoonist, Prof. Phani Tetali, will share his thoughts on what cartooning is all about, covering the basics of technique, narrative, character development and other fundamentals of this form visual storytelling. It will attune a participant to the role of communication, observation and awareness as a precedent to making cartoons that stick, going much beyond the mere act of drawing. The workshop will focus on the potential of cartooning as a profession and its usage as a medium of expression. So grab your pads and pencils for a noon of extensive work: for cartooning, they say, is no laughing matter.


Please note: The workshop is open to all - amateurs, beginners and experienced folks! No prior skill in cartooning is mandatory.
This workshop will be conducted by guest artist Prof. Phani Tetali. Phani Tetali is a professor at IDC, IIT, Mumbai, who finds himself cartooning and gaming when he isn't in the classroom. He inhabits these contradictory worlds since his time in school, where he would often be found doodling in the margins of his textbooks. He was deeply inspired by the gems of the time: Amar Chitra Katha, Archies, Chacha Choudhary, Asterix, and the MAD Magazine. Cartoonists such as Sergio Arragones, Jack Davis, Mort Drucker, Al Jaffe and Dave Berg became his heroes. In college, he created comic strips for campus magazines and notice boards, and soon found himself being drawn away from the mining industry to study visual communication at IDC, Bombay. He has worked in the animation industry for 18 years now - setting up his own studio and working with cartoons and animation. Going forward, he plans to publish all his favourite cartoon illustrations in a book called "India - Lots of People, Lots of Fun!"
Open Bracket is an experimental platform for all things creative! They organize and curate custom made workshops that stand firmly in the no man's land between classroom lectures and professional training, though never shying from mandatory hops of fun. The workshops are conducted by professionals who are invited from an extensive list of artists and creators from all over the country. To know more, log on to Open Bracket.
Venue
Redbrick Offices, Mumbai
Kaledonia, 1st Floor, Sahar Road, Andheri East, Mumbai - 400069, Navpada, Mhada Colony, Vile Parle, Mumbai, Maharashtra 400069, India