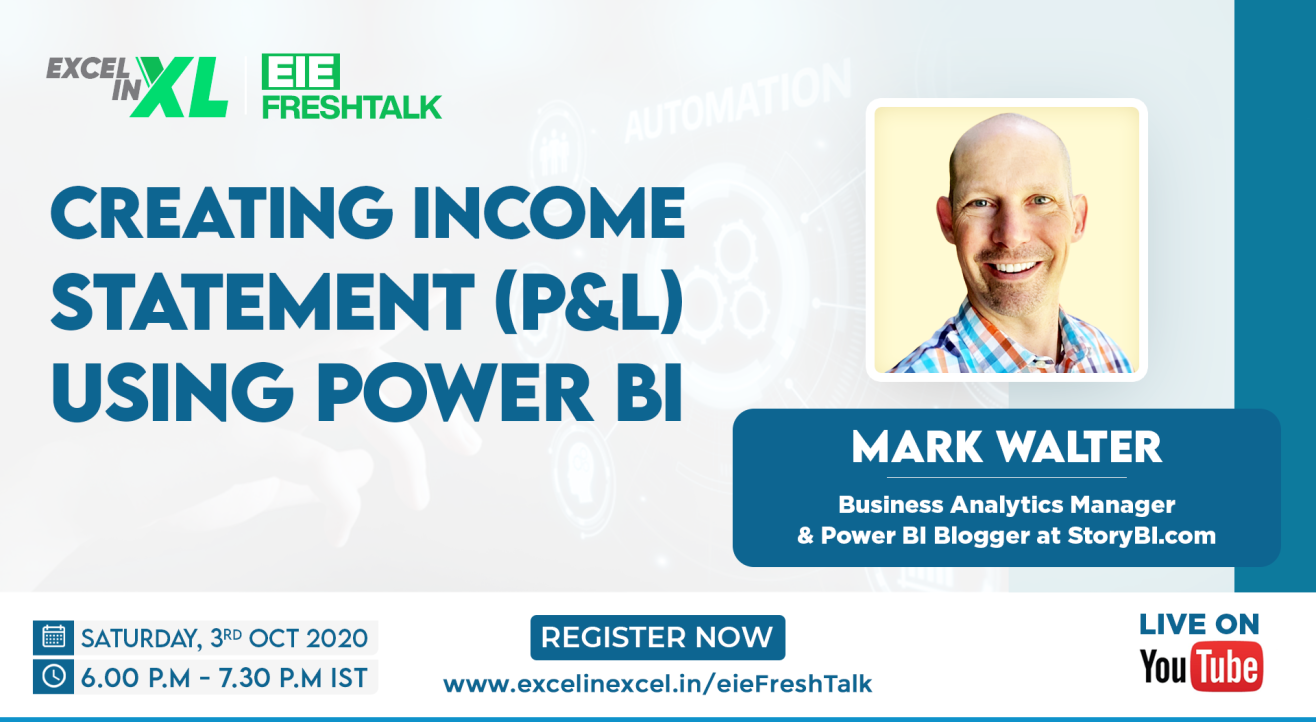 Creating Income Statement (P&L) using Power BI by Mark Walter | #EiEFreshTalk by Excel in Excel
Invite your friends
and enjoy a shared experience
Invite your friends
and enjoy a shared experience
About the Event
Excel in Excel presents #EiEFreshTalk on Creating Income Statement (P&L) using Power BI by Mark Walter (Business Analytics Manager & Power BI Blogger at StoryBI.com)
Date: Saturday, 3rd October 2020
Time: 6.00 pm to 7.30 pm IST
Key Takeaways:
Custom subtotals into the Power BI matrix visual,
Custom Time Intelligence that keeps the P&L current for users.
Matrix detail that provide manger with easy to access insights.
REGISTER NOW
This is a free YouTube Live Event
About Speaker:
Mark Walter is an Accounting professional passionate about data modeling and storytelling in Power BI. Mark is an Oregon Certified Public Accountant with a Finance degree from Western Washington University. He has multiple qualifications including an Accounting degree from Central Washington University, Advanced Modeling in DAX, and Power Query ETL training.
Mark is an Accounting and Analytics Manager at Industrial Finishes and Systems, Inc. (IFS). He is responsible for financial data modeling and data storytelling both internal and external to the organization. Outside of IFS, Mark enjoys speaking with local finance groups and blogging at StoryBI.com. He develops and shares financial and supply chain insights that support his company's divisions His goal is to empower the business to make better decisions through data and dialogue.
His areas of expertise include Business Intelligence, and Finance and Accounting. He has experience in multiple areas like Distribution/Supply Chain, Healthcare, services relating to the Federal contacts and Local Government.
About EiEFreshTalk:
#EiEFreshTalk is a Talk Show presented by Excel In Excel on its YouTube Channel (https://www.youtube.com/theexcelinexcel), where it will be hosting great leaders and subject matter experts (SMEs) from various fields to speak regularly on a variety of topics ranging from Excel to Analytics and Finance to Financial Modeling and many more.
These sessions are intended to offer the viewers the opportunity to listen to the esteemed speakers and interact with them to have their queries addressed.
Watch our past talk's at https://www.youtube.com/playlist?list=PLnsVzIf_J3fIMQTp7x7c4usgpeqYN9l1V
______________________
Register for Upcoming #EiEFreshTalk at https://excelinexcel.in/eieFreshTalk
Stay updated with us on our
Facebook Group @ https://www.facebook.com/groups/eiefreshtalk/
WhatsApp @ https://www.excelinexcel.in/whatsappupdate
Telegram @ https://www.t.me/ExcelinExcel
Watch other episodes of #EiEFreshTalk at https://www.youtube.com/playlist?list=PLnsVzIf_J3fIMQTp7x7c4usgpeqYN9l1V
Learn MS Excel: www.ExcelinExcel.in/ms-excel
Our Website: www.ExcelinExcel.in