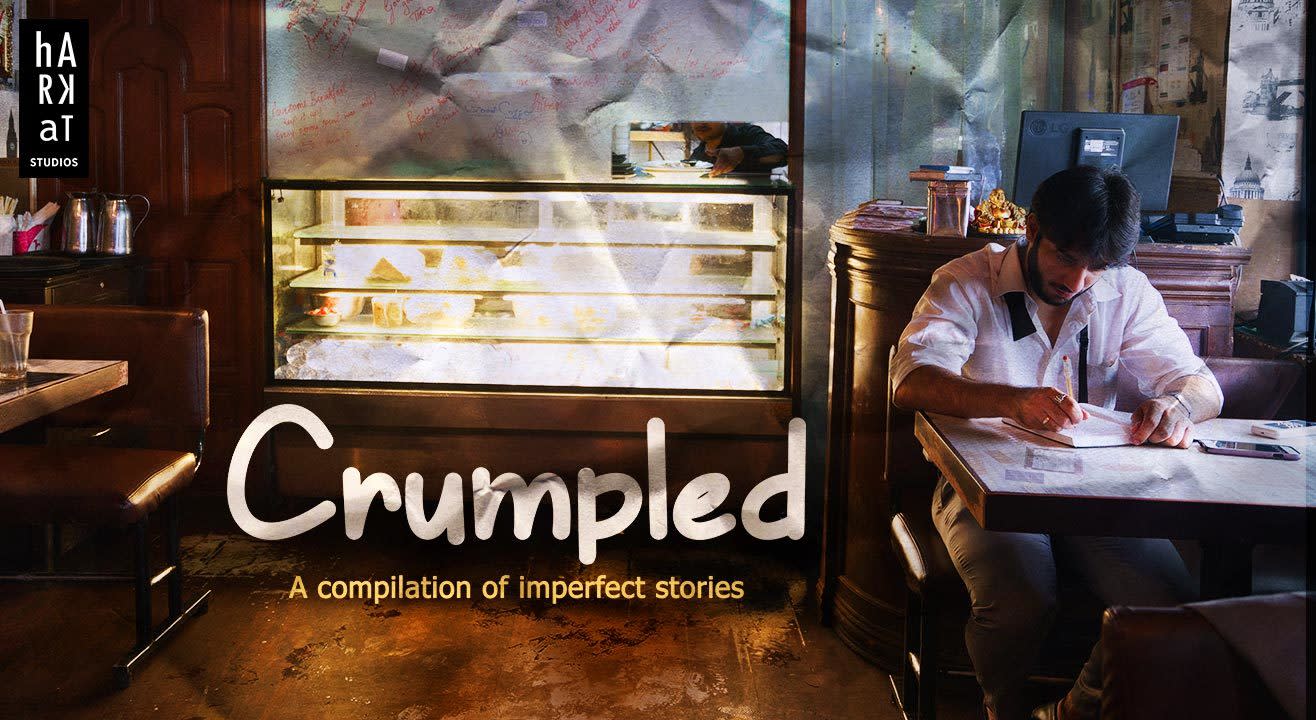 Crumpled – A Compilation Of Imperfect Love Stories
Harkat Studios, Versova, Mumbai, Mumbai
Step out and enjoy this event
Invite your friends
and enjoy a shared experience
Crumpled – A Compilation Of Imperfect Love Stories
Harkat Studios, Versova, Mumbai, Mumbai
Step out and enjoy this event
Invite your friends
and enjoy a shared experience
Invite your friends
and enjoy a shared experience
Crumpled is compilation of 5 modern short love stories of 10-15 minutes each showing what and how relationships are all about now in the contemporary times.
The Connection
Life without the Internet seems pretty impossible doesn't it?
The Connection is a story about what happens when a young couple go through a traumatic loss of loosing their (internet) connection for 10 minutes and what happens for those 10 minutes and how they find a deeper connection with each other than the one they lost.

Written By- Aakash Prabhakar

The Tinder date
"Tinder" which is so widely used and loved here in a city like Mumbai, is loved may be because people who use it are from Mumbai, or any other metropolitan city.
What happens when a boy from Haryana who moved into Mumbai goes on a tinder date with a "Mumbai Girl" is what The Tinder Date is all about. Was swiping right really the right thing to do?
Written By Rahul Rai

Spur
Sometimes people really wish they could just go back in time, may be just for a few seconds, sometimes you also have to be really careful of what you wish for. Hasan makes a choice, which his girlfriend Tara is clearly not happy about and he wonders if he would have done the same if he could go back in time just for few seconds ..and he does go back in time..
He would have done the same? He wouldn't? May be he…
Written By Kalpak Bhave

The Wedding Story
We always go for the stereotypes don't we? Create the most typical characters while we tell our kids a bedtime story? It is Usually about A prince and his princess, whisking away on a white horse to Hawaii for their honeymoon after their marriage? The storyteller who tells this story will surely be surprised when these characters suddenly pop out from the story his weaving to tell him what the reality is. Of course, in front of all those kids he is telling the story to.

Written by Julianne Homokay

The American Dream
A nice big house in California or Washington Dc may be, two cars, two kids, make a lot of money and enjoy that lifestyle that we see on television or hear our relatives living all the time is usually what we want isn't it? That has always been the dream. The American Dream is a monologue about the American dream that a boy always chased since he was in 4th grade. But not all dreams come true isn't it?
Who cares if it doesn't? Life moves on anyway..

Written by: Aakash Prabhakar, Julianne Homokay, Rahul Rai, Kalpak Bhave. Cast: Aakash Prabhakar, Chirag Lobo, Gaurangi Dang, Himanshu Sharma, Mahnaz Damania, Manu Gupta, Rajan Sharma
Aakash Prabhakar
Aakash Prabhakar has been a part several theatre productions in Mumbai professionally. Taboo Talks, Confessions,Orphans, Romeo and Juliet, The Dragon being some of them where he performed as an actor in the recent past. Training wise, the theatre bug had bit him since his early college days. After attending a weekend part time course in acting with Barry Johns Acting Institute along with his stint in an ad agency. After spending year trying to learn and understand what it is to make a play and attend a lot of workshops conducted by really respected names in the theatre circuit like Neeraj Kabi, Anna Helena Mclean & Sunil Shanbag being some of them he took up theatre full time. This would be his first theatre production as a producer. He has also written and directed a couple of short stories in this play. His play Crumpled has done about 25 odd shows in the last 7 months around Mumbai, Chennai and Ahmedabad.
He also performed a monologue from Crumpled at the Short+Sweet Theatre Festival Chennai for which he won the best Actor and the best script award.

Mahnaz Damania
Mahnaz trained with the Proffeional Conservatory at The Stella Adler Studio of Acting New York, where she spent 3 years working as well.At adler she played Harper Pitt in Angels In America:Parestoika and performed an adaptation of Sakharam Binder at National Comedy Theatre NY.
While Training in physical expression during her time there, she was drawn towards collaborative deviced storytelling. She is also in Rage Production's Naqqaash from Writers Block 4 and will be seen in Faezeh Jalalis Shikhandi.Crumpled has been a labour of Love and we hope you enjoy yourself.

Chirag Lobo
Chirag Lobo has studied Acting From Bjas and has been a part of a year long conservatory in Theatre making and Acting from The Drama School Mumbai. After being a part of a few advertisements, web-series and plays like Ripples and The Elephant journey he is all set to charm the audience in Crumpled with his Spiked hair and crooked smile.

Himanshu Sharma
Himanshu Sharma is a theatre artist with an experience of 4 years in street and stage theatre primarily in Delhi and Mumbai.He has been a part of over 40 theatre productions.

Rajan Sharma
Rajan Sharma hails from Haryana.After being a part of a production that premiered in writers block called "outer Dilli" he is going to be seen in crumpled playing a really fun character.

Manu Gupta
Manu Gupta has recently ventured into the world of performing arts. He is pursuing stand-up comedy, writing/ acting and performs at various open-mics across the city. Crumpled is his debut play reflecting beautiful chemistry with co-performers.

Gaurangi Dang
Gaurangi Dang has a degree in English literature. She is 22 and she has done a year long conservatory course in Theatre Making and Acting. Her Solo piece "The interview" was performed at the Thespo Festival.
Harkat Studios, Versova, Mumbai
HARKAT STUDIOS, BUNGALOW 94, FIRST FLOOR, ARAM NAGAR 2, VERSOVA, ANDHERI WEST, 400061-MUMBAI
GET DIRECTIONS
Crumpled – A Compilation Of Imperfect Love Stories
Harkat Studios, Versova, Mumbai, Mumbai
Step out and enjoy this event
Invite your friends
and enjoy a shared experience