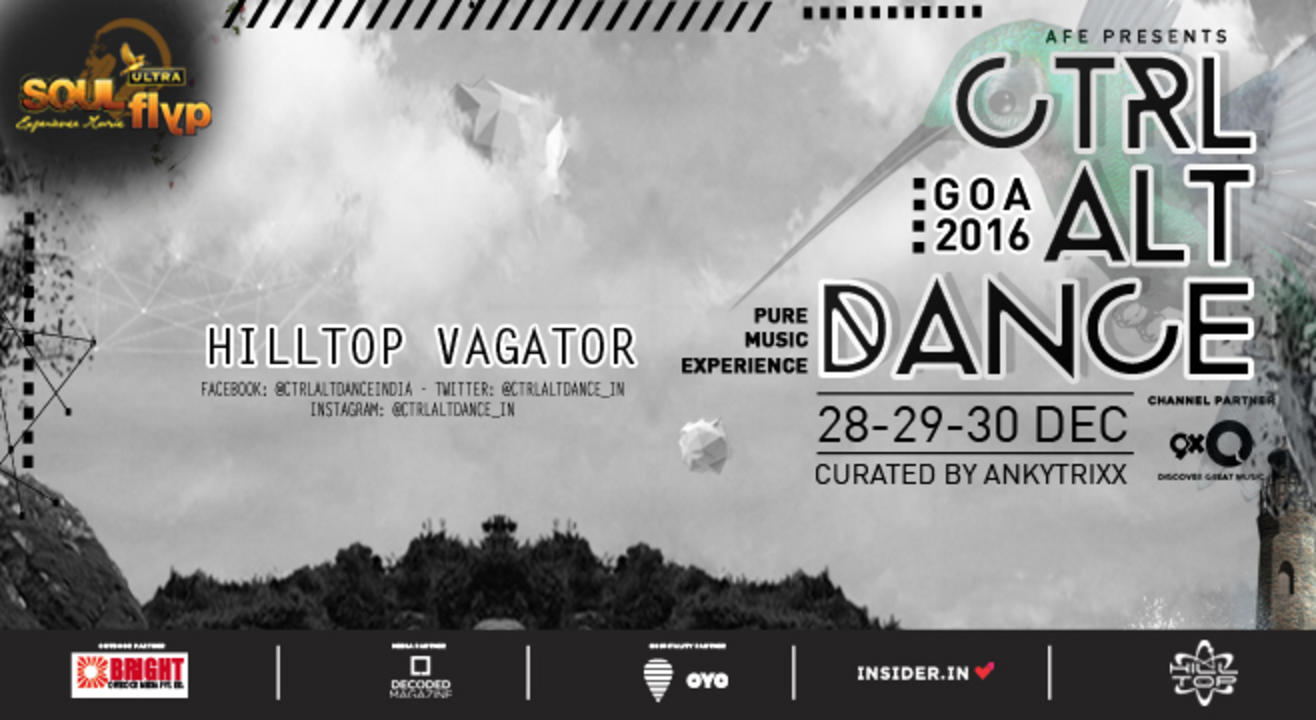 Hilltop Vagator, Goa, Goa
Event Guide
Early Bird Sale
Grab the best tickets at the best prices
3 Days, 2 stage areas
Unlimited music, unlimited fun
Pure music experience
The best of Underground Music
At HillTop Goa
The party never stops
Invite your friends
and enjoy a shared experience
Hilltop Vagator, Goa, Goa
Event Guide
Early Bird Sale
Grab the best tickets at the best prices
3 Days, 2 stage areas
Unlimited music, unlimited fun
Pure music experience
The best of Underground Music
At HillTop Goa
The party never stops
Invite your friends
and enjoy a shared experience
Event Guide
Early Bird Sale
Grab the best tickets at the best prices
3 Days, 2 stage areas
Unlimited music, unlimited fun
Pure music experience
The best of Underground Music
At HillTop Goa
The party never stops
Invite your friends
and enjoy a shared experience
Phase 1 Tickets live now
India's most loved home-grown music property - CTRL ALT DANCE :: Pure Music Experience is returning to Goa for the 3rd time around. This annual showcase is presented by AFE (Ankytrixx & Friends Entertainment) and curated by renowned Indian DJ ANKYTRIXX.
It is one of the only musical extravaganzas dedicated to bringing a pure music experience that showcases different styles of electronic dance music. The mantra remains to celebrate, cherish and put the spot-light on the amazing talent and wizardry nestled in every corner of India, a concept that is immediately unique.
The ensemble of DJ/Producers invited to perform in this year's edition, happen to be recognized all over the globe for their very own individualistic artistry, as well as a new generation of performers that are showing immense promise and hitting all the right spots in the music business globally. All of it is coming together under one starry sky spread across three days of December.
This year the showcase takes place at HillTop Goa, a legendary venue where the party never stops. It is situated in the Vagator area of Goa, an address which needs no introduction and is close to millions of music lovers.
All three days of the fiesta is but a promise to "provide a platform for the flowering of the human spirit", through music and dance, for which we have invited the production techniques of Rock & Roll Prods from Amsterdam, who have also worked on famous dance music events like DGTL Barcelona, Maceo Plex's ADE Showcase at Rijksmuseum and many more. They will integrate their expertise around two stage areas, into a picturesque landscape and visual fantasy land that one can get lost in.
Plans are underway to give all our fiesta goers a repertoire of contemporary and cutting edge exponents, along-side smiles, fist pumps, busting those moves and great big hugs on two great dance floors, altogether called CTRL ALT DANCE :: Pure Music Experience!!
Throwback - CTRL ALT DANCE 2014
Hilltop Vagator, Goa
Michael's School, Ozran Beach Road, Near St, Vagator, Goa 403509
GET DIRECTIONS
Hilltop Vagator, Goa, Goa
Event Guide
Early Bird Sale
Grab the best tickets at the best prices
3 Days, 2 stage areas
Unlimited music, unlimited fun
Pure music experience
The best of Underground Music
At HillTop Goa
The party never stops
Invite your friends
and enjoy a shared experience