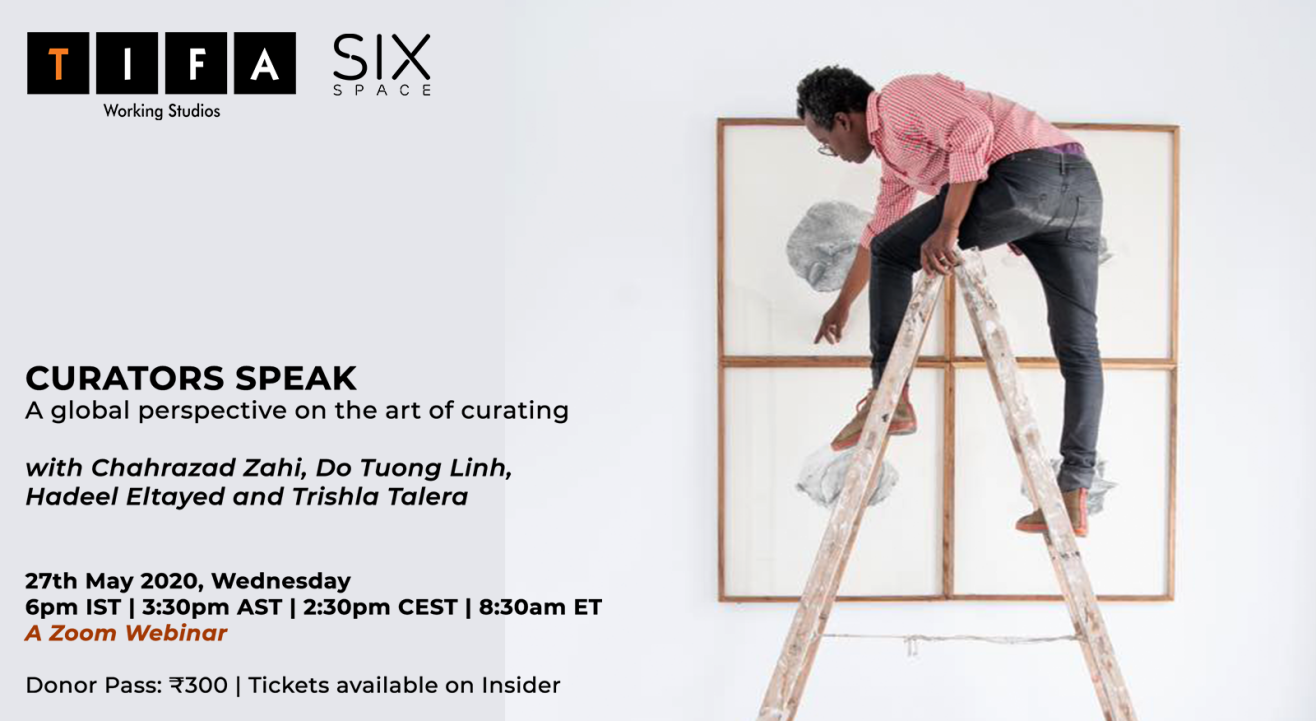 Invite your friends
and enjoy a shared experience
Invite your friends
and enjoy a shared experience
About the Event
Curators Speak
A Global Perspective on the Art of Curating
27th May 2020, Wednesday | 6pm IST, 3.30pm AST, 2.30pm CEST, 8.30am ET
A Zoom Webinar
Donor Pass: ₹300 | Tickets available on Insider
What is the role of the curator in the contemporary cultural sector? How do they decide which projects are showcased in museums, biennales and cultural spaces? How is their role defined and why are they important?
Join us in this online webinar as we speak to curators from all over the world and demystify their roles in arts and cultural institutions. Independent curatorial practitioners come together to discuss, debate and present their projects and challenges behind curating exhibitions in today's context.
The curators participating in this discussion are Chahrazad Zahi | MENA, Do Tuong Linh | Vietnam, Hadeel Eltayeb | Qatar and Trishla Talera | India.
Chahrazad Zahi was an independent curator before she joined the department of History of Art and Architecture at Boston University. Since 2012, she has been concerned with stimulating the publishing of art histories of the MENA region, beyond the western canon. Her research areas include alternative modernities, exhibitions histories and the post-colonial avant-gardes.
Do Tuong Linh studied art history at the Vietnam University of Fine Art (formerly École Supérieure des Beaux Arts de l'Indochine) in Hanoi, and Contemporary Arts of Asia and Africa at SOAS (University of London). Her research concentrates on avant-garde and contemporary art in Vietnam post-1986, and the relation between Vietnam and post-socialist countries, as well as connections between Vietnam and Africa during various historical and political turmoil. She is currently based in Hanoi and works as a curator, researcher and educator.
Hadeel Eltayeb is a curator who explores identity and cultural production in her work. She is currently Associate Curator at The Media Majlis at Northwestern University in Qatar, where her exhibition From Visionaries to Vloggers: media revolutions in the Middle East opened in January 2020. She was previously curator at Al Riwaq Art Space in Manama, Bahrain (2015-2017). Other recent projects include as co-curator of This Will Have Been: Archives of Past, Present and Future with Locale Sudan which opened in Khartoum, Sudan (2019), and as co-curator of [Media]tions with Mawane, a site-specific intervention in Juffair, Bahrain (2017). She was a 2019 Research fellow of the British Council at Venice Biennale, and her project 'Cultural Imagination and Cultural Memory in Venice' is currently being developed into a wider collaboration with the School for Curatorial Studies in Venice, Italy. Her writing has been recently published in Arab Literature Quarterly (Fall/Winter 2019).
Trishla Talera is a cultural producer and educator based in India. She is the founder of
TIFA Working Studios, a multi-disciplinary platform for Creativity and Culture. She has developed a space to support creative, innovative and critical practices through international residencies and mentorship programmes. In the last 5 years, TIFA has grown to be a dynamic contemporary cultural centre in South Asia.
#whatsTIFAupto