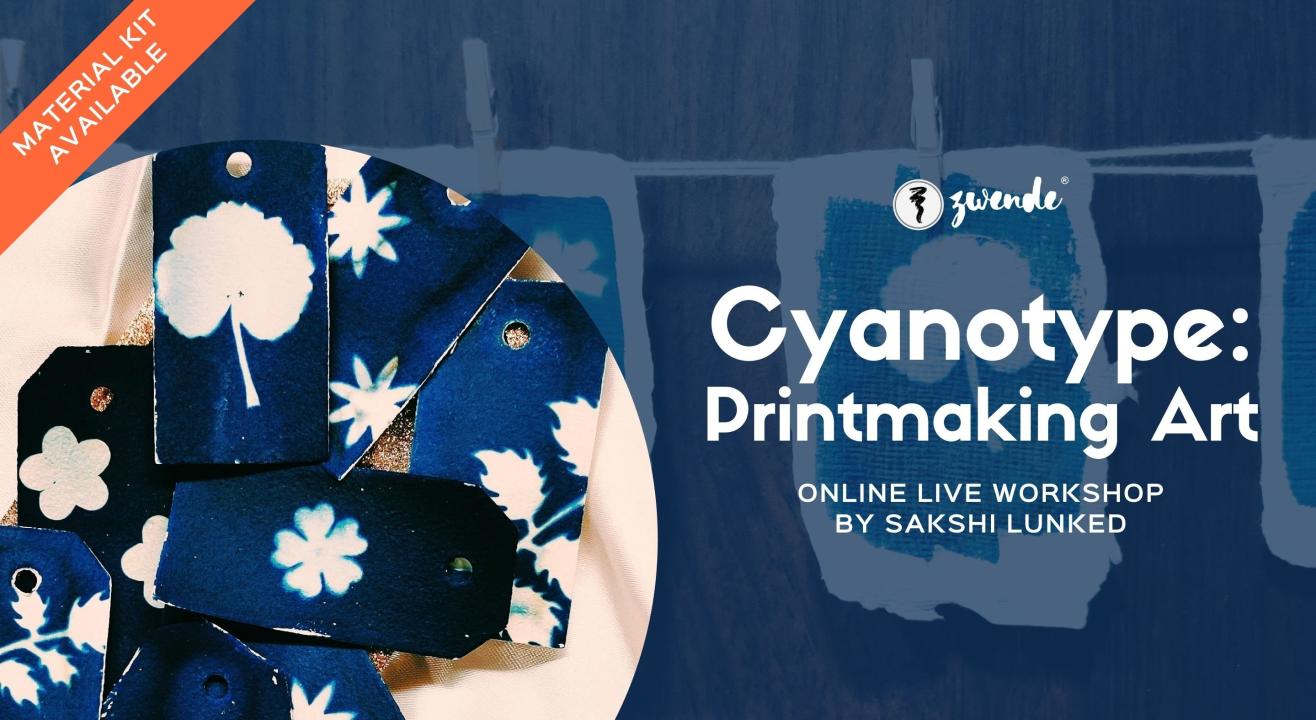 Cyanotype: Printmaking Art [Online Live Workshop - Material Kit Available]
Enjoy this event from your home
Event Guide
Masterclass
Learn from an expert
Invite your friends
and enjoy a shared experience
Event Guide
Masterclass
Learn from an expert
Invite your friends
and enjoy a shared experience
About the Event
About the Artform
Cyanotype is a photographic printing process that produced prints in the cyan-blue color. It was invented by English photographer John Herchel to make blueprints for achitectural drawings and engineering models. This method was adopted as it was inexpensive and simple. Two chemicals, ferric ammonium citrate and pottasium ferricyanide are used in the process. The prints are developed by explosing the chemically coated paper to sunlight which causes different chemical reactions to occur. Mediums like watercolor paper, cotton and wool are used. The method imparts a vintage look to products.
About the workshop
This workshop will introduce you to the techniques of cyanotype printing and the science behind the method. During the workshop, you will be mixing harmless chemicals and prepare a canvas using different methods. You will also learn how to print the cyanotype and understand the correct ways of drying the print with the help of sunlight and/or artificial UV light.
At the end of the workshop, you will have made some stunning bookmarks and gift tags in Cyanotype print.
The colours in the palette
Elements you will learn
About Cyanotype printing
Learn to choose the right supplies for the process
Learn to
prepare and dry the paper to set the foundation
Learn to select botanicals for your artwork
Learn to expose your prints to create the final artwork


What your Material Kit will contain
Materials at your doorstep
Ferric Ammonium Citrate
Potassium Ferricyanide
Distilled water
Art paper
Pre-coated paper
Syringe
Containers for mixing
Spoons
Face Mask
Plastic Gloves
Frame
Other Materials Required
Flowers & leaves
Plastic Tray (minimum 3 inches high)
Apron or old shirt
Cleaning cloth
Flat brushes
Hair Dryer
The scope of creativity
Further prospects and application of what you will be learning
With the techniques and knowledge that you learn in this workshop, you can make fascinating blue and white botanical prints on other surfaces. Create bookmarks, gift cards, greeting cards with this stunning technique. You can also master the craft and then revamp your bedsheets, pillow covers, handkerchiefs and more!