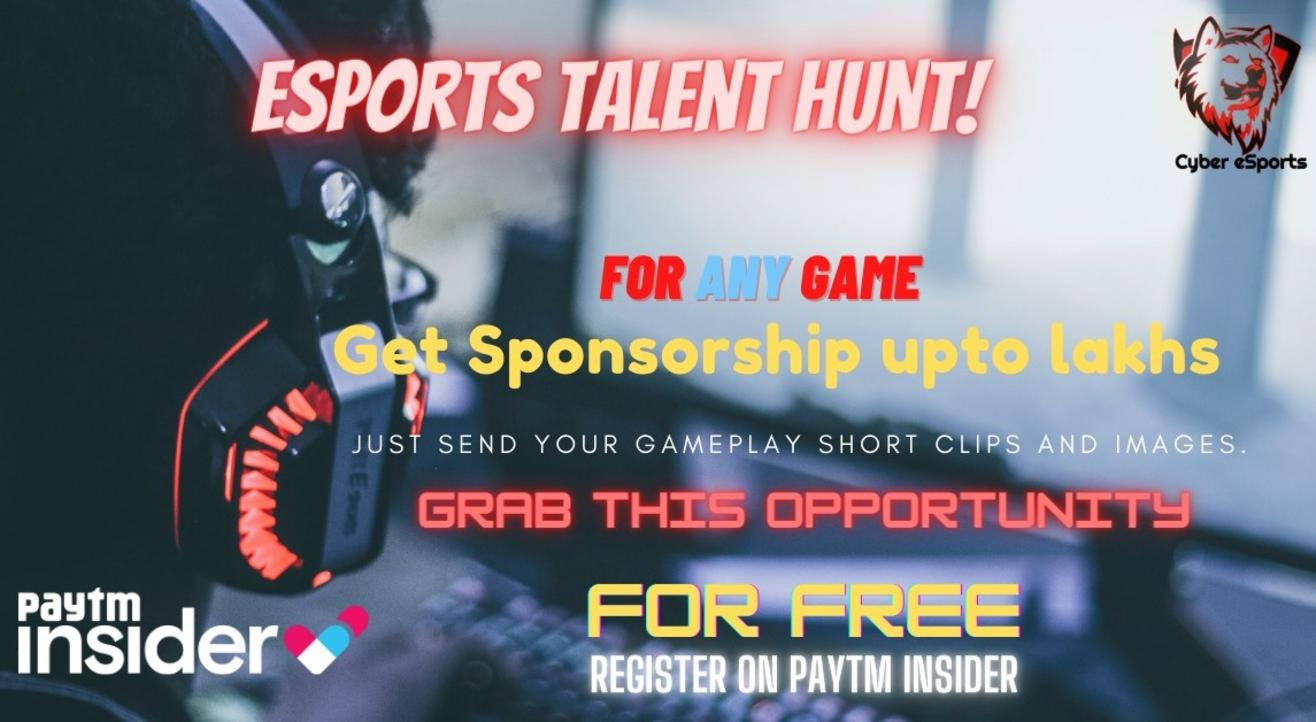 September 5 | 4:20PM - November 30 | 8:20PM
Invite your friends
and enjoy a shared experience
Invite your friends
and enjoy a shared experience
About the Event
CYBER ESPORTS planned to help gamers ascend throughout their competitive journey, providing the best hardware, innovation, training and financial support that the GAMING community could ask for.
We are ready to give full support as mentioned to competitive e-sports teams/individual who compete all over the world and with content creators whose work reaches international audiences.
This could be a chance for those who are planning to build their career into e-sports industry and a golden opportunity you never want to miss.
WHO WE ARE:
WE(CYBER ESPORTS) ARE THE E-SPORTS EVENT ORGANIZERS HAVING INTERACTION WITH LOT OF INSPIRING GAMERS THROUGHOUT OUR E-SPORTS JOURNEY. WE FIND THAT LOT A POTENTIAL GAMERS CANNOT GAIN WHAT THEY DESERVE BECAUSE OF SEVERAL REASONS WE ARE HERE TO COME UP WITH A SOLUTION FOR THOSE GAMERS WHO REALLY PURSUE GAMING AS A CAREER.
WHAT WE DO:
WE ARE IN SEARCH OF ASPIRING GAMER WHO ARE PLANNING TO MAKE CAREER IN E-SPORTS.
WE WILL HELP YOU IN TERMS OF GAME PLAY, RECOGNITION, FINANCIALS & OTHER RESOURCES.
WE PUT YOUR GAMING SKILLS & ACHIEVEMENT INTO SEVERAL PLATFORMS WHERE YOU CANNOT GET ONTO YOUR OWN.
WHAT INCLUDES IN SPONSORSHIP:
GAMING RESOURCES WILL BE PROVIDED
DEVICE AND HARDWARE( CASE BASIS)
GOODS FOR THE PLAYERS FOR SPECIAL ACHIEVEMENT
FINANCIAL SUPPORT ALSO WILL BE GIVEN


HOW TO GET SPONSORSHIP:
REGISTER VIA PAYTM INSIDER BY JUST ADDING YOUR DETAILS.
SUBSCRIBE OUR DIGITAL CHANNELS FACEBOOK, INSTAGRAM, YOUTUBE.
WE WILL REACH YOU TO SHOW UP YOUR SKILL BY SENDING YOUR GAME PLAY, LEADER BOARD ETC.
CONTACT US:
FACEBOOK: CYBER ESPORTS
INSTAGRAM: @gaming_csl
YOUTUBE: CYBER ESPORTS