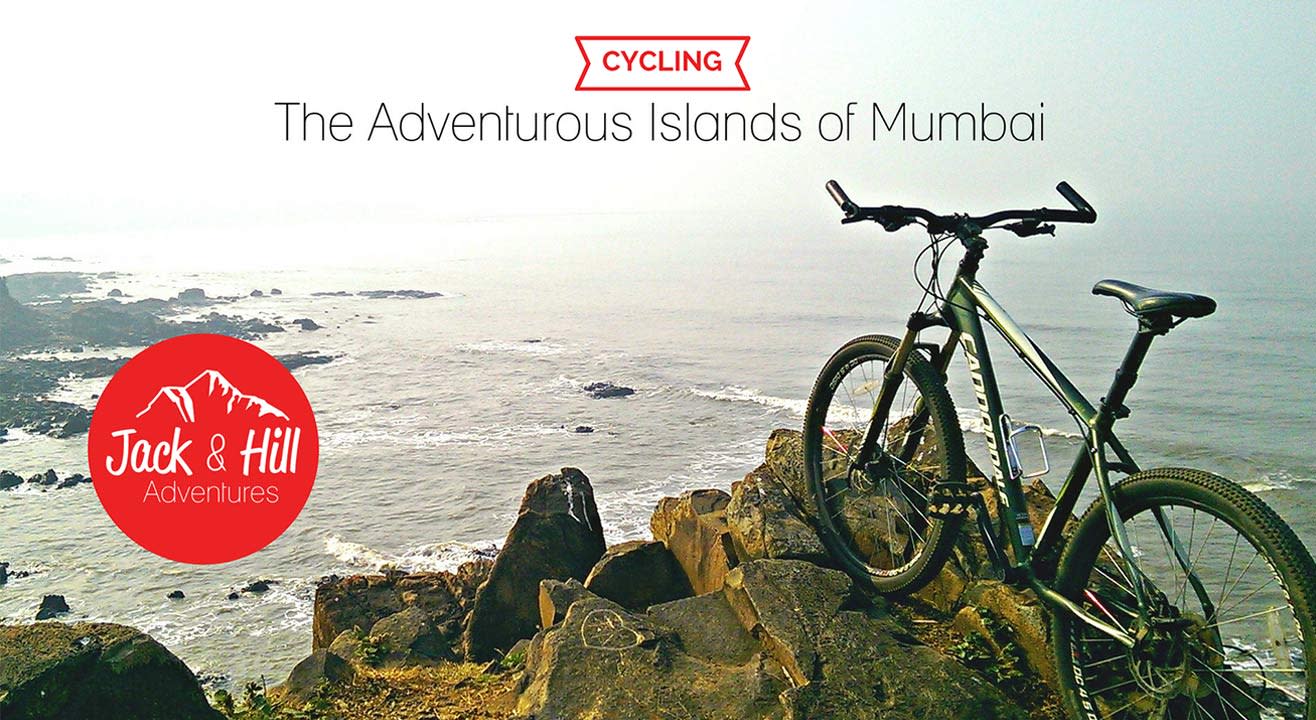 Cycling
Cycling - The Adventurous Islands of Mumbai
About
Spend your weekend on an adventurous bicycle ride exploring the scenic islands of Uttan, Gorai and Manori!
The day begins on an early morning at Gorai Jetty. After taking a ferry (boat ride) to the Island of Gorai, we start our pedal ride on the lush mangrove enveloped island roads that leads us to our first stop - The Global Vipassana Pagoda.
We continue towards the rockface perimeter of Manori for a bit of adventurous off-roading/mountain biking. The sights from this vantage point are truly to die for.
After a quick stop, we head to one of the most unique destinations on this ride - The Uttan Light House. Our stopover at Uttan Light House will not simply be a quick stopover but a staircase climb to the top of the iconic Uttan destination where one may grab the most brilliant view of the colourful fishing village of Uttan, Uttan Virgin Beach & Gorai Beach, all in one sight.
To charge our bodies for the ride going forward, we stop by for scrumptious breakfast. Post breakfast, we ride back to Gorai jetty.
Why you should ride with us?
Great Company
We're a chirpy adventure seeking bunch. Our love for cycling and the great outdoors is contagious.You certainly will be left high on our energy.

Super Routes & Safety
The most tried and tested adventurous cycle routes in Mumbai exist here. No-one knows about it, until now, so shussh.
The islands of Gorai, Manori & Uttan provide a variety of terrain and scenery that blends together to create a more than awesome cycling experience. The quiet island roads make it both a safe and an ideal place to ride a bicycle.

High Quality Imported Bikes & Gear
We strongly believe in Ride Quality. And thus all our bikes are imported and belong to the Top 10 Bicycle brands in the world. Every bicycle has an MRP of between Rs 25,000 - 45,000/-.
Here are few of our brands: Cannondale, Scott, Mongoose, GT. Go google them! or read http://mountainbikesguide.com/best-mountain-bike-brands/ A smooth ride with us is un-evitable on this experience!

Riding with the Best
Apart from Trekking, members of the Jack & Hill Adventures Team are inbred cyclists.
With more than 8 years experience as a seasoned long distance cyclist & Mountain Biker, Ride lead Johann Daniels is core Team Member of the Mumbai Cyclothon 2011, Founder of Borivali Cyclist Association (BCA)
Our experience with cycling is more than can be noted.


Meet at Cytherea Fitness at 6AM
Ride to Gorai Jetty
Take Ferry to Gorai
Begin ride from Gorai
Short stop at Global Vipassana Pagod
Ride to a hill overlooking the ocean
Greet the sun rise above the ocean
Ride & brief visit to Uttan Light House
Breakfast at a Sea Resort
Ride to Gorai Jetty
Ride Ends at approx 1PM - 2 PM
2 Litres of Water in a small-sized backpack
An awesome morning attitude

The helmet is a compulsory item on this event. Riders without helmets will not be entertained.If you would like us to arrange a Helmet, do get in touch with us on call post your booking. A rent-charge of Rs 150/- will apply and must be paid in cash at the start of the ride.

Great Company - The Team at Jack & Hill Adventures are a chirpy adventure loving bunch
High-Performance Bicycle & Helmet
Expert lead cyclists with technical assistance
Scrumptious Breakfast
First Aid by a certified Wilderness First Responder (WFR)

A basic level of fitness is required to join this ride.
If you are involved in any sort of activity that keeps you even the tiniest bit of fit, this ride is ideal to start off with. Couch potatoes & folks that live a sedentary life could have a tough time on this event. We will be covering a distance of 28 Kms from start to end. This distance is ideal for beginners and can be covered much easier than expected.
50% Cancellation Fee will apply if your booking is cancelled 48 hrs prior to the ride.
100% Cancellation Fee will apply if your booking is not cancelled 48 hrs prior to the ride.

Venue
Cytherea Fitness
L-2, Thomas Compound, Holy Cross Rd, Nr ICICI Bank, I C Colony, Borivali West, Mumbai, Maharashtra 400103