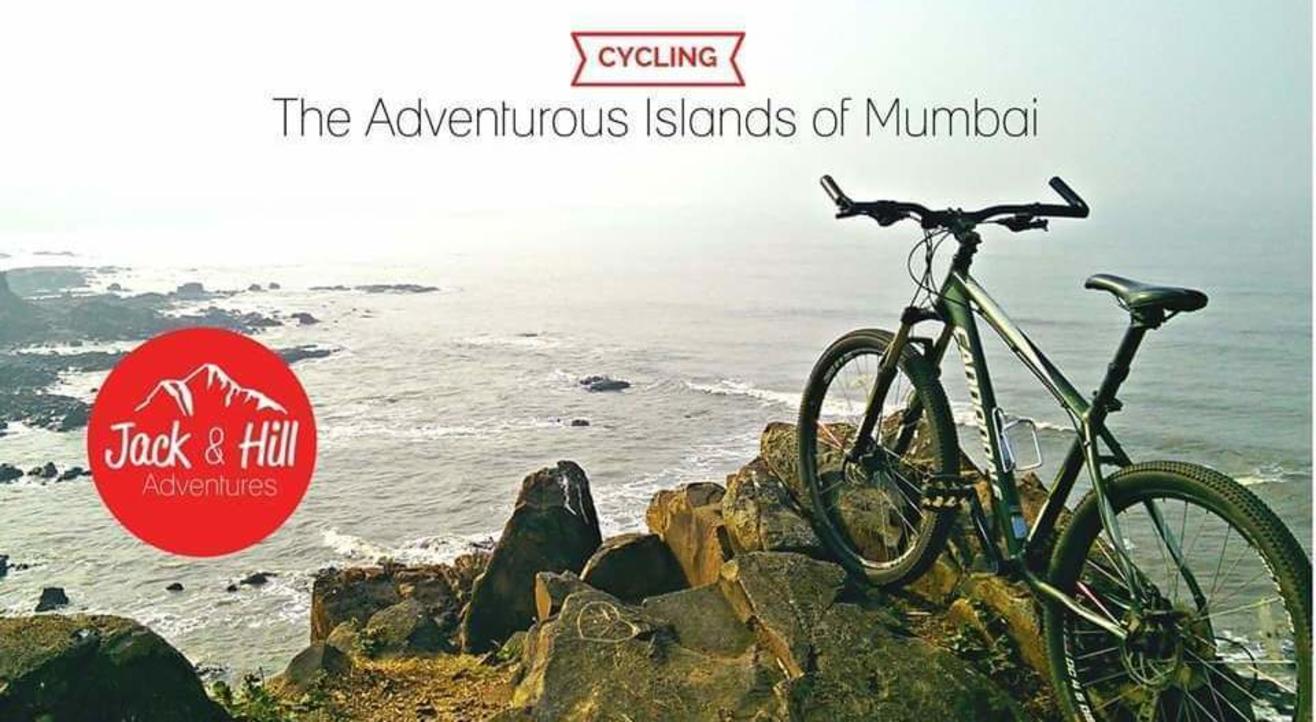 Cycling
Cycling - The Adventurous Islands of Mumbai
About
This month, we're back with one of our most popular event - Cycling The Adventurous Islands of Mumbai.
The cycling adventure begins with a short ride to Gorai Jetty.
After taking a ferry to Gorai, we enter the untouched portion of Mumbai, something we like to call the Islands of Mumbai. We begin pedaling on a road enveloped by widespread lush mangroves.
The road soon runs south through the quaint village of Gorai and leads us onward to the coast. Once we arrive at the coast, we continue riding on the coastline. This is where things begin to get adventurous. The terrain changes from tarmac to off-road and our short mountain biking experience begins. At the end of the off-road route is our secret hill top spot from where the most scenic sights can be witnessed. At this point, you might wonder,"Am I still within the city of Mumbai?", to which we will answer, "YES".
Next, we head out to the northern end of the island to visit one of the most unique destinations on this ride - The Uttan Lighthouse. From the lighthouse, one grabs a panoramic sight of the beaches of Uttan, Gorai & Manori. One can also witness the vibrant and colourful fishing village of Uttan from here. There is definitely a lot to take in visually at this point of the ride.
With most of the riding done for the day, we stop by for a scrumptious breakfast. After a hearty breakfast, we ride towards the last landmark called The Global Vipassana Pagoda and later ride back to the start of the ride to conclude the day.
WHY YOU SHOULD RIDE WITH US!
- Great Company
We're a chirpy adventure seeking bunch. Our love for cycling and the great outdoors is contagious.
You certainly will be left high on our energy.
- Super Routes & Safety
The most tried and tested adventurous cycle routes in Mumbai exist here. No one knows about it, until now, so shush. The islands of Gorai, Manori & Uttan provide a variety of terrain and scenery that blends together to create a more than awesome cycling experience. The quiet island roads make it both a safe and an ideal place to ride a bicycle.
- High Quality Imported Bikes & Gear
We strongly believe in Ride Quality. And thus all our bikes are imported and belong to the Top 10 Bicycle brands in the world. Every bicycles has a MRP of between Rs 25,000 - 45,000/-.
Here are few of our brands: Cannondale, Scott, Mongoose, GT. Go google them! or read http://mountainbikesguide.com/best-mountain-bike-brands/
A smooth ride with us is inevitable on this experience!
- Riding with the Best
Apart from Trekking, members of the Jack & Hill Adventures Team are inbred cyclists.
With more than 8 years of experience as a seasoned long distance cyclist & Mountain Biker, Ride lead Johann Daniels is core Team Member of the Mumbai Cyclothon 2011, Founder of Borivali Cyclist Association (BCA)
Our experience with cycling is more than can be noted.
Trip Itinerary:
- Meet at Gorai Jetty at 6 am
- Take Ferry to the disconnected belt of Gorai
- Take Ferry to Gorai
- Ride through mangrove enveloped roads
- Reach a hidden rock-face that overlooks the sea
- Experience a bit of mountain biking & offroading
- Ride & brief visit to Uttan Lighthouse
- Breakfast stopover midway
- Ride to the Global Vipassana Pagoda
- Ride to Gorai Jetty
- Ride Ends at approx 1 - 2 PM
Inclusions:
- High Performance Bicycle & Helmet
- Expert lead cyclists with technical assistance
- Scrumptious Breakfast
- First Aid by a certified Wilderness First Responder (WFR)
- Ferry Tickets
To maintain A High Quality Experience keeping in mind Safety, this ride has a Limited Group Size.
Difficulty:
The difficulty level of this ride is EASY to MODERATE. However the difficulty can be subjective, person to person.
A basic level of fitness is required to join this ride.
If you are involved in any sort of activity that keeps you even the tiniest bit of fit, this ride is ideal to start off with. Couch potatoes & folks that live a sedentary life could have a tough time only on the slopes. We will be covering a distance of 28 Kms from start to end. This distance is ideal for beginners and can be covered much easier than expected.
How To Prepare:
- 2 Liters of water
- An awesome morning attitude
- Helmet is a compulsory item on this event, riders without helmets will not be entertained
- You could rent a Helmet at a cost of Rs 150, do let us on call post your booking and before the event date
BOOKING & CANCELLATION:
50% Cancellation Fee will apply if your booking is cancelled 5 days prior to the ride.
100% Cancellation Fee will apply if your booking is not cancelled 5 days prior to the ride.
This is a limited capacity event. In case, there aren't enough bookings for the same, the event might get cancelled. However, your money will be refunded in this scenario.
For any further details, feel free to reach our team on Call on +91 9833376765 or drop us a Mail at <info@jackandhilladventures.com>
Venue
Gorai Jetty
Lokmanya Tilak Rd, Essel world Amusement Park, Mumbai, Maharashtra 400103
GET DIRECTIONS