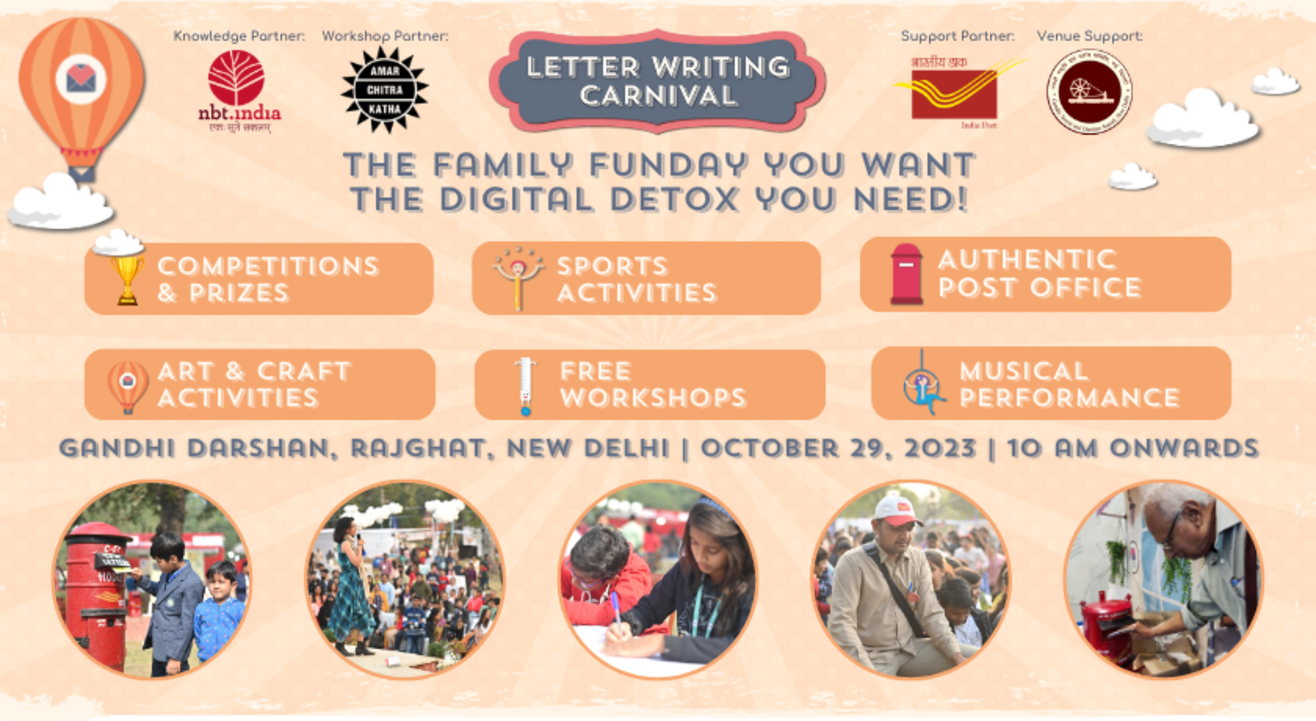 Daakroom's Letter writing Carnival - Delhi
Event Guide
Celebration
Fun times ahead
Invite your friends
and enjoy a shared experience
Daakroom's Letter writing Carnival - Delhi
Event Guide
Celebration
Fun times ahead
Invite your friends
and enjoy a shared experience
Event Guide
Celebration
Fun times ahead
Invite your friends
and enjoy a shared experience
A Family Funday and Digital Detox that everyone needs - Daakroom presents its flagship event - The Letter Writing Carnival - a unique carnival designed to celebrate the beauty of letters, writing, art and culture, in innovative, creative and engaging ways, inviting you to make tangible memories!
Daakroom's carnivals started in 2016. With high footfall city-wide events across the country, we continue to grow, and invite you to join in to:
WRITE - Find an authentic Postal Experience with a Post office, Letter box, Postman, and lots of reasons to write!
WIN - Prizes for all age groups, in competitions around Letter Writing, Postcard Making, Best Handwriting, Quizzes and more!
LEARN - Workshops with professionals, on Writing, Art, Craft, Philately, Storytelling and more!
ENJOY - Shopping, Food, Music, Performances, Sports, Games & lots of Creative Activities!
Come with your family and friends! Book now to join for a Perfect Digital Detox Sunday…
….Because it's the WRITE time!
- One ticket grants entry to one person only. Entry for kids below the age of 5 is free.
- You will receive a confirmation via SMS along with a QR Code. Upon arrival at the festival, you can scan the QR received via the text for seamless entry.
- Passes can't be cancelled or refunded. The dates of the passes can't be changed.
- ​You can avail passes at the venue. However, to avoid long queues, we recommend buying passes online.
- For bulk bookings or payment related queries, you may contact at
- Any products purchased within the vicinity of the Carnival from the will be chargeable by the respective vendor/brand.
- Parking is available at the venue on a first come first serve basis.
- The food court at the Carnival will ensure you don't go hungry amidst all the fun. You can purchase your food coupons and enjoy the variety of cuisines.
Daakroom - The Letter Writing Carnival
Gandhi Darshan
Gandhi Darshan, Gandhi Smriti, Raj Ghat, Delhi, 110002, India
GET DIRECTIONS
Daakroom's Letter writing Carnival - Delhi
Event Guide
Celebration
Fun times ahead
Invite your friends
and enjoy a shared experience