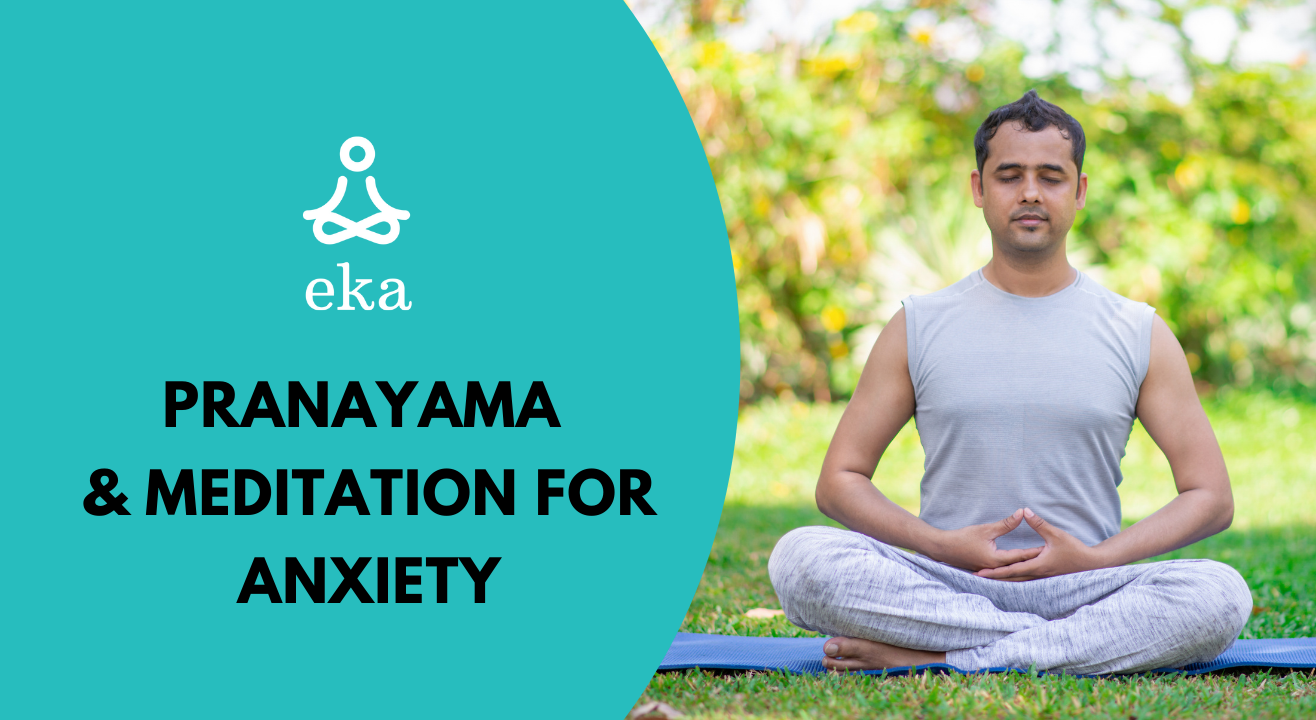 Pranayama & Meditation for Anxiety - 20 min (morning/evening slots)
Enjoy this event from your home
Event Guide
For Age(s)
Family Friendly
Live Fitness
Workout with a pro
Invite your friends
and enjoy a shared experience
Pranayama & Meditation for Anxiety - 20 min (morning/evening slots)
Enjoy this event from your home
Event Guide
For Age(s)
Family Friendly
Live Fitness
Workout with a pro
Invite your friends
and enjoy a shared experience
Event Guide
For Age(s)
Family Friendly
Live Fitness
Workout with a pro
Invite your friends
and enjoy a shared experience
20 min daily Meditation for people who can't make it a habit.
If you have tried repeatedly to build a meditation practice by yourself or with an app and it hasn't been working, then this program is for you!
20 min Live class mentored by a teacher.
Q&A sessions for all your questions.
Scheduled timing to build a disciplined practice.
Homework and self-practice for better training.
The classes will include practice for the body, breathwork technique and concentration building practice. Mostly the practices will stay within these categories. But occasionally, You will also be introduced to various forms of yogic meditation (natural breath meditations, yoga Nidra, creative visualization etc.) and breathwork (3 part breathing, Bhramari etc.) through the course.
Where: Zoom live classes


Duration: 20 mins
+10 mins (Optional for Q&A)


Days: Monday - Friday (all weekdays)


SLOTS:
Early Morning Session: 6:30 am (IST) with Swami Yogaratna Saraswati
Late morning session: 11:30 am (IST) with Sudeepta Shanbhag
Evening session: 6:00 pm (IST) with Sudeepta Shanbhag
Night session: 9:00 pm (IST) with Lalithashree Rajesh


Introductory Price: ₹ 749 per month (Join 1st class for free)
Why live daily Meditation?
We have talked and worked with a lot of beginner meditation students. And almost all of them have the same problem starting.
The same answer that it is difficult to start meditating as beginners. And it seems obvious to give up while not seeing immediate results.
Even guided meditation with the help of apps doesn't seem to work because they find it hard to make consistent time or empty their mind (which, by the way, is not the expectation in the beginning at all).
So what do we do if we don't see a point in meditating?
Try this…
Sudeepta, our master teacher, has decided to help out meditation beginners. Starting 1st of July she is leading sessions with beginner meditators.
In this class, she helps you build a consistent practice with accountability. Where you learn
to find the reason and regular motivation to start meditation.
Easy to follow techniques involving the body, breath and mind.
to manage your initial expectations of meditation.
to sit for a long time comfortably.


Meet your teachers
Sudeepta is an ERYT 500 who started practising yoga in her early teens and has studied with teachers in India and the US specialised in different traditions.
She is a lead trainer in Yoga teacher training programs and teaches asana, pranayama, Meditation and Yoga Nidra.
Her 900+ hrs of training include a Yoga Nidra 200hr training, Level 1 and 2 training in Special needs, Yin, Vinyasa and many more.
Her interest lies in making yoga accessible to everyone and teaches children and adults with special needs like cerebral palsy, autism (motor skills, balance, changing behaviour patterns) and kids with cancer (pain relief, emotional resilience). She is a mother to energetic twin boys who help her appreciate the practice of sitting in stillness.
Swami Yogaratna Saraswati: With over 34 years of experience in practicing and teaching yoga from the tradition of Bihar School of Yoga (BSY), Swami Yogaratna Saraswati is a beacon of light for those on the path of meditation.
She is known around the world for her talent in leading Yoga Nidra and other Meditations from the tantras, yoga therapy, yoga for children, the higher techniques of Chakra Sadhana, Kundalini yoga and many others, including satsangs (talks) and kirtans (group singing).
Her ashram in Gokarna called Born in Paris of Australian parents and raised in India, Swamiji studied art, education, and linguistics in India and Australia.
After studying, working, and travelling, she committed her life to spiritual quest.
Shankar Prasad Foundation is the representation of her true spirit. With regular yoga and meditation classes open to anyone, an organic rice farm, an English medium primary school, 100% environmentally sustainable practices, and community projects across Gokarna such as dog sterilization, reforestation, and waste management – the ashram is an inspiring place to imbibe the true spirit of yoga.
Lalithashree Rajesh:Lalitha is a yoga and meditation teacher who is eager to help people become more mindful and lead a fulfilling life. After exploring various spiritual paths for 15 years, she is now a regular practitioner of Vipassana meditation and yoga. She completed an RYT200 certification in 2018 and more recently, a Yin Yoga teacher training. In addition to regular asana, pranayama and meditation classes, she also takes classes for a group of adults with special needs. In the past, she has conducted classes for various underprivileged groups such as destitute children, remand home inmates, individuals with special needs, and children with cancer.Lalitha has an engineering background and an IT experience of 15 years, during which she gained expertise in software documentation and team management (along with the art of balancing a career and a home with two growing boys). Now yoga and meditation are her way of life and (pre)occupation.