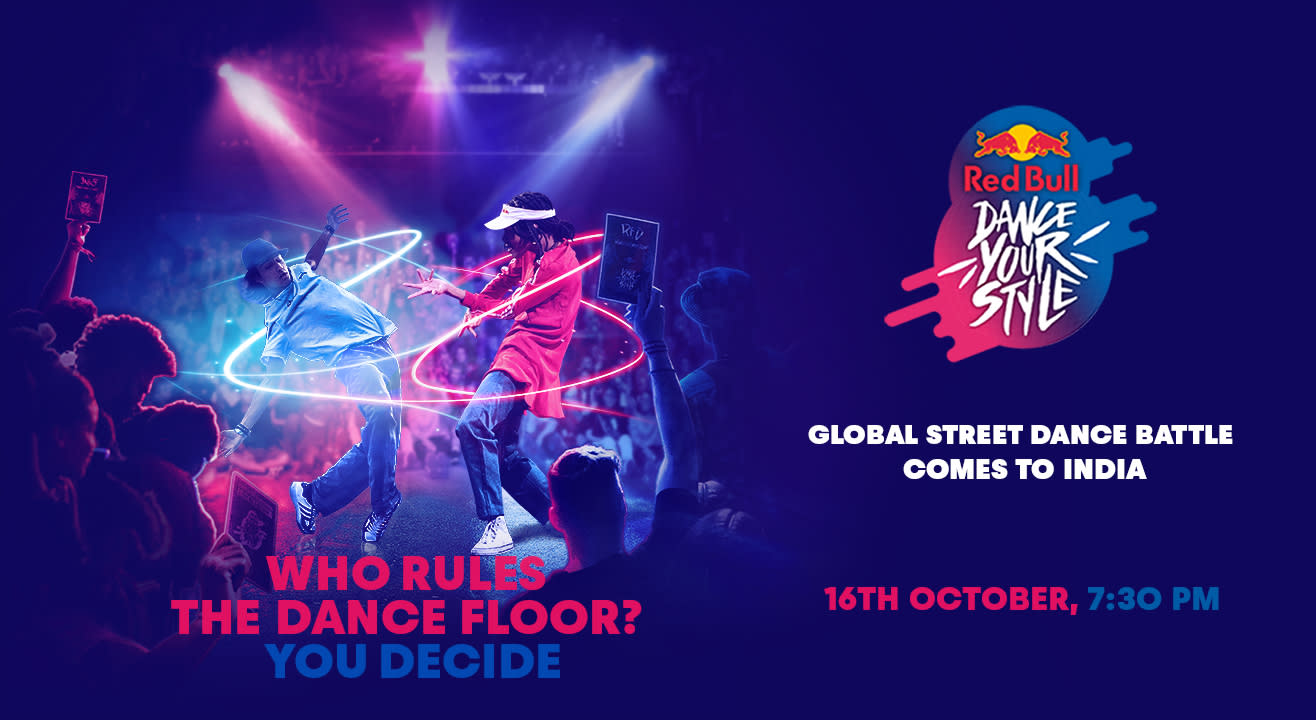 Red Bull Dance Your Style India
Enjoy this event from your home
Event Guide
Digital Event
Live On Insider
Live Performance
Enjoy a unique experience
Invite your friends
and enjoy a shared experience
Red Bull Dance Your Style India
Enjoy this event from your home
Event Guide
Digital Event
Live On Insider
Live Performance
Enjoy a unique experience
Invite your friends
and enjoy a shared experience
Event Guide
Digital Event
Live On Insider
Live Performance
Enjoy a unique experience
Invite your friends
and enjoy a shared experience
Red Bull Dance Your Style is a global one-on-one street dance event series with a unique battle format. Dancers must go all out to ""wow"" the audience and ultimately win their votes. Taking improvisation to a new level, dancers put their freestyle and musicality skills to the test, with unpredictable mainstream music tracks, ranging from current global hits to classics. Who rules the dance floor? You decide!


How to vote:
- Dancers will showcase their moves on the red and blue sides of the dance floor, with each dancer taking one colour.
- After each battle, a banner will pop up on your screen with two options - one red, one blue
- Choose red OR blue, based on which dancer impressed you the most
FAQs
Q: Can I watch the event on ground?
A: No, this year an on ground audience is not permitted for the event.
Q: Is there an age limit for the event?
A: No, all ages are welcome
Q: How many people can attend the event on one ticket?
A: Each ticket allows you to join the event from one device at a time. Mobile phones, computers,
and tablets are all supported
Q: When will the event schedule be released?
A: The event schedule will be released closer to the event date. Stay tuned to
redbull.in/danceyourstyle and @redbullindia on Instagram for updates
Q: Are registrations still open?
A: No, registrations are closed for the first edition of Red Bull Dance Your Style in India. RSVP to
watch and vote for 16 of the country's best street dancers as they go head-to-head at the India Final.
Q: How was the Top 16 selected?
A: International judges and legends in the scene, Diablo, Kite, and Antoinette Gomis selected the
Top 16 after an all-digital entry round.
Q: How does the battle work?
A: Dancers will go head-to-head in 1-on-1 knockout battles. All dance styles may battle each other,
and the audience will vote for the winner.
Q: How are the winners chosen?
A: You - our viewers - decide who rules the dancefloor simply by placing a vote after each
performance battle.
Q: Will the event be available for VOD?
A: The event will only be live streamed and will not be available for VOD.
Q: Can I vote for more than one person?
A: No, you can vote for only one dancer per round.
Q: What do I do if I miss a vote?
A: Keep watching and vote in the next battle!
Q: What does the winner of Red Bull Dance Your Style India get?
A: The winner gets to represent India at the Red Bull Dance Your Style World Final in South Africa
later this year.
Red Bull Dance Your Style
AARTI



BUCKSTRANGER



DEEP SOUL



GORKEH



HIMANSHIPOP



IAMON



JENNY GUSAI



JENNY WACKER



MANISH POP



MISTER V



NEPO



RAWSHAN



SANDY DHANAI



SMOOTH BOOG



STYLE E



YUGANSHU



Red Bull Dance Your Style India
Enjoy this event from your home
Event Guide
Digital Event
Live On Insider
Live Performance
Enjoy a unique experience
Invite your friends
and enjoy a shared experience