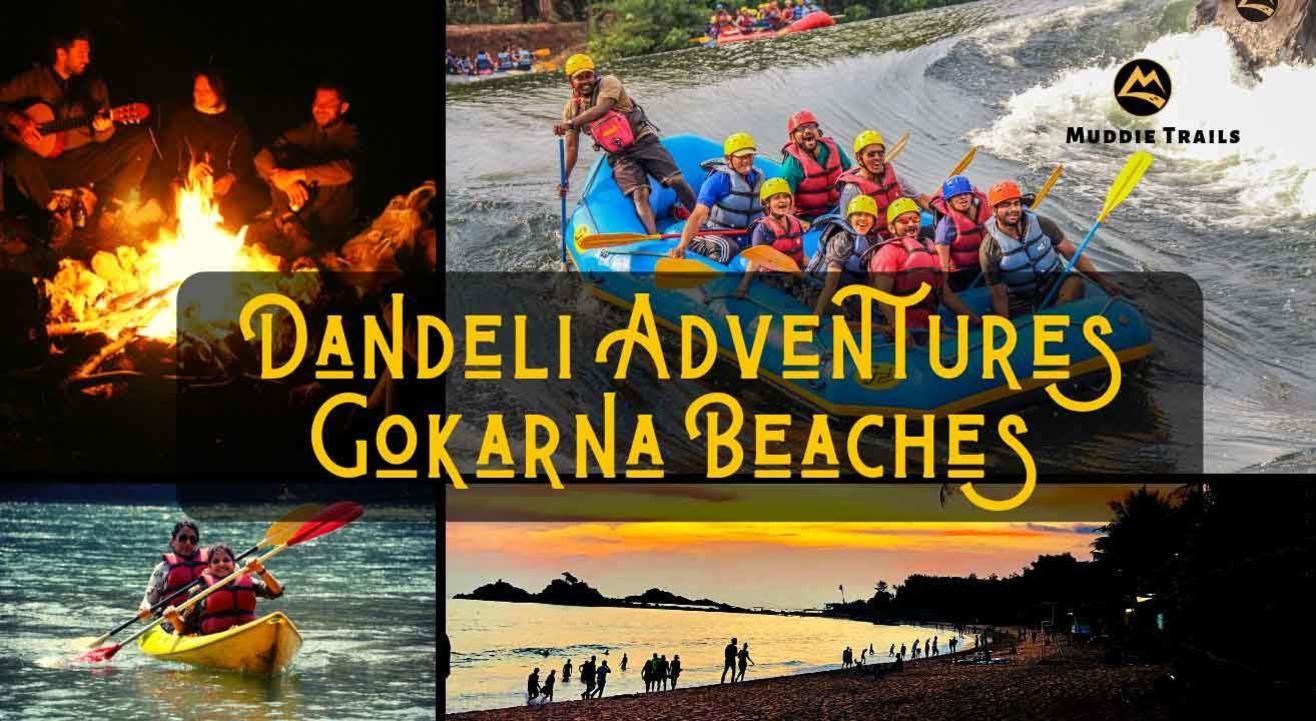 Adventure
Dandeli Water Adventures with Gokarna Main Beaches, Bangalore | Muddie Trails
April 9 | 8PM - April 20 | 6AM
4,150 (*inclusive of taxes)
About
Muddie Trails presents you a weekend brimming with adventure at the banks of the river Kali in Dandeli & the beautiful coastal town of Gokarna..!!
Dandeli is an ideal vacation destination in north Karnataka for those who love nature & water activities. The town is surrounded by thick forests and wildlife where rare animals and birds roam in deep valleys and hilly terrain. On the banks of the Kali river, Dandeli is truly a fascinating mix of wildlife, scenic beauty, and adventure sports.
Different water adventure sports in Dandeli include Kayaking, Jacuzzi, Boating, Zorbing, Swimming with life jackets, etc. Each activity costs between 100 to 350 INR. A short White Water Rafting costs approx 600/-rupees.
We have a window to enjoy whichever water sports you pick according to your wish.
Don't worry about the price of individual activities.
Muddie Trails tied up with local and certified adventure sports providers to give following pack at a special discounted price of 650/- rupees:
Short White Water Rafting
Jacuzzi
Swimming with life jackets
Boating
Kayaking
Important notes on rafting:
The status of White Water Rafting – whether it will happen or not – will only be announced by Forest/Dam authorities on Saturday morning.
No travel company can promise it beforehand 100%.
We will also visit the most beautiful Gokarna Om Beach and chill out on Sunday. Take a soothing dip in the Sea and walk barefoot on the soft sand. Evening sunset at Kudle Beach is the icing on the cake. Want more? You can also visit the Gokarna temple and flea market over there.
Join us and #getmuddie!
Basics:
Total slots for the trip: Usually 20 or more
Stay: At our beautiful riverside campsite on sharing basis
Food: 2 Breakfasts, 1 Lunch (Veg), 1 Dinner (Veg & Non-Veg) – all included!
Trek difficulty: Easy (good for beginners)
Travel:
Tempo or mini-bus depending on final numbers (Non-AC)
Starting time: Friday night around 8:30 PM
Ending time: Monday morning around 6 AM
Pickup/Drop spots: Tin Factory, Indiranagar 100 Feet Rd, Koramangala Sony World, Guroguntepalya Metro
Highlights:
Dandeli Water Sports Pack at special discounted price
Camping, luggage/change rooms
Beautiful backwaters of Kali river
Dandeli Eco Park
Jungle Walk
Gokarna Om Beach
Sunset at Kudle Beach
Gokarna Temple & Flea Market
Campfire
Music & Dance
Good food
Schedule:
Day 0:
Start from BLR, an overnight journey.
Day 1:
Reach the adventure town of Dandeli early morning, check in to our beautiful campsite cum homestay & fuel up with nice breakfast
Drive to the adventure land on the banks of river Kali & indulge in day-long water activities split by Lunch
Head to the scenic setting of Dandeli backwaters, get treated with a beautiful sunset
Visit the beautiful Eco-park and take a lot of selfies
Reach back to the camp late evening, freshen up
Bonfire at night with long conversations
Music & dance
Well deserved hot dinner buffet.
Day 2:
Start the day with thrilling Jungle walk and listen to the chirping of birds. If you wish to sleep for a longer time, no problem 🙂
Freshen up, have breakfast and check out of our camp
Head straight to the west coast and reach beach town of Gokarna
Visit most famous Om Beach, chill out at the shacks, take a dip in the Sea if you wish to
Have leisurely Lunch
Visit Gokarna main town, head to the temple if you wish to, shop at a nearby flea market
Get set for amazing sunset at Kudle Beach where Sun goes straight into Ocean
Start back to Bangalore late evening
Dinner on the way at Dhaba
Day 3
Reach BLR early in the morning.
Share your adventurous Dandeli and Gokarna weekend getaway story with friends and family
Inclusions:
Travel
Food: 2 Breakfasts, 1 Lunch (Veg), 1 Dinner (Veg & Non-Veg)
Camping
Bonfire & music
Experience all places in the highlights section
Organizer(s) from MT to look after all the activities
A hell lot of entertainment!
Exclusions:
Water activities like River rafting, Jacuzzi, Kayaking, etc
Sunday Lunch & Dinner
Any misc. expenses not mentioned in inclusions above
To register:
If you agree to following Terms & Conditions and Refund Policy:http://bit.ly/MuddieTerms
You may register by using the Book Now button and join the Muddie Gang!
What's next after booking tickets:
A WhatsApp group will be created for all the registered folks a night before the event
Information like exact pick up locations, things to pack, Organizer details etc will be shared in the group
Important notes:
The facilities are basic, close to nature on this backpacking trip. Not for luxury seekers
Cheers,
Get Muddie in Travel...