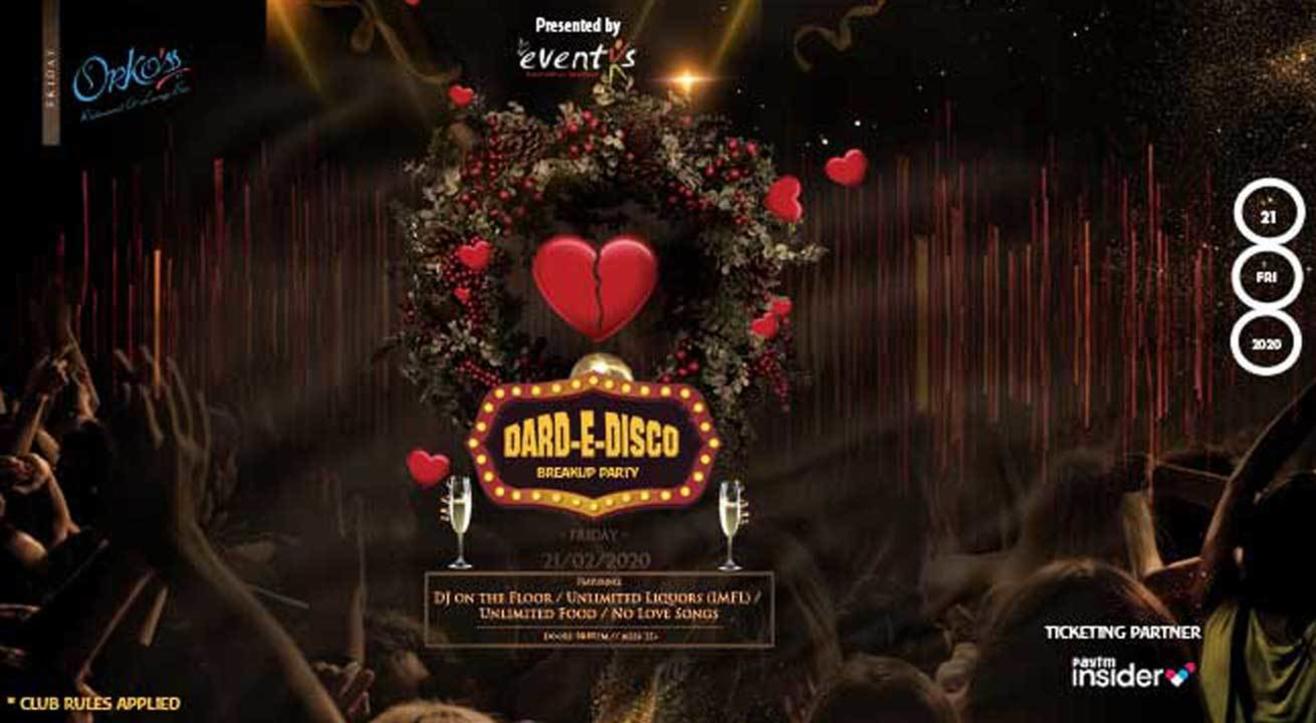 Parties
Dard-E-Disco Break-Up Party
Orko'ss Restaurant & Lounge Bar
About
Break Up is also a much needed break between two relationships. This is the time to relax and enjoy. This is the time when you forget the worst and hope for the best to come.
This year's break up day will be the celebration of the same.
So, all you broken heats join us for the Bollywood Break Up party on this years Break Up Day-21st February 2020.
There will be unlimited drinks and foods on our part. Absolutely no love songs will be played there.
Ticket Inclusions:
DJ Ajay will play Live Music
Unlimited Starters and Liquors
Unlimited Sumptuous Foods
Food & Drinks Menu
Starters at Bar
1) Tandoori chicken
2) Fish fry with tatar sauce
3) Baby aloo
4) Veg shami kebab
Green salad
Main course at Restaurant
1) Chicken - do - piyaza
2) Fish in hot garlic sauce
3) Yellow dal tarka
4) Mixed veg with paneer
5) Veg hakka noodles
6) Corn palak
7) Butter naan, tandoori roti
8) Basmati rice
Desserts
1) Vanilla Ice cream with hot chocolate sauce
2) Gulab Jamoon
Drinks menu –
Blendrs pride ,
Sterling B 10,
Smrinoff vodka ,
Bacardi white rum,
Old monk rum.
All others brands, beer and breezers will be available at discounted price from Bar.
For non drinkers unlimited mocktail
Bar timing is 8.30pm to 11 pm, dinner in the restaurant from 11pm onwards.
Venue
Orko'ss Restaurant & Lounge Bar
3rd Floor, Block E, City Centre 1, Sector 1, Salt Lake, Kolkata, West Bengal 700064
GET DIRECTIONS