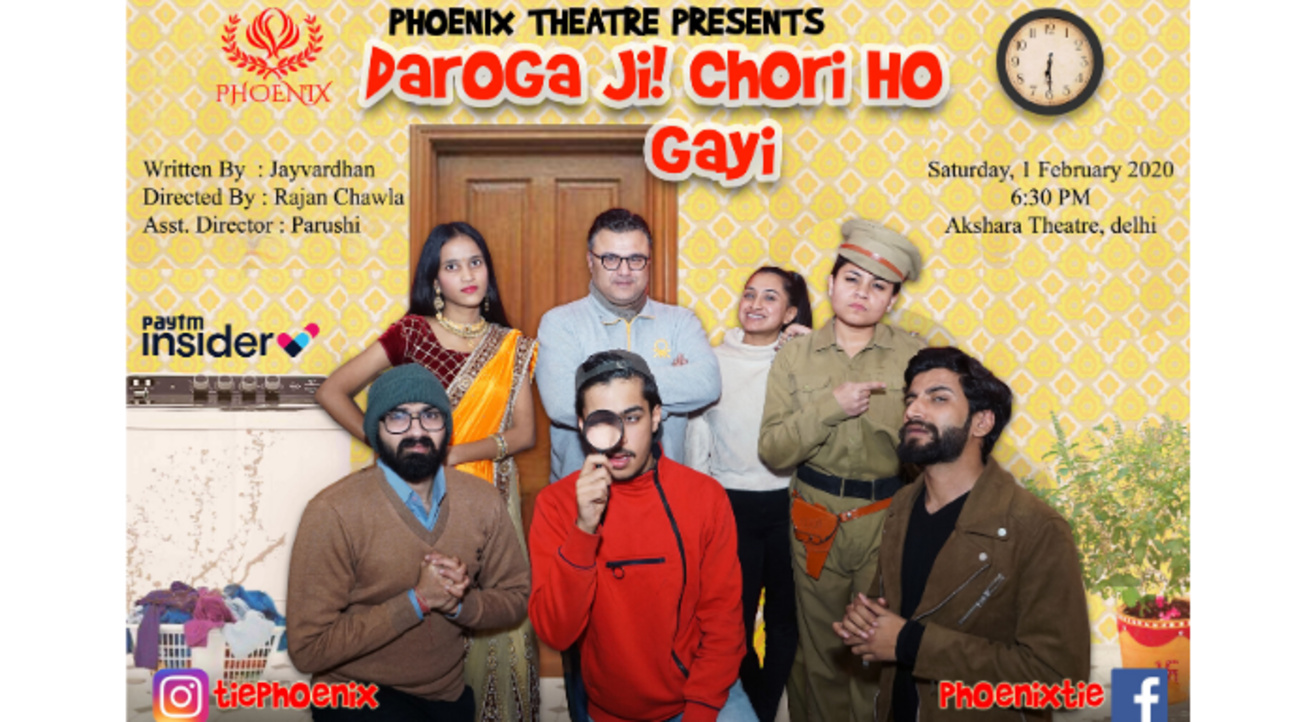 Comedy
About
Phoenix Theatre-In-Education Company presents a comedy play depicting the story of youth who can go to any extreme to fulfill their desires and wishes; keeping aside the difference of right and wrong. The story revolves around Deepak, an engineering student who along with his senior indulges in chain snatching and theft to fulfill all kinds of wishes of his girlfriend. What follow thereafter is confusion, police interrogation and lessons learnt through comic scenes and satirical dialogues.
Written by Jayvardhan
Asst. Director: Parushi Gupta
Cast: Abhinav Pareek, Shreshtha Arya, Nishant Sagar, Devanshi Singh, Arpit Mishra
Designed & Directed by Rajan Chawla
Rajan Chawla is an actor, trainer, director, writer and theatre in education practitioner. He started his professional journey under Barry John in 1999, he has acted, directed several plays. He specialized in teaching drama as a school subject and training actors. He learned the ropes of acting, teaching, writing and direction for a decade under the mentorship of his guru and taught many actors who are successfully working in films and television. They have authored a book "playing for real" which is an invaluable resource for actors and trainers. Presently Rajan is the director of Phoenix T.I.E. Company- the team is working towards the goal of reinventing learning through theatre. He is working with many prestigious schools all over India to develop new ways and means to bring theatre to classrooms and community and on stage. He has scripted and directed a large number of play productions with children and adults in various forms i.e. proscenium, musical, mime, dance drama, radio play, folk and street theatre. His students have received many prestigious awards at state and national level.
The Phoenix Theatre-In-Education Company was founded in 2006 and since then working with schools and institutions to develop new ways and means to bring theatre to classrooms and community and also on stage. It mainly functions as a resource agency for schools by using theatrical means to facilitate the teaching-learning process, and making it more creative, enjoyable and meaningful for the teacher and learner alike. Phoenix T.I.E Company comprises a group of qualified and dedicated teachers, artists trained in theatre who make education the focus of their work. They function as workshop facilitators, drama teachers, directors and playwrights. Phoenix is a sacred mythical bird which burns itself and arises again from its ashes – reinventing itself whenever it needs to. It can carry a load ten times as heavy as its own body with ease and its teardrops can heal the deepest of wounds. That is why at Phoenix Theatre-In-Education Company, we believe that knowing yourself in the first place and then understanding others in the process of role playing is very important. Leaving yourself behind and becoming someone else in a character is all about being like a Phoenix. Know thyself- it's all about getting under the skin of a character and behaving according to the given situation. To learn how to prepare for a role an actor goes through a process of characterization and before jumping the gun, self-awareness is very important because the closest person or character to an actor is himself. If one knows himself then understanding and role-playing other characters become uncomplicated. For an actor his mind, body and voice are the instruments to perform, Phoenix acting workshops are designed for aspiring actors.
Venue
Akshara Theatre, Delhi
11-B, Baba Kharak Singh Marg. Next to RML Hospital exit no. 5, Closest Metro Stations: Rajiv Chowk, Patel Chowk and RK Ashram, Delhi NCR