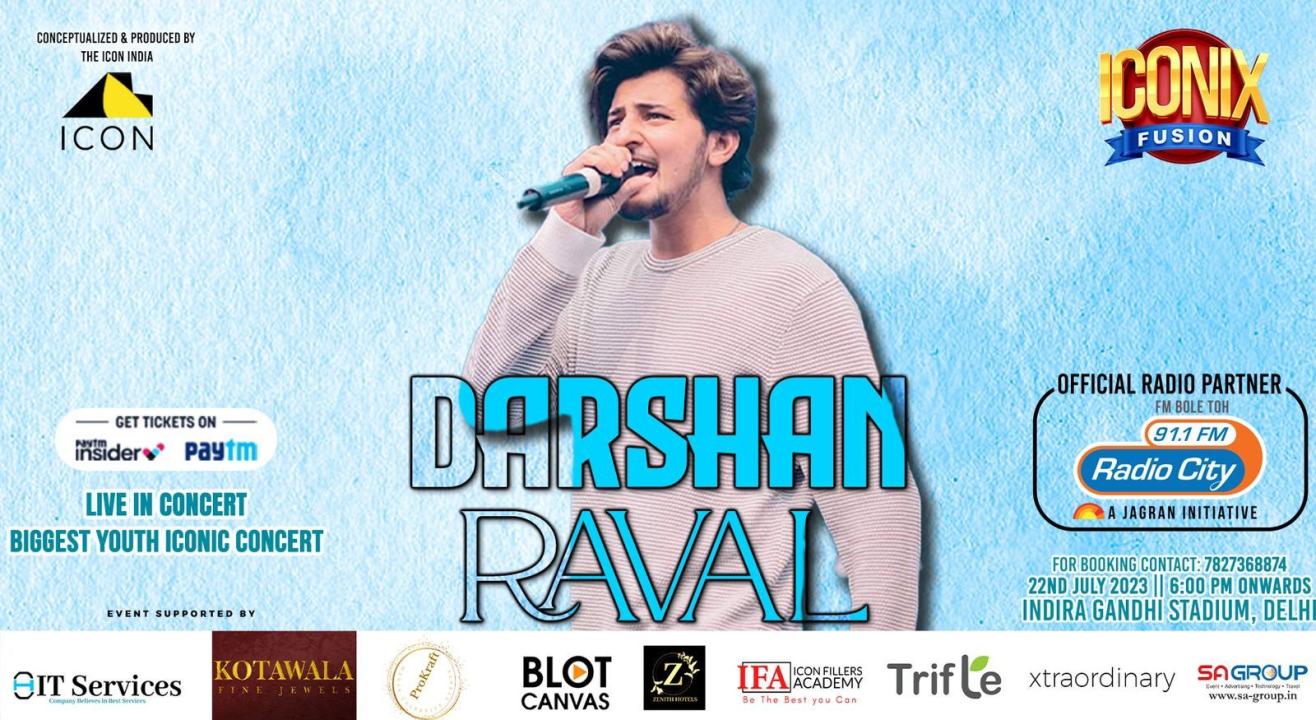 DARSHAN RAVAL LIVE IN CONCERT | DELHI
KD Jadhav Indoor Hall, Indira Gandhi Stadium, Delhi
Event Guide
For Age(s)
Family Friendly
Language
Hindi, Bengali, Gujarati, Punjabi
Live Performance
Enjoy a unique experience
Invite your friends
and enjoy a shared experience
DARSHAN RAVAL LIVE IN CONCERT | DELHI
KD Jadhav Indoor Hall, Indira Gandhi Stadium, Delhi
Event Guide
For Age(s)
Family Friendly
Language
Hindi, Bengali, Gujarati, Punjabi
Live Performance
Enjoy a unique experience
Invite your friends
and enjoy a shared experience
Event Guide
For Age(s)
Family Friendly
Language
Hindi, Bengali, Gujarati, Punjabi
Live Performance
Enjoy a unique experience
Invite your friends
and enjoy a shared experience
Darshan Raval is an Indian singer, composer, and songwriter. He is known for his work indifferent languages including Hindi, Gujarati, Punjabi and Bengali. Don't miss the chance to experience the soulful and romantic voice of Darshan Raval live in concert in Delhi! Darshan Raval Live is a music event that will take place on July 22, 2023.
Get ready to be mesmerized by Darshan Raval's popular songs and lively performances, as he takes the stage in front of a huge crowd of fans. From his hit singles like "Tera Zikr" and "Bhula Diya" to his newer tracks, Darshan Raval's performance promises to be an unforgettable experience for all music lovers.You can expect great acoustics, special effects, and spectacular lighting to enhance the experience.Tickets for the event are available for purchase online or at the venue box office, with pricing varying based on the seating category. Book your tickets early to avoid missing out on this one-of-a-kind music event!
FAQs:
Q. Is this a standing or a seated show?
There are tickets for both Standing and Seating, on first come first serve basis.
Q. Is there an age limit to attending the concert?
This is a Family Friendly show. However, tickets will be required for age 3 years and above.
Q. Will there be a parking facility at the venue?
Yes, parking is available at the venue.
Q. Will food, beverages & alcohol be available at the venue?
No outside food and drink will be allowed. However, Food & Beverage stalls will be present in each section.
Q. Is ticket shift allowed?
No.
Q. Will I get a refund if I cancel my ticket?
No refunds on purchased ticket are possible, even in case of any rescheduling.
Q. When will the gates open?
Gates will open at 5:30 PM.
Darshan Raval's soulful performance of O MEHRAMA & ASAL MEIN at Smule Mirchi Music Awards 2020
KD Jadhav Indoor Hall, Indira Gandhi Stadium
IG Indoor Stadium, ITO, Vikram Nagar, New Delhi, Delhi 110002
GET DIRECTIONS
DARSHAN RAVAL LIVE IN CONCERT | DELHI
KD Jadhav Indoor Hall, Indira Gandhi Stadium, Delhi
Event Guide
For Age(s)
Family Friendly
Language
Hindi, Bengali, Gujarati, Punjabi
Live Performance
Enjoy a unique experience
Invite your friends
and enjoy a shared experience