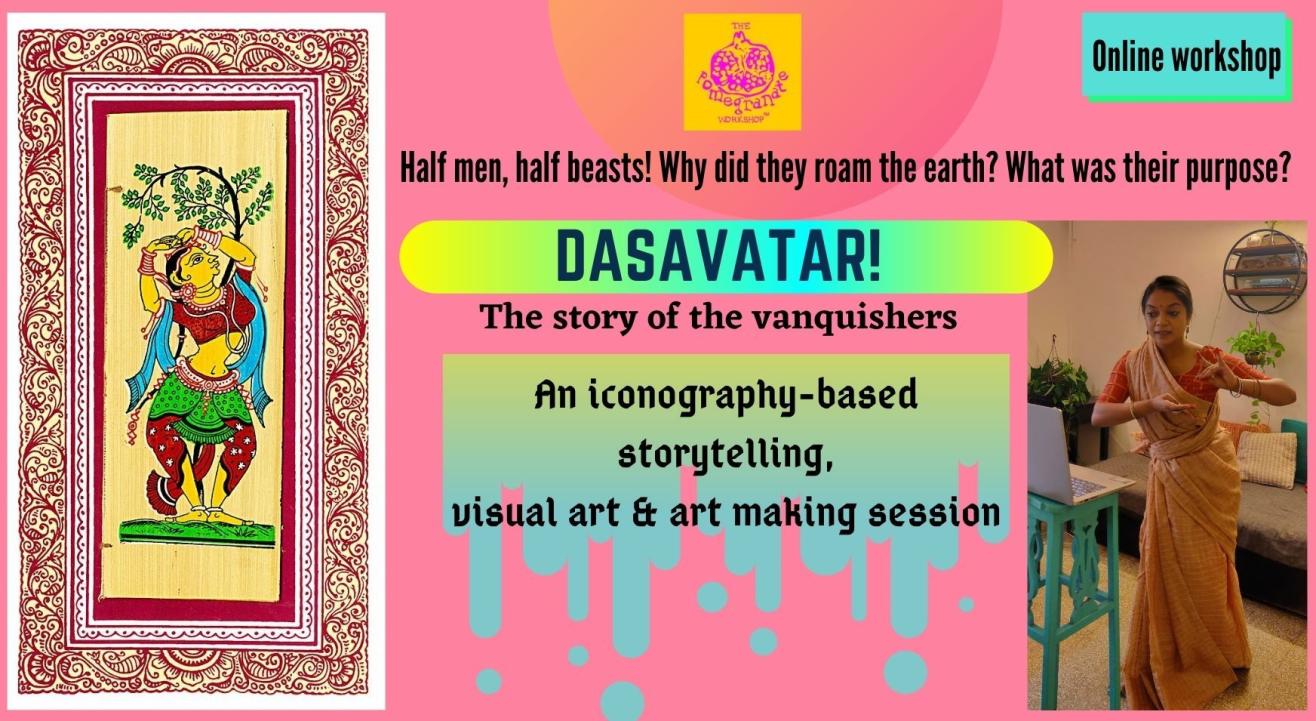 Dasavatar - an iconography-based storytelling, visual art and art making session
Enjoy this event from your home
Event Guide
Digital Event
Watch on Zoom
Masterclass
Learn from an expert
Invite your friends
and enjoy a shared experience
Dasavatar - an iconography-based storytelling, visual art and art making session
Enjoy this event from your home
Event Guide
Digital Event
Watch on Zoom
Masterclass
Learn from an expert
Invite your friends
and enjoy a shared experience
Event Guide
Digital Event
Watch on Zoom
Masterclass
Learn from an expert
Invite your friends
and enjoy a shared experience
Pomegranate presents 'Dasavatar' - an iconography-based storytelling, visual art and art making session. Dasavatar, the Puranic story of the incarnations of Hindu God Vishnu, has as its first five incarnations, four utterly immersive animal-based stories and the fifth as man.
In this session, Odissi dancer and storyteller Advaita Mane will regale the participants with stories of these mythical avatars even as she explains the simple iconography in the visual imagery used to portray each of them.
Following the story telling session, fine artist and printmaker, KomalSuryawanshi will introduce the students to the Bengali 'PataChitra', a visual art and oral story telling scroll employing their imagination to create an avatar of their choice.
Material list:
-Plain cartridge paper
-Black gel pen or ball pen
-Painting material- poster paints with paintbrush, palate, water bowl and tissue/rag OR Colouring material- crayons/ colour pencils/ sketch pens
-Pencil and eraser
Session duration = 1 hour
Age of participants = 7-10 years
Facilitators:
About Advaita Mane:
A dancer, storyteller and dramatist, Advaita's aim is to infuse each session with multiple arts that awaken the magician in each child. Advaita Mane is an Odissi danseuse for over 20 years and has several performances and accolades to her credit. A recipient of the 'Singaar Mani' national title by the Sur SingaarSamsad, she has also received a scholarship from the Ministry of Culture, Govt of India for Odissi. Advaita plunged into storytelling at Amar Chitra Katha with a focus on Emotional Intelligence of children. A graduate in Philosophy, Advaita has been a member of The Poona Arts Theatre for the past several years and completed multiple levels of the Speech and Drama course offered by The Trinity College, London. Her love for Indian art and mythology further led her to complete a Diploma in Natyashastra from The Nalanda Institute of Dance and in Indian Aesthetics from Jnanapravah, Mumbai.
At Pomegranate, Advaita works as Head of Workshop Experience and Social Sector Outreach tapping into all her skills as a dancer and storyteller to create imaginative classrooms which tap into the creative spirit in each child.
About Komal Suryawanshi :
Komal specializes in printmaking and painting. Her prints have been awarded in the State Art Exhibition in the year 2013 and 2014. She conducts several art and printmaking workshops with The Pomegranate Workshop. Komal's styles of interest include Folk Art, Kerala style paintings, Madhubani for its elegance and art with far-eastern influences and experimenting with exclusive art media. She enjoys researching performing art, sculpture and architecture for her classrooms. Komal is a print maker and has completed her Masters in Fine Art from Northern University- Jalgaon.