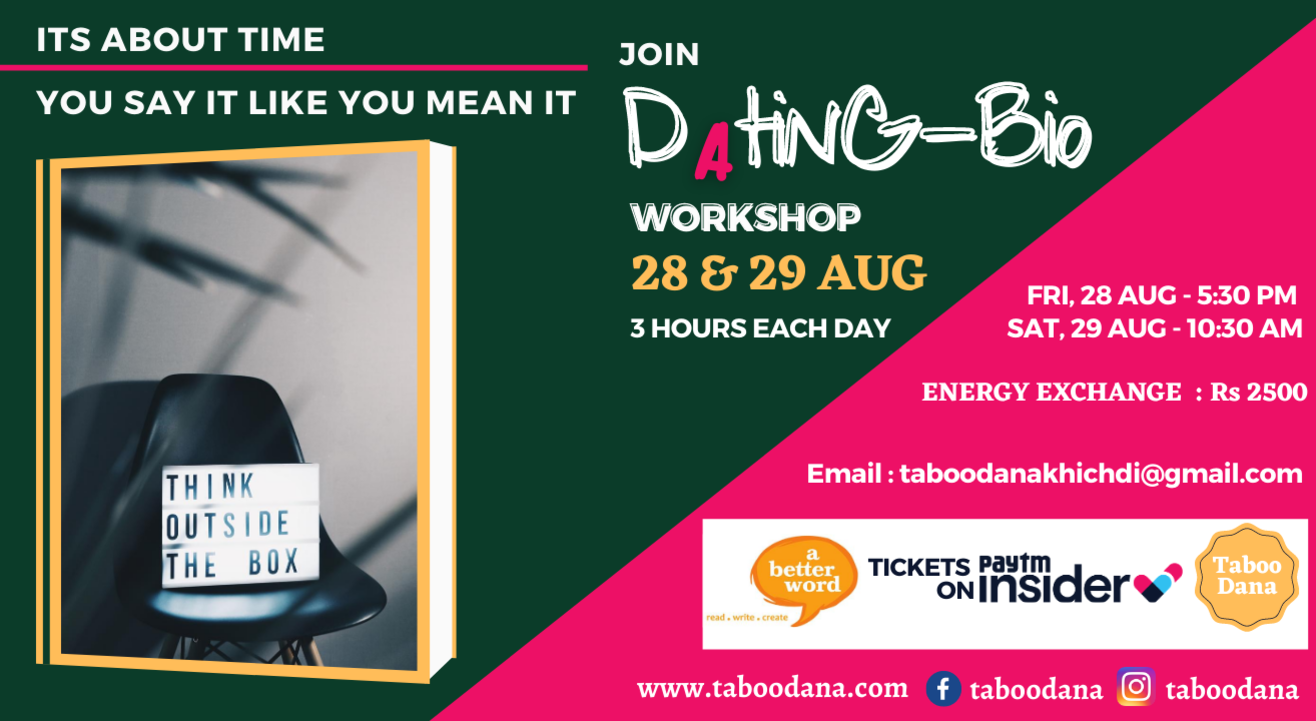 Dating Profile Writing Workshop
August 28 | 5:30PM - August 29 | 1:30PM
Enjoy this event from your home
Invite your friends
and enjoy a shared experience
Dating Profile Writing Workshop
August 28 | 5:30PM - August 29 | 1:30PM
Enjoy this event from your home
Invite your friends
and enjoy a shared experience
Invite your friends
and enjoy a shared experience
Dating Profile Writing Workshop
by TabooDana and A Better Word
THINK OUTSIDE THE BOX, UPDATE YOUR DATING PROFILE
If you were told your profile photo did only 30% of the job on a dating site, would you believe it?
Well, that's what researchers who create dating platforms found in several research studies. It isn't, the face that launches a thousand ships.
What carries the remaining 70% impact? An attractive authentically written bio. Spending money on dating subscriptions alone won't suffice. You need a compelling story about 'you.'
Join the writing workshop designed specifically to help you write terrific bios. In this workshop, you will learn to :
1. write profiles that reflect authenticity.
2. steer clear of words and phrases that are a definite put off.
3. make meaningful connections with yourself.
4. photograph yourself to look your best.
The workshop is for Adults of All Ages who want to "Improve their Dating Bios" and learn how to "Say It as You Mean It"
DETAILS
31 JUL & 1 Aug - 3 Hours each day
31 JULY - 5:30PM
1 AUG - 10:30 AM
ENERGY EXCHANGE : Rs. 2500/-
LIMITED NUMBER OF PARTICIPANTS
CLOSED AND SECURE GROUP
Follow us :
Facebook : https://www.facebook.com/taboodana/
Website : www.taboodana.com
Insta : https://www.instagram.com/taboodana/
EMAIL - taboodanakhichdi@gmail.com
Dating Profile Writing Workshop
August 28 | 5:30PM - August 29 | 1:30PM
Enjoy this event from your home
Invite your friends
and enjoy a shared experience