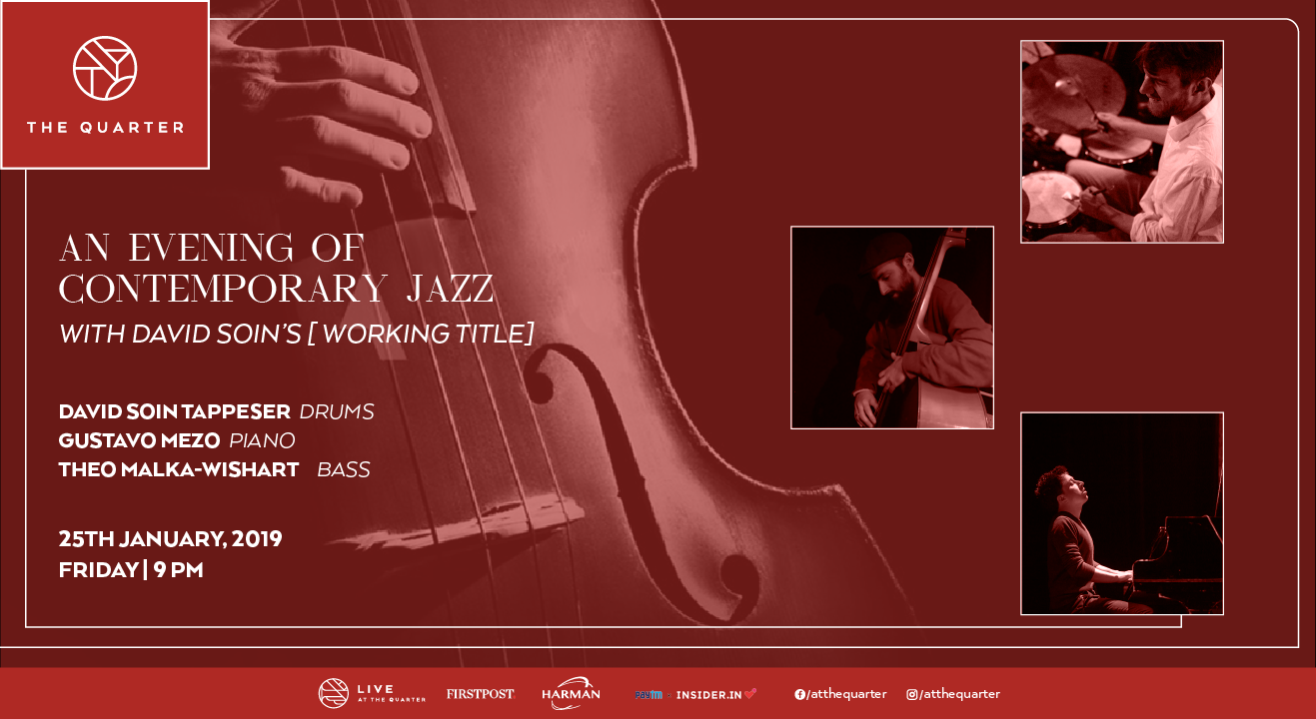 Music
An Evening of Contemporary Jazz with David Soin at The Quarter
Friday | January 25 | 9PM
749 - 1,499 (Prices subject to change)
About
[working title] is david soin tappeser's drum-led trio, featuring his playful arrangements of (un-)known standards and jazzed-up takes on classic pop tunes.
Embracing the intimacy and flexibility of the traditional piano trio format, the group's game is highly interactive, collaborative and improvisation-driven. interweaving hip-hop-grooves with ethiopian harmonies, folk tunes with reggaeton and the beatles with bhangra, the trio's sounds emanate beyond genre or cultural specificity, infinite, indefinite and open to interpretation.
[working title] is nomadic. it'll pitch its tent in india for its january 2019 two.oh tour, featuring mexican pianist gustavo mezo and british upright bass player theo malka-wishart. the release of their first ep is planned for the spring/summer 2019.
***
Free 150 Rs Paytm movie ticket for every ticket purchased for any event validity 30 days
David Soin Tappeser - Drums
Gustavo Mezo - Piano
Theo Malka-Wishart - Bass
David Tappeser
He is a german-born, london-based jazz drummer and composer. his practice primarily revolves around experimentation and improvisation - often as a means to re-visit/re-invent established traditions. he studied jazz performance and composition at the paris college of music (asmm/imep). past and present collaborators include camille bertault, himali singh soin, mark alban lotz and sanjay divecha. — davidsointappeser.com —

Gustavo Mezo
He is quickly becoming one of the most exciting young jazz pianists of mexican origin. having grown up between mexico city and paris, his playing and composition exude a unique and blend of different musical and cultural influences. he has studied with with christopher culpo, manuel rocheman and rick margitza at the american school of modern music (imep) and performed in many of europe's and latin america's most prestigious jazz venues. —gustavomezo.com

Theo Malka-Wishart
is currently one of the most sought-after young bass players on the london jazz scene. having studied closely with bass aficionado yaron stavi, he brings a deep and historical understanding of his instrument to his playing. In addition to his own jazz projects, he hosts a experimental weekly jam session in london's vibrant east end and is part of a number of different ensembles including renowned klezmer group popurri and busy london ska outfit skaboro.
WATCH: [working title] - 500 Miles High
Venue
The Quarter
Royal Opera House, Mathew Rd, Opera House, Girgaon, Opera House, Girgaon, Mumbai, Maharashtra 400004, India