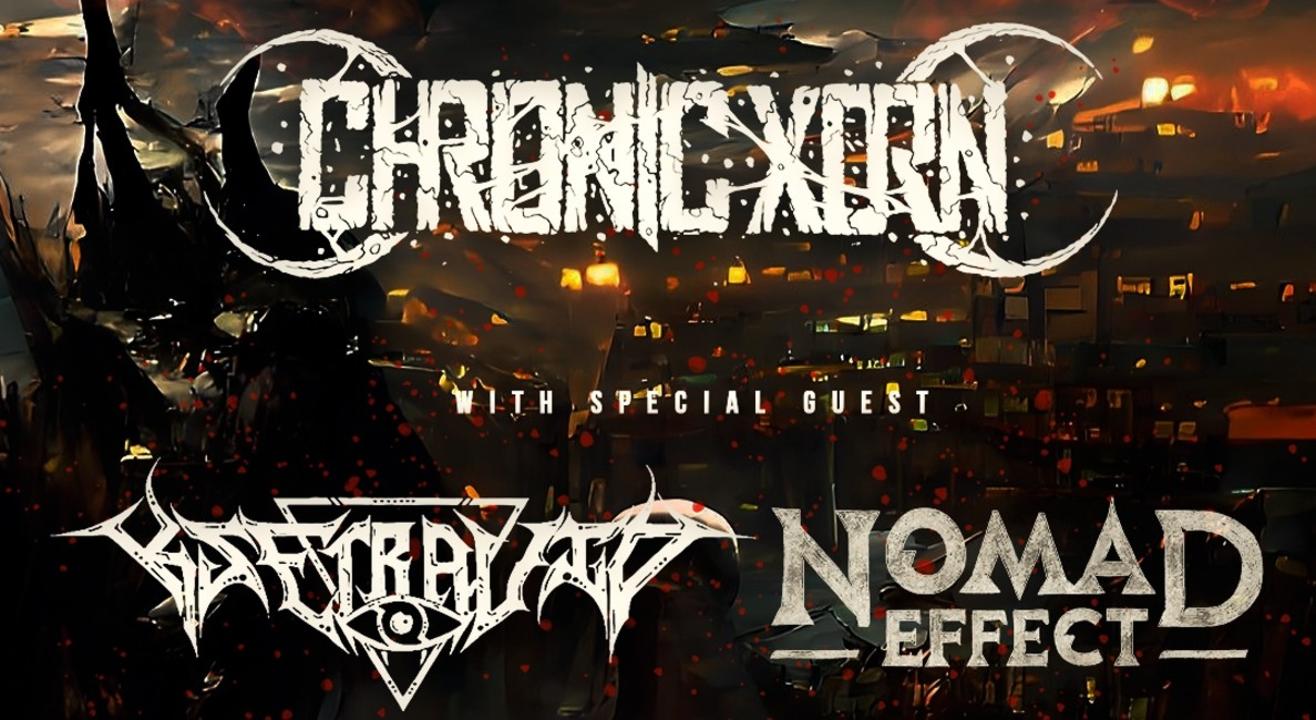 Dawn of Chaos Tour | Bengaluru
Fandom at Gilly's Redefined, Bengaluru
Step out and enjoy this event
Event Guide
Live Performance
Enjoy a unique experience
Invite your friends
and enjoy a shared experience
Dawn of Chaos Tour | Bengaluru
Fandom at Gilly's Redefined, Bengaluru
Step out and enjoy this event
Event Guide
Live Performance
Enjoy a unique experience
Invite your friends
and enjoy a shared experience
Event Guide
Live Performance
Enjoy a unique experience
Invite your friends
and enjoy a shared experience
A journey that began in 2007, CHRONIC XORN travelled a long path, overcoming numerous obstacles on the way. Chronic Xorn's sound is ingrained in Heavy Metal with a blend of melodic elements, unique in its own earnest. Several listeners and music lovers unaware of the our music recognized us in October 2009 with our feature in the 'Headbangers' India. The first English metal band from Eastern India, we gradually made a mark in the global metal circuit. It began with Six Inch Nails Records signing CHRONIC XORN in 2010 for releasing a debut EP 'DEATH DESTRUCTION SERMON' in May 14, 2010, making them the first band to receive a record label from Eastern India . Since then there's no looking back!
The band's first full length album 'FROM MERCY' released in October 2, 2012. The album was tagged the highest selling heavy metal albums in India, selling across various parts of Europe and USA. We took on a nationwide tour in October 2012, promoting another album 'FROM MERCY'
in cities like Bangalore, Chennai, Kolkata, Guwahati, Delhi, Shillong. The tour gave Chronic Xorn a podium to play alongside supporting International acts like Children of Bodom (Finland), Dawn of Demise (Denmark), Cypher 16 (United Kingdom) & Gone In April (USA) + Indian metal giants like Bhayanak Maut, Demonic Resurrection + mainstream artistes like Raghu Dixit, Shaa'ir & Func and Indian Ocean to Bollywood sensations like Sunidhi Chauhan and Javed Ali. We took a higher-road ever since!
In 2015, Chronic Xorn played at The Festival alongside progressive rock giants Karnivool (Australia) and at BIG69 Festival in Bombay, supporting legendary acts like Sikth, Carcass (UK) and Hacktivist (UK) and Fleshgod Apocalypse (Italy) along with several Indian metal giants.
On November 18, 2017, we released our second EP 'FOR THESE SINS WHO MUST DIE', receiving commendable ratings from the European and Indian music magazines and webzines. CHRONIC XORN's greatest accomplishment in the Indian Metal community came with Travis Montgomery (THREAT SIGNAL) playing a guest solo in our title track.
Chronic Xorn had many firsts! The first metal band in India to release an album from a commercial record label and the first band to have the physical body circulation in the music stores throughout India. In 2014,the band has been endorsed by the legendary ESP Guitars & Basses and Sabian Cymbals making them the first endorsees for a metal band from Eastern part of India.
MEMBERS:
SAPTADIP CHAKRABARTY – VOCALS
SUVAM MOITRA – GUITAR / VOCALS
BISWARUP BARDHAN – GUITAR
KANAD ROY – BASS
DIPAYAN CHAKRABARTY – DRUMS
KSETRAVID is a Modern Metal band from Bangalore, India. Conceptually, the band writes about things that reflects on embracing individuality, a process to know oneself. Sonically, their music is a blend of brutal, progressive and melodic aspects of sub-genres of metal with lyrical content highlighting religion, political and social evils which everyone can relate to. We are born and raised in a system focused on making us self critical. The conceptual aspect is a catharsis for liberation.
Formed in the year 2020 amidst the tyranny of the first wave of covid 19 when everyone was stuck in their homes, trying to see the world through their
smartphones and tv screens. Most of their content finds it's inspiration from the then ongoing crisis and plight. Lyrics dig deep into the idea of understanding self with respect to the ever changing world it interacts with. The band, after the release of two hard hitting singles are now focusing on releasing their EP called Catch22 mid of 2023.
Siddhant Sarkar, the frontman and lyricist of the band who is well established in the music scene in Bangalore. He has been associated with bands like Dead Incarnation and Quarantine. In 2019, he founded Catalyst Studio which one of the high end rehearsal studio in Bangalore.
Pritam Middey takes the role of the guitarist and composer. He has been associated with a lot of hard hitting metal acts such as Evil Conscience, Project
Trident, the list goes on.
Nikhil Rajkumar takes the throne for drum duties, one of the finest metal drummers around with his virtuosic playing styles in the tech-death game. He is associated with bands like Pavlov's Truth, Avekn, The Elaneer Collective etc.
Arunav Bhattacharjee is in charge for the lower ends who comes from a variety of musical influences. He has been a session musician for years and plays for some of the prominent acts in town like My Conscience, Suvankar Plus Other Stories, Nihilus and more.
NOMAD EFFECT is a progressive metal band from Bangalore, India known for their unique blend of classical Indian music, heavy breakdowns, and sweet melodicism. Their music is intricate and dynamic while still maintaining the brutal sound that is characteristic of metal music. Their live shows much like their music are a culmination of emotion, energy, and euphoria. Music is meant to be felt and with the Nomad Effect, you will experience exactly that.
Lalit Gattani is a vocalist and songwriter based in Bangalore. He has been singing a wide array of genres from Hindustani classical to Metal and Pop for 15 years. He is a member of notable bands like Bangalore Broadway Company (A 22-piece theatre production), and Retrograde amongst others, and has performed with other bands like AKOG and Nikhil Vai Collective. He was also a member and arranger for the a cappella group Pitch, Please! He loves listening to Progressive Metal, Classic Rock, Post-Rock, and Pop. When he is not singing, he is a part-time Software Developer and a full-time dog father who loves to bartend.
Ajit Rao is a guitarist, music producer, and composer. He's been playing guitar for over 13 years and is well versed in numerous styles and genres. Over the course of his musical career, he has recorded hundreds of songs, played for numerous bands, and created several dozen music videos. He regularly posts rock and heavy metal renditions of popular songs on his YouTube channel Ajeemama which features several prominent independent artists. As a member of the bands Nikhil Vai Collective and Manga he regularly plays shows at colleges and performance venues in the city. In addition to his creative pursuits, he is a passionate educator and has been teaching guitar for over five years.
Bharat started learning drums at the age of 10. He has been playing and actively performing for over 10 years. He is a very versatile drummer and can play various genres like rock, funk, jazz fusion, and djent in particular. He enjoys listening to djent, prog rock, math rock, jazz fusion, indie rock, bedroom pop, electronic jazz, EDM, and psychedelic rock to name a few. He has won multiple battles of bands with the various bands he has been part of. He also teaches and is currently doing an internship at Octavium Music Academy. He has played with famous artists like Nikhil Vaidhyanathan Collective, Paula and the associates, and Lojal. Apart from music, he loves working out and meditating.
Rohan Raveesh is a singer, songwriter, and guitarist/producer based in Bangalore. He writes songs and loves composing in different genres like Metal, Carnatic, and LoFi and also started a new genre called Carnatic-LoFi. He started learning to play the guitar at the age of 5. He has learned from the renowned Prakash KN, Sanjeev Thomas & Bruce Lee Mani. He's won many prestigious awards and has been part of many national competitions. He was the guitarist, vocalist & songwriter of the band - Symphonic Eternity. He's also played with a few bands like Manga and Nikhil Vai Collective. He loves stretching the boundaries of genres and experimenting with them and is always looking to find something to make him stand out and make his niche.
Aditya Rao is currently a session bassist from Bangalore. He is a proficient electric bass player and also plays the guitar. He has been a part of the Bangalore music scene for 11 years and has played and recorded with various bands and artists like Neill Braganza, Coin on the track, Aathma, Savaari, among many more. He has also been a voice artist/ arranger for Acapella acts like Frootloops and The Bleachers. A graduate of Christ University, Aditya is primarily a self-taught musician. However, has studied under the likes of Johan Berby (Trilok Gurtu band), Jason Kishander, Naveen Thomas, Leslie Charles, Jason Zacharia amongst others. He currently teaches and does freelance does and recordings for a multitude of artists. Aditya likes to play Cort Basses And Markbass amps.
Cover Charge of INR 499 at the gate fully redeemble on F&B inside the venue
Fandom at Gilly's Redefined
1st floor of Gillys redefined,# 413, 100 Feet Road,, 4th Block, Koramangala, KHB Block Koramangala, Koramangala 4-B Block, 5th Block, Koramangala, Bengaluru, Karnataka 560034, India
GET DIRECTIONS
Dawn of Chaos Tour | Bengaluru
Fandom at Gilly's Redefined, Bengaluru
Step out and enjoy this event
Event Guide
Live Performance
Enjoy a unique experience
Invite your friends
and enjoy a shared experience