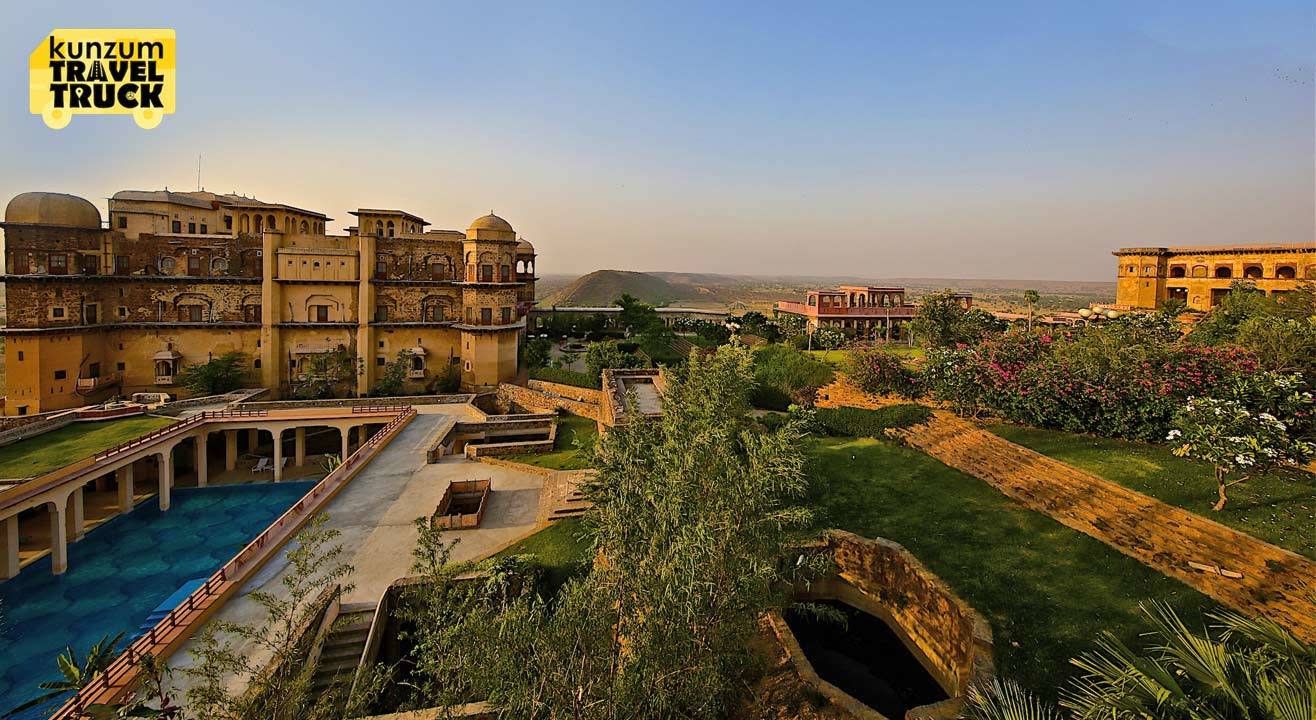 Experiences
About
Where History, Art, Terraced Gardens and Leisure Await.
There is a hill just a few hours from Delhi near the historical town of Alwar. Atop it stands the Tijara Fort-Palace, a ruin until recently before it was painstakingly and lovingly restored to what ranks as one of the finest hotels in the world now. In fact, the fort-palace can be regarded a travel destination in itself.
That's where the Kunzum Travel Truck is rolling to - hop aboard to enjoy a delightful time in the monsoons. Its sprawling campus includes seven terraced gardens and 61 suites - overlooking the landscape far into the horizon. Each room is a unique work of art - these are named after leading painters, designers and aesthetes. A grand pool keeps you cool when the temperatures go up.
The property is best suited to literally chill. We will have leisurely meals together, go for walks in the fields around, and wallow in the pool. If the group wishes to, we can drive to attractions around including the Jaisamand Lake promenade and the Sariska Wildlife Sanctuary. (Any entry / guide fee to these attractions will be extra.)
What is Kunzum Travel Truck?
The Kunzum Travel Café opened its doors to the world on June 12, 2010 – it has since become synonymous with the idea of a traveller community.
As Brand Kunzum, established earlier in 2007, completes a decade, we have introduced an idea that promises to be another game changer – we call it the Kunzum Travel Truck. Very simply, it is recreating the café on wheels. People would no longer just talk travel, but head out together too.
On journeys curated by experts. In vans that make travel fun and engaging – comfortable push back seats, unlimited bar, WiFi on board, funky interiors, LED screens, music systems and more. Trips have been scheduled every week taking you to places you may not have considered on your own. With service standards that will delight you.
In other words, the Kunzum Travel Truck would be the destination in itself. Where you will make new friends too. Hop aboard – book a journey at http://kunzum.com.
Want to book a truck for your family, friends, alumni and office colleagues? We all like to head out with our private groups – why not do it in style in a Kunzum Travel Truck? We can suggest itineraries and you can express your preferences. Leave the rest to us – we will handle all research, curation, bookings and organisation of the trip.
Dates: August 5 - 6, 2017.
We leave New Delhi at 9:00 a.m. on day one and return around 6:00 p.m. on the last day. [These dates don't suit you? Call us to organize a private tour on a date of your choosing.]
Accommodation: Tijara Fort-Palace, Alwar, Rajasthan
Travel: In the Kunzum Travel Truck, a 12-seater luxury van. The distance of 110kms from Delhi will be covered in about three hours.
Drive/Ride along in your own car/bike: Want to be a part of the trip but prefer to come in your own vehicle? Sure, no problem. Ask for rates for the same.
Refund of 50% to be given if cancelled at least 30 days before departure date. No refunds will be possible otherwise but you are free to transfer your booking to anyone else.